No one likes dealing with customer complaints, but it's part of any business. Complaints can occur at any stage of your business and It's important to respond in a timely, effective, and professional manner as such customer complaints can either make or break your business. 
In this article, we'll cover the best responses to customer complaints, so you can handle any customer issue with ease. We've collected examples of the most successful responses that businesses have used, so you can learn from their successes and apply them to your own customer service. Read on to find out how you can turn an unhappy customer into a satisfied one – and keep them coming back!
The Impact of Customer Complaints on Your Business
According to a local consumer survey, nearly 76% of consumers regularly read reviews about businesses. Consumers typically gather information about a business before making a decision and reviews form a part of the information gathered. From this information, customers often determine what products and services to try out and which ones to abandon. Another survey revealed that 93% of online users stated that online reviews had an impact on their buying decisions.  
When customers are satisfied and pleased with any aspect of your business, they talk about your business with their friends and family or even make a social media post about it. When customers are unhappy, they can also spread the word, leading to revenue losses. 
Positive customer experiences can create loyalty and trust, while negative ones can drive customers away. That's why it's so important for businesses to take customer complaints seriously and respond quickly to resolve any issues. Taking the time to address customer complaints shows that a business cares and is willing to go the extra mile to provide a good customer experience. 
It's also important to take feedback from customer complaints and use it to improve the product or service. This can create a better customer experience in the future and ensure customers have a positive experience when dealing with the business.
Typical Scenarios of Consumer Complaints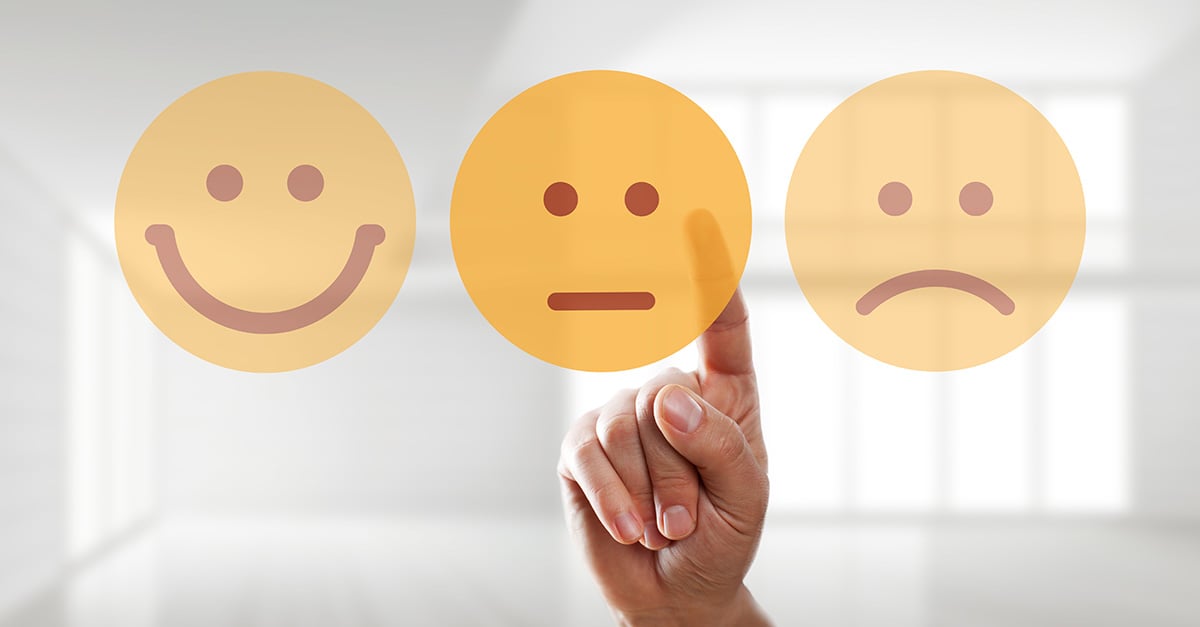 Image source: Adobe.com
E-Commerce Business
Complaints can come in all shapes and sizes, but some common sources of customer complaints include problems with the product or service, slow shipping, difficulty with the checkout process, or difficulty getting in touch with customer service. All of these can lead to customers feeling frustrated and voicing their complaints. 
As a business, it's important to take the time to listen to customer feedback and take steps to improve your customer's online shopping experience. This will help ensure customers feel heard and respected and will help create a positive customer experience overall.
SaaS Business or Products
One of the most common complaints relating to SaaS businesses is billing, where customers can have difficulty understanding the billing process or disagree with the amount of their charge. 
Another common complaint is product functionality, where customers may not be able to use the features that they expected or that the product didn't meet their needs in some way. Additionally, customers may be unhappy with customer service, either because they had to wait too long to get a response or didn't receive the help they were hoping for. Customers may also be unhappy with the product or service overall, expressing disappointment in the quality or level of value they received.
Freelance Business
Customer complaints can come up in a lot of different scenarios when running a freelance business. For example, if you're a freelance writer, you might get complaints about the quality of your work, the length of time it took to deliver, or even the clarity of the instructions you provided. 
If you're a freelance graphic designer, you might get complaints about the design or the colors you chose. Sometimes, customers may complain if they don't feel like they are getting the value they expected from your services. They may think that the cost of the project was too high compared to the quality of the outcome. Or, they might be unhappy with the timeline for the project and think that it took too long to be completed. 
No matter the type of service you provide, customer complaints can be a major issue if you don't address them quickly. It's important to have a process in place to deal with these complaints in a timely and professional manner. That way, you can maintain a good relationship with your customers and avoid any negative feedback that could hurt your reputation. Whatever the issue may be, it's important to address customer complaints quickly and effectively. By addressing customer complaints quickly and effectively, you can ensure that your customers feel valued and taken care of.
Let's dive into some of the best responses to customer complaints.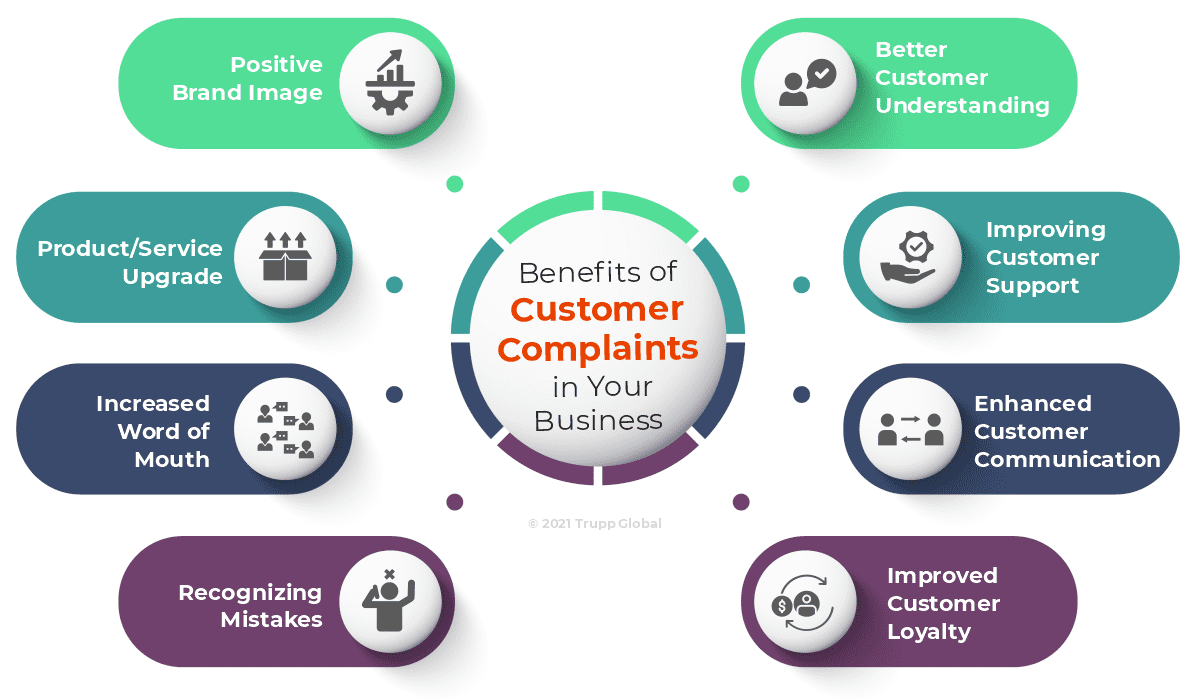 Image Source – Trupp Global
5 Best Responses to Customer Complaints
Apologize and acknowledge the issue
When a customer raises a complaint, it is essential to acknowledge the issue and apologize for any inconvenience caused. This lets the customer know that their complaint is being taken seriously, and the business cares about their experience.
Here's an example you can adapt: 
Hey there, I'm so sorry to hear that you had a bad experience with our product. That's definitely not what we want for our customers and I'm really sorry that it happened. We take customer satisfaction very seriously and we'll do our best to make sure something like this doesn't happen again. Let us know if there's anything else we can do to make things better.
Or 
I apologize for the issue you experienced. We take customer satisfaction very seriously and we're disappointed that we weren't able to meet your expectations. We want to make it right, so please let us know what we can do to fix the situation. We appreciate your feedback and we'll do our best to make sure this doesn't happen again.
Provide a quick response time
It's important to provide a quick response time to a customer's complaint. This not only shows that the business is taking the complaint seriously but also helps to prevent further damage to the business's reputation.
Example:
I'm sorry to hear about your experience. We take all complaints seriously and we would like to make things right. How can we assist you to resolve this issue?
OR
I'm sorry to hear about your negative experience. Our company values customer satisfaction and we would like to work with you to find a solution.
Offer a solution to the problem
After acknowledging the issue, the next step is to offer a solution. Customers want their problems to be solved, and providing a solution can help to restore their faith in the business.
You can also sweeten the pot and throw in a discount to pacify the customer. 
Example: 
We understand your frustration and we want to make things right. We will take immediate action to address the issue and prevent it from happening again.
OR
We apologize for any inconvenience caused and we would like to offer you a complimentary product/service as a gesture of goodwill.
Empathize with the customer
Image source – Knowmax.ai
Showing empathy towards the customer is crucial in resolving their complaint. Customers want to feel heard and understood, and showing empathy can go a long way in building a positive relationship with them. Use simple, conversational language to show your empathy like the highlighted words below.
I'm sorry to hear that our product/service did not meet your expectations. We appreciate your feedback and we will take it into consideration to improve our offerings in the future.
Follow up with the customer
After resolving the issue, it's essential to follow up with the customer to ensure they are satisfied with the solution. This not only helps to build a positive relationship with the customer but also shows that the business values its customer feedback.
You can send an email like this: 
Dear [Customer],
I hope this message finds you well. I wanted to follow up with you regarding the complaint you recently brought to our attention. We sincerely apologize for the inconvenience caused and we hope that we were able to address your concerns satisfactorily.
As part of our commitment to continuous improvement, we would greatly appreciate your feedback on how we handled your complaint. Your feedback will help us understand how we can better serve you and other customers in the future.
If you have a moment, could you please let us know if you were satisfied with the outcome of the complaint and if there is anything else we can do to assist you? Your feedback is valuable to us and we take all comments seriously.
Thank you for your continued support of our business. We look forward to hearing from you soon.
Best regards,
[Your Name]
How a Knowledge Base Can Help You Address Customer Complaints
When you're running your business, you can get similar or different customer complaints in a day making it tricky to resolve them. A knowledge base can be a great way to address customer complaints in a uniform manner while helping you stay true to your brand's tone of voice and message without increasing the chances for errors and mistakes.
With an internal knowledge base, your support team can create a collection of responses, articles, and resources that can be used to troubleshoot issues and respond to complaints. For instance, Klutch allows you to create canned responses which can be added as an extension to your browser. This allows you to copy and paste verifiable information directly to a complaint without having to draft an answer from scratch. 
You can create topics around common customer complaints, include steps to help customers resolve their issues, and link to other helpful resources to share with your entire team. This limits the time spent addressing individual customer complaints. 
Conclusion
In summary, responding effectively to customer complaints is crucial in building a positive relationship with customers. By apologizing, providing a quick response time, offering a solution, showing empathy, and following up with the customer, businesses can effectively resolve complaints and build a positive reputation. 
By implementing these best practices, businesses can turn customer complaints into opportunities to improve their customer service and build customer loyalty.