As a busy professional, you'll often find yourself looking for tools, processes and procedures that can make your time more productive and meaningful as you go about your day-to-day.
This is even more important in today's technological world where automation exists to complete mundane tasks or make workflow processes faster. 
Automation eliminates the need for manual, repetitive tasks, allowing people to focus on more complex and critical responsibilities. As human errors are inevitable, especially when performing monotonous tasks, it is important to use automation to reduce the risk of errors by executing tasks with precision and consistency.
One such tool that is used to boost productivity is Text Blaze. 
However, if you're searching for alternatives that offer similar functionality and features, this article is for you. We will explore five Text Blaze alternatives that can enhance your productivity and make your typing experience more efficient.
Why You Need Text Blaze Alternatives
Text Blaze is a text expansion tool that allows users to create shortcuts, called snippets, for commonly used phrases, paragraphs, or even entire documents. 
With text expansion tools, you can accomplish tasks more quickly and efficiently. You're simply automating the insertion of commonly used text on your documents, emails, articles or anywhere you write frequently. 
This tool helps you to streamline your workflow and focus on other essential aspects of your work, resulting in improved productivity and output.
It's a handy tool for anyone who frequently types repetitive content and wants to automate the process.
While Text Blaze offers great functionality, it's always a good idea to explore other options to find the tool that best suits your needs. Different users have different preferences, and by considering alternative text expansion software, you may discover additional features or a more intuitive interface that aligns better with your workflow.
Klutch 
Klutch is a knowledge management tool that offers seamless collaboration and communication within teams. It also provides keyboard shortcuts that generate pre-defined text snippets.
Klutch combines the power of a centralized knowledge base or document repository, where team members can store and retrieve important documents, guidelines, and resources with canned responses which allow for text snippets inclusion into any document. As a knowledge base app, some of its benefits include better information organization, time saved on repetitive questions, and greater ease with onboarding new team members. 
It also offers canned responses for improved communication and keyboard shortcuts that expand text using a variety of combinations. 
Features
Save time searching and replying to repeated questions

Accessible canned responses from any device

Fill out forms and emails in one click

Save useful snippets and links that you use frequently

Information sharing and organization 

Team collaboration 

Permission sharing
Pricing
Klutch is one of the most affordable and feature-packed alternatives to Text Blaze on this list because it combines the power of a knowledge base with text expansion to help improve productivity and real-time collaboration, all at no cost.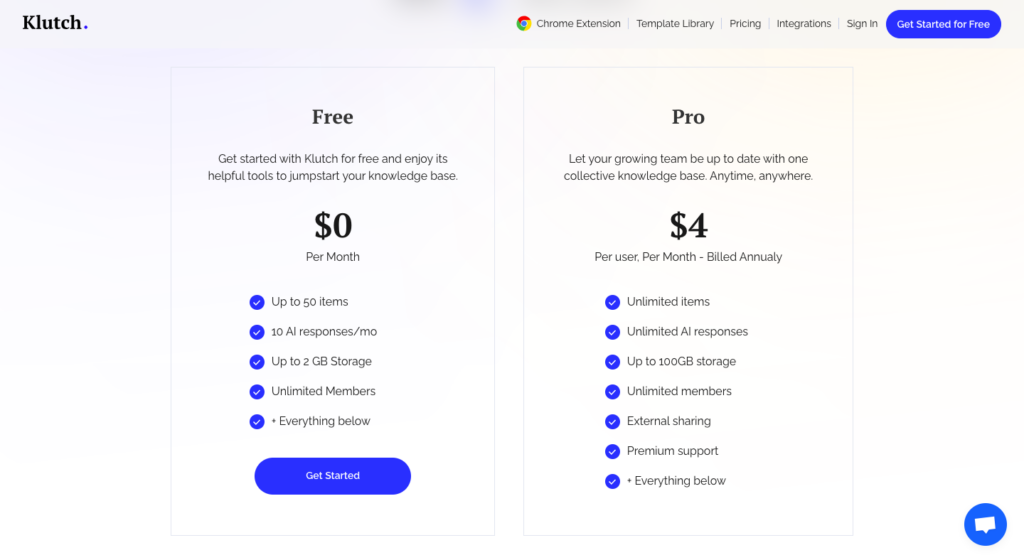 It offers a free plan that lets you get started with no payments and a pro plan that starts at $4 per month. 
PhraseExpander
PhraseExpander is a great alternative text expansion software that helps you save time and increase your productivity. This tool is commonly used in the medical field but can be useful for a variety of other text-based needs. 
It allows you to create snippets for frequently used text, including formatted text, images, and even customizable forms. 
Features: 
It has a set of features that provide ease of use for doctors while they do their work: 
Text expansion for quick typing

Advanced macro support for automation

Conditional logic for dynamic snippets

Template support for standardized documents

Autocorrect and spelling correction

Clipboard manager for easy access to snippets

Cloud sync and backup for data security

User-friendly interface

Integration with popular applications
Pricing
Phrase Expander offers three unique plans starting at $180 and goes up to $300 for extra functionalities. This plan includes features such as dynamic templates, branding logic, template sharing, and auto-complete function.
PhraseExpress
PhraseExpress is another excellent alternative to Text Blaze. It offers a wide range of features, including text expansion, autocompletion, and clipboard management. PhraseExpress can also synchronize your snippets across multiple devices, making it ideal for professionals who work on multiple computers or devices.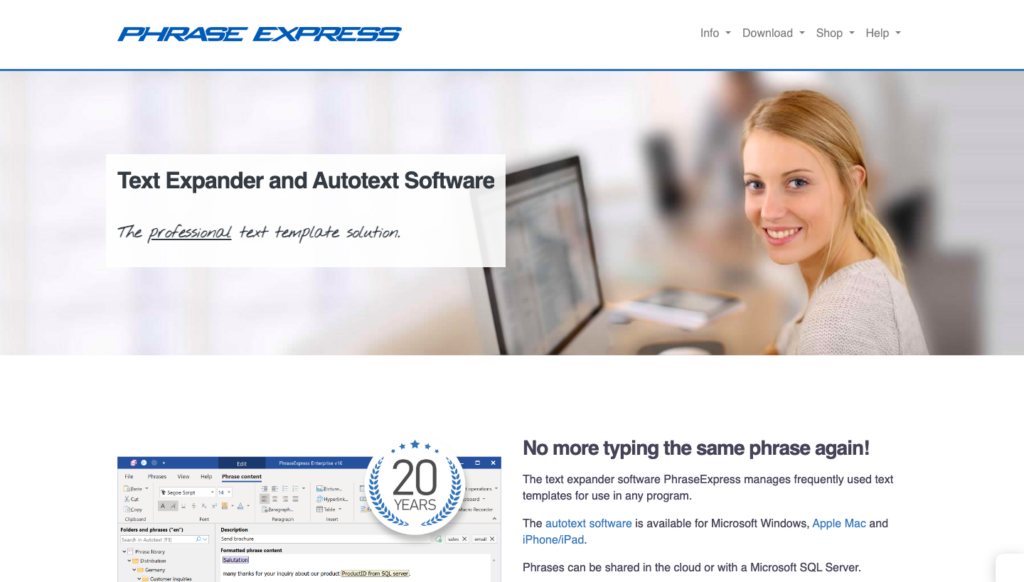 Features
Autotext: Create custom abbreviations that expand into full phrases or paragraphs.

Autocorrect: Automatically correct spelling mistakes and typos.

AI automation Integration: For translations, shortening and expansion of text .

Multi-level folder hierarchy for text snippets 

Dynamic phrase content 

Automatic email creation including file attachments.

Open files or websites by hotkeys or auto text abbreviations.
Pricing
Phrase Express offers a one-time payment option for its tool as opposed to a recurring payment similar to its Text Expander alternative. They offer three pricing options which include a standard plan ($80) a professional plan ($120) and an enterprise plan ($201). These plans are available for both Windows and Mac OS and can be easily purchased from their website. 
TextExpander 
This is another text expansion alternative that supports rich text formatting. It also allows you to expand the content you need with just a few keystrokes or inline search on any device, across any app you use. 
A great thing about this tool is that it caters to both individuals and teams. This means that freelancers and company teams alike can get the benefits of text expansion easily. 
Features
Access your snippets on all your devices with your TextExpander user account

Current snippets and edits everywhere

Share snippets easily with coworkers and friends

Automatically share company snippets with anyone who joins your organization

Available in English, French, German, Italian, Japanese, Russian, Spanish and Portuguese

Use fill-in-the-blank snippets to create custom forms with multiple field types and sections

Expand a snippet as part of another by nesting

Built-in HTML, CSS, AutoCorrect, accented words, symbols, Emoji snippet groups

For programmers, make editor-independent code templates

Plug-in for Chrome Browser
Pricing
Text Expander offers four pricing options for their tool which include: Individual ($3.33), Business ($8.33), Growth ($10.83) & Enterprise plans. 
Each plan is billed per user per month. Annual plans are also available for each pricing option but it is important to note that their cheapest plan caters specifically to individuals while the other options serve more robust teams or companies. 
FastKeys
FastKeys is a comprehensive productivity suite that includes text expansion as one of its core features.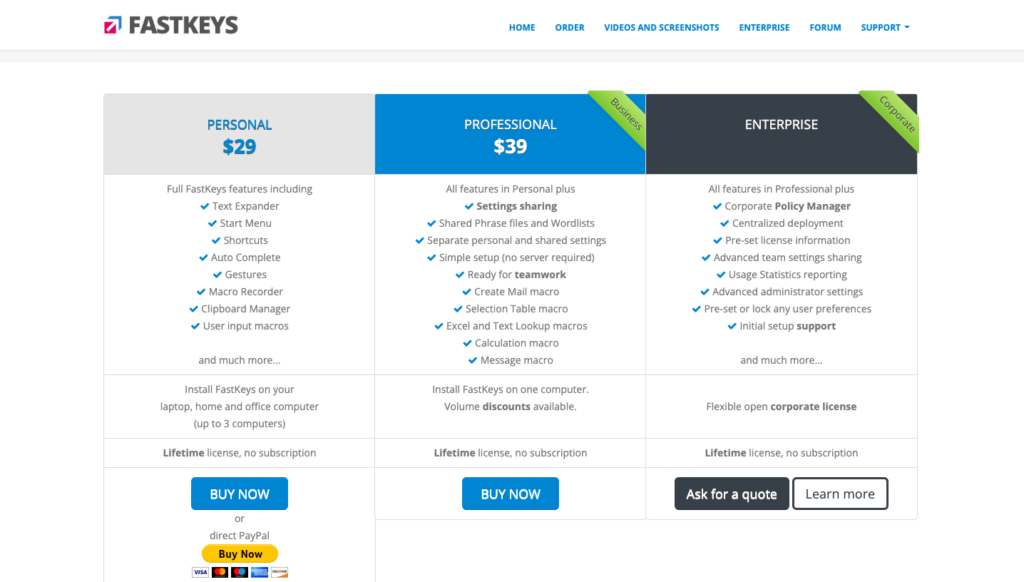 One of the standout features of FastKeys is its ability to create custom shortcuts and macros for frequently used text, phrases, and commands. Users can define their own abbreviations or keywords, which, when typed, expand into the desired text or execute specific actions. This feature saves valuable time and effort by automating the insertion of commonly used content.
Apart from text expansion, FastKeys offers automation tools, shortcuts for launching applications, and even a clipboard manager.
Pricing
Fastkeys offers three pricing options: Personal, Professional and Enterprise. Similar to Phrase Express, it offers a one-time payment fee with a lifetime license. It is considerably cheaper than some of the alternatives mentioned above. 
Typinator
Typinator is a text expansion tool designed specifically for macOS users. It allows you to create abbreviations that expand into frequently used text snippets, saving you time and effort. 
It allows users to create custom snippets and abbreviations that expand into full phrases, paragraphs, or even complete documents. It also supports the creation of advanced macros, enabling users to automate complex tasks.
Typinator also offers features like predefined sets of abbreviations for various languages and automatic correction of common typing errors.
Pricing
The tool offers a one-time payment of $29.99 for a single user with up to two computers. It also offers the option to upgrade your license or include more persons.
Conclusion
Text expansion software like Text Blaze and its alternatives can significantly improve your productivity by automating repetitive typing tasks. While Text Blaze is a good choice, exploring alternatives such as Klutch can help you achieve more with a fraction of the costs.
The consistency achieved through text expansion tools is a noteworthy advantage for professionals as it can help them build a professional image and maintain a cohesive brand identity.