It's been said that time is money, and this couldn't be truer when you are trying to optimize your business productivity. 
TextExpander is an online software program that saves individuals and businesses time with the things they have to type up regularly. 
Whether this relates to customer service, sales, recruitment, or other functions, the software can speed up the communication process, giving you more time to focus on more intense tasks and mind work.
There are quite a few TextExpander alternatives out there. Depending on your business needs and desired functionality, you will find one software program that works well.
This article looks at seven TextExpander alternatives and a minor breakdown of each. Some are geared toward knowledge storage, while others are for canned responses or project management. 
7 Top TextExpander Alternatives
When considering what software program you can employ to boost your productivity and eliminate many mundane tasks, consider its available features and how they align with your objectives. 
Additionally, you can't escape the pricing issue and the value-for-money comparison of the different alternatives.
Find out more about the seven top TextExpander alternatives and competitors below.
You can expect an overview of each product's offerings, which can help you make the best business decision.
Klutch is a knowledge management app that can improve the productivity of teams that want to collaborate better. Some of its benefits include better information organization, time saved on repetitive questions, and greater ease with onboarding new team members. 
One of the biggest causes of loss of time in organizations is the need for an organized system to manage, store, and share information. 
Klutch solves these challenges easily and serves as a knowledge base for all essential business process information, including standard operating procedures (SOPs), onboarding information, Q&A responses, and much more. 
When communicating with customers, there is always a lot of repetition involved. The same questions are bound to come up over and over again. 
With Klutch, businesses can have the responses to the most common questions readily available to copy and send in short form. These canned responses can serve as a team wiki and are accessible from any device, making communication and customer service easy even when you are on the go. 
Klutch saves businesses time when gathering relevant information for internal and external use. It also has a template library to help you create documents for your team.
Customers benefit from better and quicker support from canned replies. New and existing employees have the advantage of structured learning materials and easy-to-understand business systems and processes. 
It's free to start with this knowledge base software. If you need more than the basic features, an affordable Pro plan for $4/month per user is billed annually. The app can be added to your browser seamlessly. Try Klutch for free!
2. OSlash
Another top alternative to TextExpander is OSlash. This app is dedicated to improving your productivity by eliminating the number of repetitive tasks you must carry out. 
It carries out several functions, including helping you manage a long list of relevant links to improve the level of information sharing in your company. The features available with this handy app allow you to create shortcuts, snippets, and tags with incredible ease.
One of the best things about the shortcut feature with OSlash is that you can customize these in several ways. You can make shortcuts for links or information. 
There's also a way to create shortcuts for the whole team or your eyes exclusively, depending on which option you need on a case-by-case basis. The app can be added to your browser for easy adaptation into your business processes.  
Regarding pricing, OSlash is available in a free version for the whole team. However, if you want to make the most of the features, you might want to make the monthly Pro subscription of $4/month per user or $3/month when you pay yearly. 
There is also an Expert and Enterprise subscription, where you pay more for more perks, such as unlimited users, email and chat support, access controls, weekly summaries, and a custom domain. Expert is $8/month per user or $6/month when you pay yearly. Enterprise plans are customizable, so that makes the price variable. 
3. Text Blaze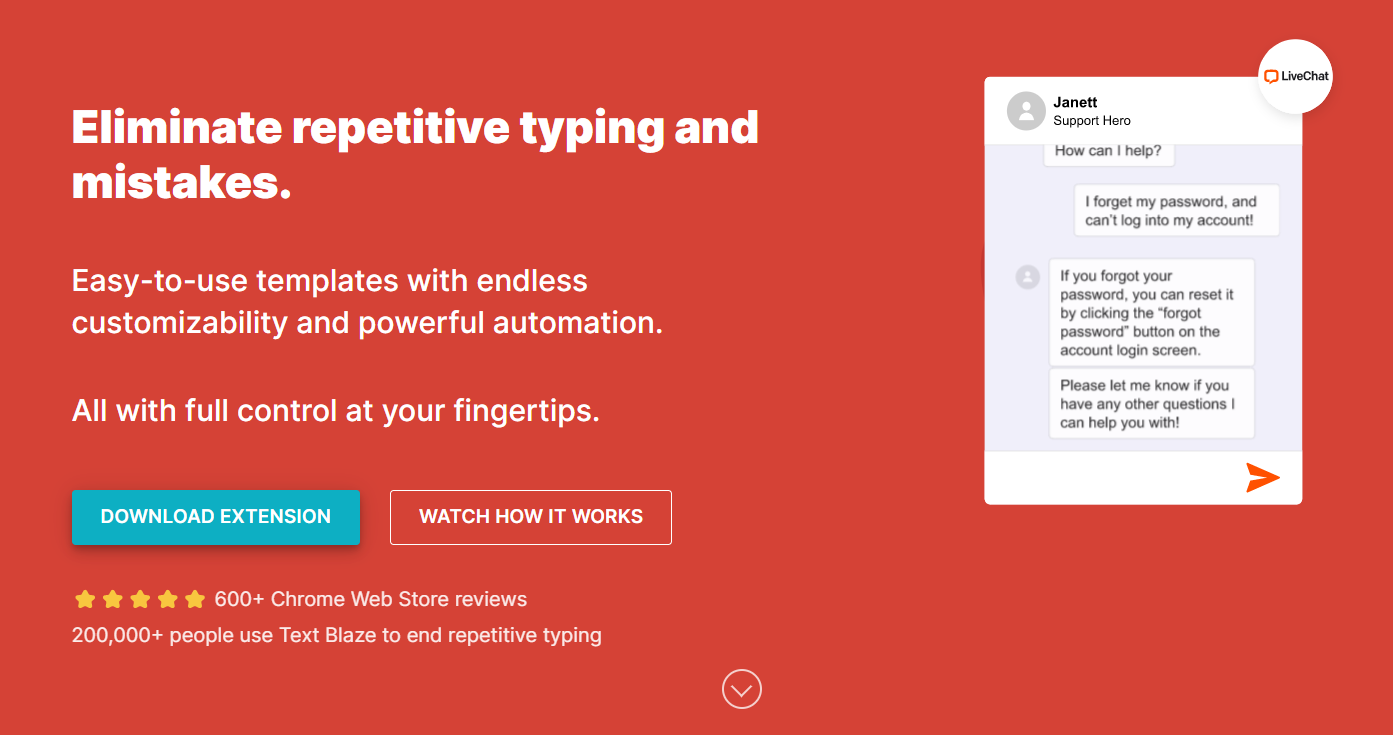 Text Blaze is the third competitor you can consider as an alternative to the TextExpander app. Similar to the other options presented, you can use this software as a Chrome extension. Text Blaze allows you to use keyboard shortcuts to speed up your work. 
One of their best applications of this is with the text templates that are easy to insert anywhere you are working on the web. With the use of templates, you not only save time but also eliminate many human error issues. 
Text Blaze boosts productivity, saving users millions of keystrokes. Regarding pricing, there is a free starter Basic plan that gives you access to many features. 
The Pro plan for $2.99, Business plan for $6.99, and Enterprise plan with customizable pricing are available if you want more benefits. You can decide which of these monthly subscriptions is best for you based on your business size and needs. 
4. PhraseExpress

Boosting business productivity on the computer is all about customizing and automating. With PhraseExpress, you can create macros that do just that. Text abbreviations are one example. PhraseExpress allows you to expand these using one of the simple features. 
With this app, you don't have to type the same phrases repeatedly. Instead, you can use a handy customized keyboard shortcut to help in many job functions, including call center and customer service.
Other features of this software include templates you can create for different text versions.
As for the cost, you can use the app as the free version. If you are looking for more functionality, you can consider the additional add-on features.  The Standard, Pro, and Enterprise versions cost $80.62, $120.96, and $201.63 for one year, including maintenance. 
5. Lucidspark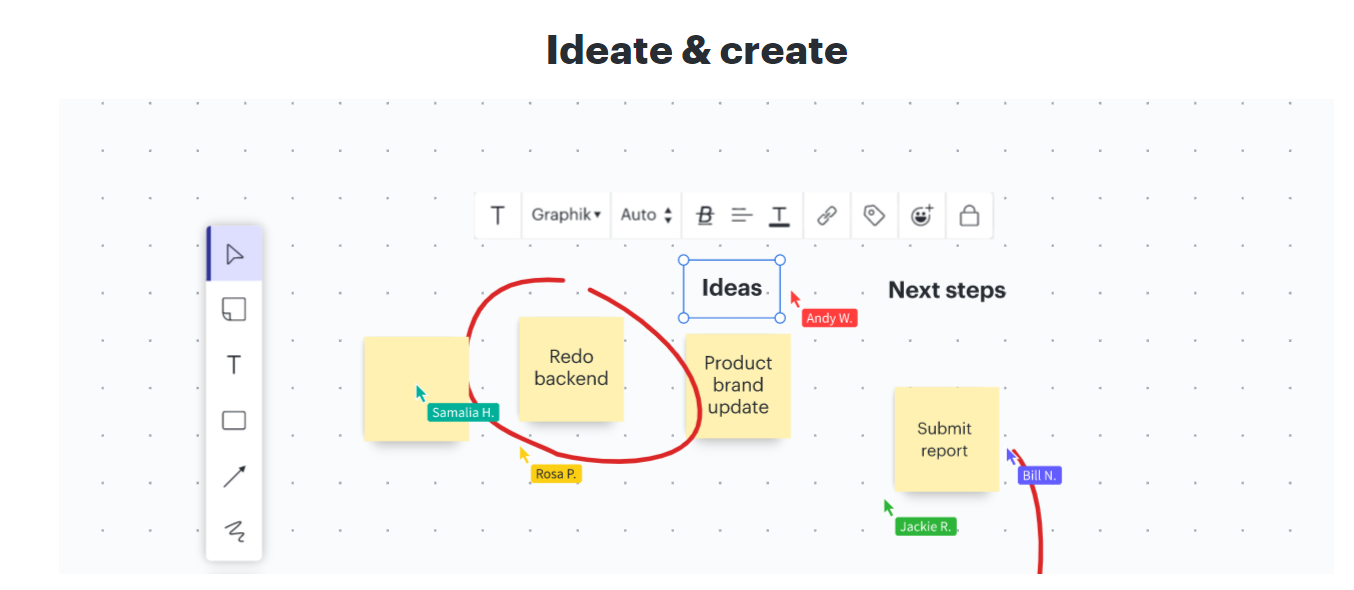 A lot of business process planning requires flow and systems. One of the best ways to map this out, depending on how your mind works, is through visual diagrams. Lucidspark answers this need. It is an app that is excellent for visualizing both individually, but more so as a team.
Lucidspark is a visual whiteboard that can be a game changer in virtual team meetings. Whether you are working on strategic planning, project management, or just visualizing the next event or initiative, a virtual whiteboard can help bring everyone on the same page.
Once users have grasped all the great features, your team meetings will not be the same again. It is free to sign up to use Lucidspark. 
Individual, Team, and Enterprise plans are available for greater functionality at $7.95, $9.00, or a custom amount per user. You can always upgrade your subscription as business needs change. 
6. ConnectWise Control

The sixth alternative to TextExpander that we are looking at is ConnectWise Control. Access control and management have never been more important with many people working on their computers. 
Remote teams around the world bring a lot of benefits. However, this work style can also make it more challenging for businesses to track who is accessing company property and information. 
ConnectWise Control allows businesses to keep a tight rein on who accesses business devices, systems, tools, and data and when. Various price plans are available depending on your business needs. 
This system is managed by an IT person in the know and can mean the difference between compliant data management and a breach. It is worth looking into as a business grows and works remotely. 
ConnectWise Control solves a slightly different problem than the other options but still relates to optimum business operations and systems. There is a 14-day free trial. Depending on features, plans range from $27 to $52 per month. 
7. Espanso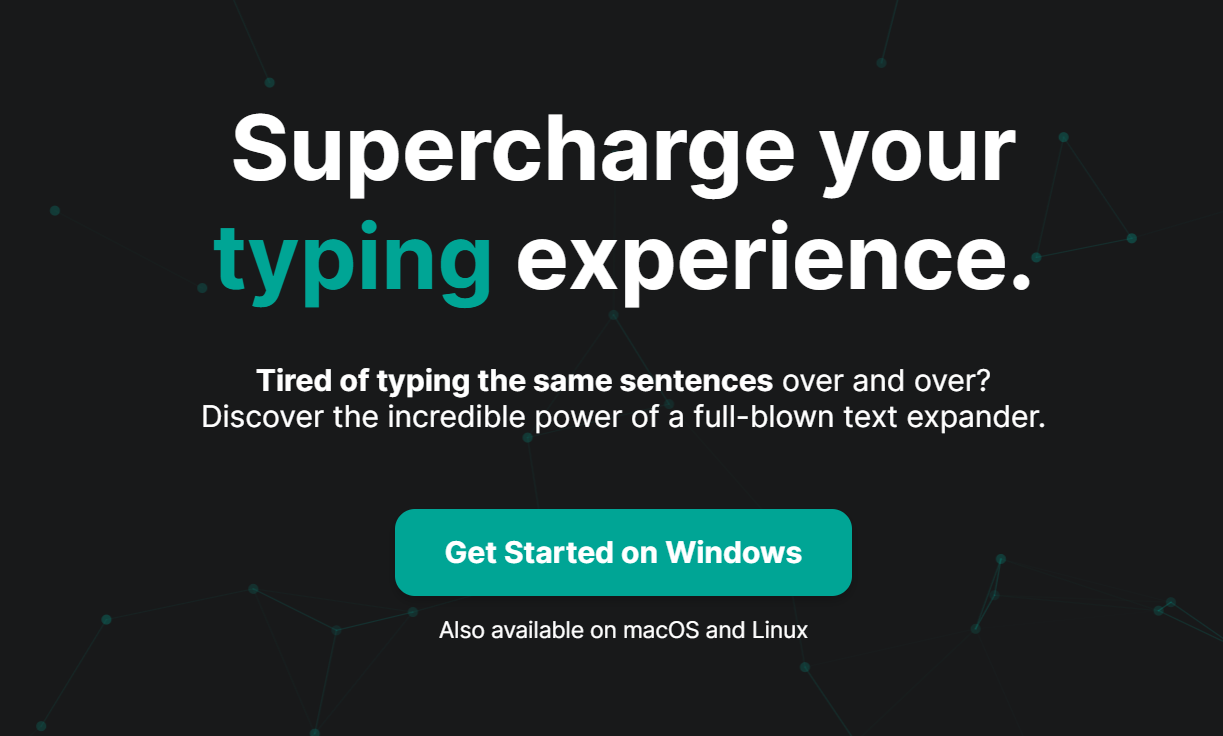 Last but not least of the TextExpander alternatives we are discussing today is Espanso. This software eliminates the need to type the same sentences repeatedly. 
It is a text expander that can save you hours of productive time in roles such as customer service, call center, ticket logging, order fulfillment, and much more. 
Espanso is open source and, therefore, free. It can bring many benefits to you as an individual or business.
Conclusion
Having looked at all the different alternatives to TextExpander, you might be wondering which one to go for. As you can see, each option has a lot to offer. It boils down to your business needs. 
However, one of our top recommendations would be Klutch because of its seamless incorporation into existing business problems. 
It solves the heart of the problem in many growing businesses: the lack of a central knowledge base and SOPs that are easy to access and use for the most common to the most elaborate procedures. 
When you have a new hire, you must have this information and all your knowledge base articles and systems ready to go.
If you want to jumpstart your journey, head on to Klutch! It has various user-friendly tools and features you can try for free, and we highly recommend giving it a try!