In today's digital era, most aspects of our lives are influenced by technology. The introduction of the internet, social media platforms, and different software applications stir the traditional way of life. Acquiring knowledge becomes a lot easy. In just a matter of clicks, you'll come up with the concepts you are looking for. 
Living amidst this pandemic, lots of works revolve around the use of cellphones and computers. Integration of technology saves us from working face-to-face. With working made easier through technology, plenty of experts developed software applications to grasp this growing trend.  
Confluence: Explained
With the current condition, collaborating ideas and concepts within team members might be challenging. This concern leads a numerous number of experts to develop software where anyone can share their knowledge and collaborate with the team. 
Confluence is a knowledge base software where anyone can create, collaborate and organize their works in one place. It is an excellent online collaboration tool for teams who wants knowledge and teamwork to meet. The flexibility of project management is made possible through Confluence. Dynamic pages are provided that enables anyone in the team to capture, create and collaborate on any project or idea. It is an outstanding productivity tool that helps monitor every team member's productivity. 
Spaces also ensure team structure, organization, and shared work. It allows every team member a visibility into relevant knowledge and access to information needed to do their task.
Confluence is best for anyone. It is ideal for teams of any size and type. It is an excellent pick for those with mission-critical, high-stakes projects and those who aim to build authentic team culture. 
Confluence comes in three billing options: standard, premium, and enterprise. It is always free for ten standard users. You have to pay an average of 50 dollars a month per user if you availed the premium while 100 dollars a month per user for the enterprise. 
What Are Some of the Popular Alternatives for Confluence?
Confluence Alternative #1: Klutch
Klutch is a user-friendly knowledge base to manage and store your company documents, pages, and responses. It's perfect for efficient team collaboration, documentation, onboarding, and customer service management.

Features
Main features include: 
Knowledge management. Create and organize company and project information in one base of knowledge
Pages and Responses. Create, add, edit, and manage your company pages and canned responses
Accessibility. Access your Klutch internal knowledge base anytime, anywhere, even on mobile
Sharability. You can easily share your pages with your teammates and collaborate in real-time
Template library. By using Klutch knowledge management software, you can get access to a collection of pre-made templates for the easy creation of pages and responses
Easy UI. Everything is organized and you don't need to have coding knowledge and skills.
Pros and Cons
Klutch is one of the most user-friendly Confluence alternatives. Its user interface is easy to understand. 
On the other hand, Klutch is pretty new so it still has a lot to improve but it comes with powerful features and tools already to start your internal knowledge base.
Pricing 
Klutch is free to use. Its paid plans start at only $5 a month.  Sign up here!
Confluence Alternative #2: Podio
Podio is one of the utilized alternatives for Confluence. For better team collaboration, content, structures, and processes are synced together in one tool. 
Features
Main features include: 
Project Management. Podio keeps everyone in the team involved with the project on the same page. 
Collaboration. It makes working together with teams across entire organizations easy. 
Task management. Assigning tasks to team members is handy. 
 Team management. It ensures excellent team collaboration, knowing who's doing what and when it will be done. 
Other features are:
Meeting scheduling 
Data visualization
Granular access
Calendar
Unlimited storage
Personal dashboards
Connected CRM
Integrated chat
Full customization
Web and mobile compatibility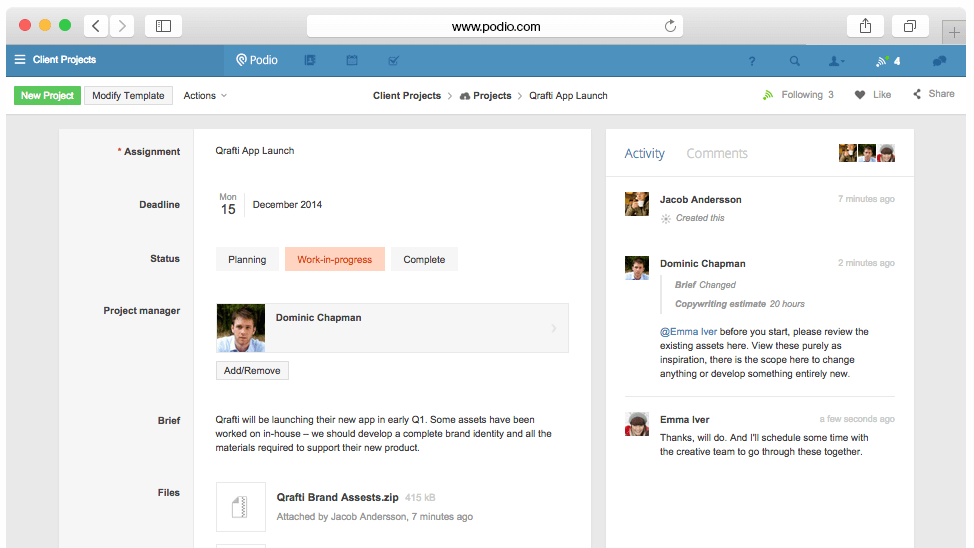 Pros and Cons
Using Podio as an alternative posts bunch of advantages and downsides as well. It is flexible and can help businesses in different ways. Its unique features allow team members to access every project and information easily. 
On the other hand, users of Podio state that it's a bit unreliable. Permissions and overall platforms are confusing. Sharing of projects is difficult for beginners and new users.    
Pricing 
If you want to use Podio for your next project or for the whole department, billing plans are provided. All plans are priced monthly per employee. You can try it for free with five employees. But if you want to avail a basic version, you will pay 7.20 dollars as a starter. A full suite of advanced features costs 19.20 dollars for a premium pack.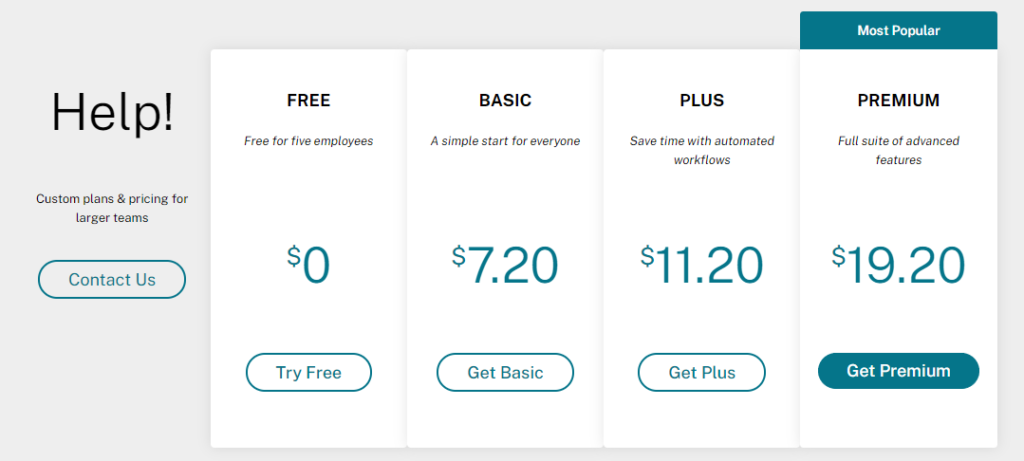 For Whom Is This Best for?
Podio is best for anyone. Any startup company with few members can use it. It is also ideal for larger companies with thousands of employees. 
Confluence versus Podio
Confluence and Podio similarly fell to an average of 94 percent when it comes to user satisfaction. However, a confluence is cheaper. Its price starts from 5 dollars while Podio starts from 7.20 dollars. Confluence also exceeds Podio in terms of several features.
Confluence Alternative #3: Paymo
Paymo is a modern work management application and collaboration tool designed for small and medium scaled businesses. This bundle is perfect for users because it includes invoicing, collaboration, task management, time tracking, scheduling, and planning.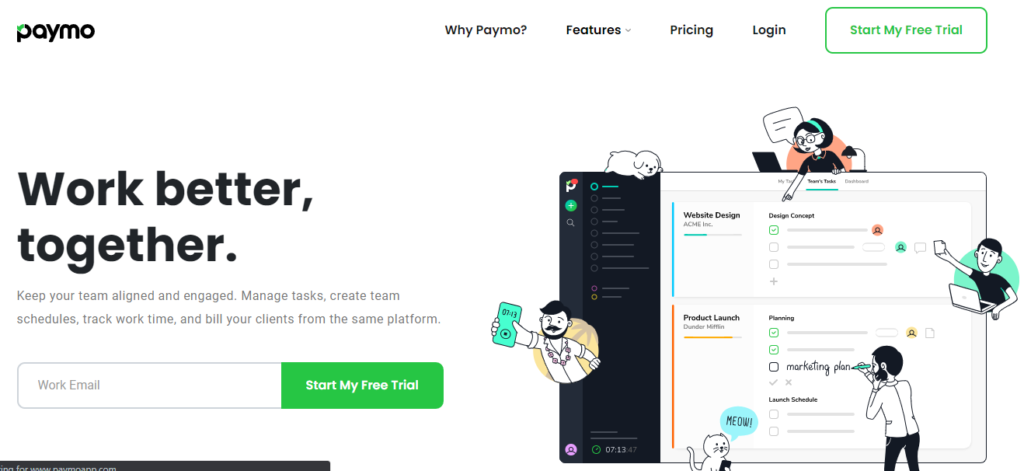 Features 
Paymo lets you enjoy the following features:
Task Management. You can use their task lists and modules for you to have an organized task and workloads. Their advanced task management lets you view tasks with filters and check task details. You can also schedule and monitor activities and start discussions with co-members about the updates on your project.
Time Tracking. With their desktop and mobile tracking apps, multiple timesheet views, automatic time tracking, and integrated online timer, monitoring work time and productivity are easy.  
Timesheet Reporting. This feature provides convenient monitoring of what you've been doing and how much time you spent with it. This also allows you to share your reports with clients and personalize your reports for better progress and outcome.   
Time scheduling. It gives free access to viewing the members' project schedules. You can see who is available or not, and it lets you plan ahead of time.  
Invoicing. Recording and tracking expenses are made easier by this feature. It has multi-language invoices and accepts online payments for invoices as well. Creating estimates based on the project data plan and sharing it with clients for approval is also possible.  
Integrations. Paymo app can be integrated with other applications. You can connect it to any open system and integrate it with hundreds of other apps.

Pros and Cons
Paymo is easy to use. It contains wonderful features that let you work with the team conveniently and efficiently. With its flexible features, project delivery from start to finish is rest assured. 
Though it has a free plan, only 3 invoices are allowed for a user to create. The storage is limited, and no advanced task management for a free plan. Integrations are only available with paid plans.   
Pricing 
Paymo offers two months free trial if you want to check first how it works. For small offices, Paymo amounts to 9.95 dollars a month per user with no user limit. For businesses, typically with large teams, Paymo amounts to 15.79 dollars a month per user.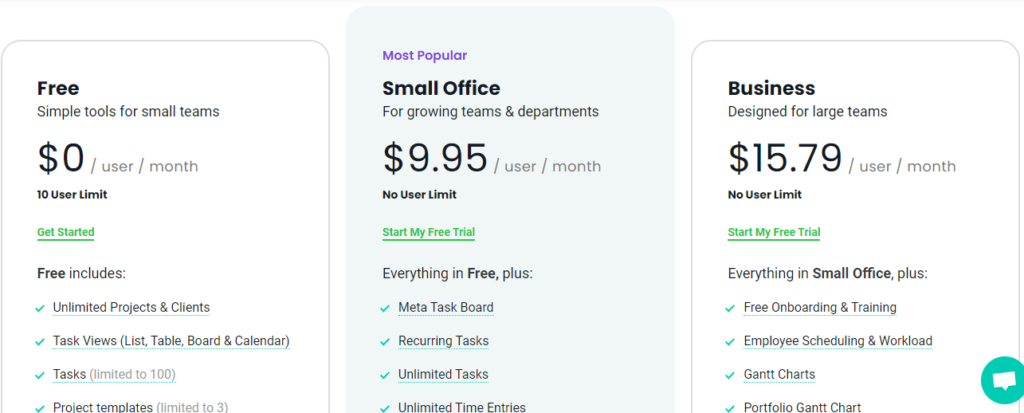 For Whom Is Paymo Best for?
Paymo is best for small and medium-project-based businesses. It may include advertising and marketing agencies, web development and design agencies, law firms, and universities, among others. 
Confluence versus Paymo 
Both are proven as excellent software in terms of ease of usage, features, and functionality—however, Confluence outright Paymo when it comes to pricing. Starting price for Confluence only amounts to 5 dollars a month per user, while Paymo amounts to 9.56 dollars.
Confluence is best for all kinds of functional departments of any size. On the other hand, Paymo is only limited to small and medium-scaled businesses.
Confluence Alternative #4: Wrike
Wrike is an enterprise-grade collaborative work management platform designed to help companies do their best work. It is a helpful tool in creating a structure that aims for accelerated business impact.  It also ensures team focus on specific work.
Features
Wrike has two main features: project management and professional services automation.
Project Management Features include:
Task management
Resource management
Gantt charts 
Scheduling
Workflow automation
Team collaboration
Support for Agile Methodology
Document management
Email integration
Mobile access
Timesheet tracking
Professional Services Automation Features include:
Project and financing reporting
Integration with accounting software
Pros and Cons
Wrike is an excellent choice for robust and flexible management. It is also a great tool for large teams who need easy task management and a flexible way of reporting and communication. With its innovative and advanced features, it takes your business productivity and success to the next level.
Although Wrike is a great way to ensure productivity, team collaboration, and organization, the software still has room for improvement. Reviews show that some of its features are confusing and are troubling to use. Storage issues are also noticeable.
Pricing  
Wrike offers a free plan for 5 users provided with simple features. But if you availed for a professional plan, the price ranges from 9.80 dollars a month. It already includes 5 to 15 users. The most popular pick is the business plan, having 5 to 200 users. The price amounts to 24.80 dollars per month. 
For Whom Is Wrike Best for?
Wrike is best for businesses either with few or a huge number of employees. It is also perfect for middle-sized companies that embrace teamwork, run multiple projects and clients. 
Confluence versus Wrike
Both have excellent ratings in terms of customer satisfaction, customer support, and features and functionality. But when it comes to pricing, the Confluence is way cheaper. Confluence starting price only amounts to 5 dollars a month per user while Wrike amounts to 9.80 dollars. 
Confluence Alternative #5: Asana
Asana is a task management software that organizes projects into boards, enabling easy management of projects, processes, and tasks. This software allows you to create your team's structure and processes. Through this, multiple people can access and collaborate on a task.
Asana comes with various templates to choose from. These templates can be very useful for different types of projects, business plans, and success-driven goals. Satisfied users recommend Asana for its accuracy, time-effectiveness, flexible tracking tasks, and real-time discussions.  
Features
Amazing features of Asana includes the following:
Customizable dashboards and Activity feed
Focus mode and individual task lists
Subtasks assignment
Prioritization
Custom calendar
Email integration
Notifications and reminders
Automated updates
Project permissions and task creation
Searched views
Tracking 
Integrations
Customer support and Adding followers
Multiple workspaces 
Group discussions
Pros and Cons
Asana is very handy to use and perfect for beginners or new users. With its rich features, customizations, and general usability, an increase in productivity is a sure result. Everything can be kept together in one place, such as conversations and tasks. This software exhibits more than hundreds of integrations too. 
However, lots of people seek alternatives. One of the reasons is the complex types of projects. Though Asana offers plenty of great features, projects can get complex and confusing. Tasks assignments are also limited, which is not ideal if you want multiple people to finish the task. 
Pricing
For teams or individuals just relatively new to using project management, the basic version of Asana is free. But if you want to create project plans with confidence together with your team, the premium plan is perfect for you. It amounts to 10.99 dollars a month per user. 
For every team and company that requires managing work in a wide range, a business plan is the best option. Price ranges from 24.99 dollars a month per user. 
For Whom Is Asana Best for? 
Asana works for everyone. It is perfect for teams who aim to stay productive and deliver better work faster. The number of users ranges from one to thousands and more. 
Confluence versus Asana
Confluence and Asana both excel in terms of customer satisfaction and ratings. Both are also easy to use and offer great features and functionality. But Confluence is cheaper. It only requires 5 dollars a month as starting price compared to Asana, which requires 10.99 dollars. 
Confluence support all kinds of functional departments of any size. Asana, on the other hand, only revolves around team management.  
Confluence Alternative #6: Bloomfire
Bloomfire is a knowledge-based software platform that enables teams to share relevant information whenever and wherever they are. It aims for every team member to have access to the same knowledge and collaborate ideas at the same time. 
Features
You may look further for the following features of Bloomfire:
Remote work
Collaboration
Content management
Digital adaptation platform
Digital asset management
Digital workplace
Knowledge management
Market research
Portal

Pros and Cons
Bloomfire is easy to use. It enables teams access to a wide range of relevant and up-to-date knowledge. It is self-sufficient in providing centralized knowledge.  It has a simple yet clean interface and ensures strict security for your content and shared information. 
Bloomfire applications are also mobile-ready. You can access it anytime using your phone. It can also be integrated with lots of other platforms, which enables you to expand your knowledge-sharing capabilities. But Bloomfire is not as perfect as it is. This software also leaves room for improvement. 
Pricing
Bloomfire offers no free trial. Plans available cost 450 dollars a month for 25 users. 
For whom is Bloomfire best?
Bloomfire is perfect for any team, organization, or company that is looking for a useful way to collaborate and share meaningful knowledge easily.  
Confluence versus Bloomfire
Confluence is noticeably way cheaper. The ideal number of users for Bloomfire ranges from 50 to 1000 and more. At the same time, Confluence covers even 1 user to 1000 and more. Both exhibit excellent usage and customer support, as well as great features and functionality. 
Confluence Alternative #6: Kanbanize
Another knowledge base software that ensures business and team productivity is Kanbanize. It is one of the leading platforms for efficient and project management and delivery.
Features 
Amazing features of Kanbanize that you may look into:
Full transparency
Optimized project delivery workflows
Automated project reporting
Managed dependencies across multiple projects
Forecast with confidence
Collaboration
Agile project management
Pros and Cons
Kanbanize is easy to use and perfect for monitoring team progress. Its clear vision helps in improving the team's productivity.  It is flexible and powerful due to its simple yet intuitive design and customization ability. It has a rich set of features and a wide range of integrations. 
Having simple and intuitive features, Kanbanize is widely recognized. But its powerful analytics and business rules are intimidating and challenging to handle. 
Pricing 
Kanbanize doesn't have a free version, but it offers a free trial. Pricing starts at 149 dollars a month.
For whom is Kanbanize best?
Kanbanize is the leading Kanban software for project and portfolio management. It is ideal for teams who aim to have a clear vision across all projects, better planning, and execution as well as faster delivery of the project.  
Confluence versus Kanbanize 
In terms of user satisfaction, both portray excellent feedback and ratings. However, when it comes to pricing, Confluence is way cheaper than Kanbanize. Both cover a wide range of businesses and companies of any size and provide ease of usage and excellent features and functionality.
Summary
The right knowledge base for you depends on your needs, budget, and demands. If you're looking for a good knowledge base for free, you can try Klutch now. It has a collection of pre-made templates so you don't have to create everything from scratch. Create your knowledge base with Klutch today!