Guru is knowledge management wherein companies use this for managing marketing teams, support, and sales.
You can create your knowledge network for your company, and at the same time, you can manage the collective intelligence by unifying the joint knowledge, and it suggests to you some relevant information that is the best for your company.
It also has a publishing API and a turnkey solution that allows you to be flexible while using it.
This web application and at the same time a browser extension offer packages including some special features of the application, but it may be a bit pricey for a small business like yours.
That is why there are a lot of GetGuru Alternatives that you can find online. This knowledge management software is also unique and similar to Guru and much affordable for your small business.
Klutch is one of the most efficient and affordable Guru alternatives that helps teams, companies, salespersons, and agencies to manage their company knowledge in one database. This knowledge management software paves the way for the information-sharing culture to flourish.
By using Klutch, you get knowledge and relevant information across without the need to go through a pile of documents. In just a few clicks, you can get the details you need in addressing client concerns, getting employee records, and other essential company files.

Klutch also doesn't need coding experience to operate. You can create your own knowledge base and use ready-made templates to create pages and responses according to your requirements.
Features
Here are some of the major things you can do to document your team knowledge:
Klutch Responses
Create, edit, and store canned responses on your Klutch knowledge base. With this, your employees will get direct access to default communication statements for better customer engagement and assistance. Using Klutch to maintain information which helps you undertake repetitive tasks and manually type them from time to time.
Klutch Pages
With Klutch, you can create, edit, and consolidate long-form pages that contain relevant and confidential company information that is meant to be shared across departments. Klutch also has a collection of ready-made templates to keep you from doing everything from scratch.
Other helpful features of Klutch
Keep your team on the same page with real-time collaborations
Choose dozens of ready-made templates 
Easily share your information with teammates, clients, and employees
User-friendly interface
Pricing
Klutch can be a great Guru alternative, it is free to use, and Its paid plans start at only $5 a month.  Sign up here!
2. Kipwise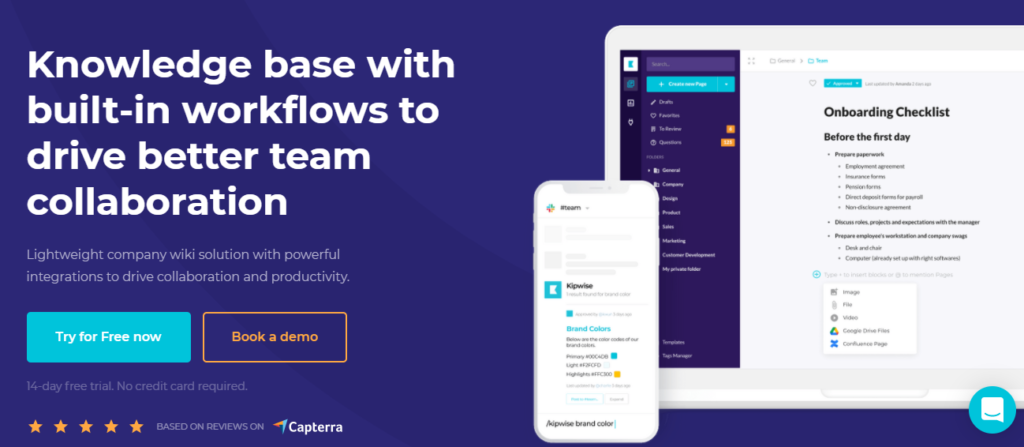 Kipwise is one of the GetGuru Alternatives that have lots of special features at their best price. You can create reference materials that are handy using multiple sources of data and information in one Kipwise Page only.
Features
Kipwise keeps your knowledge up to date. It is easier for your team to search for some help center to make it easier for your customer support team to access the most updated company and product information.
In Kipwise, one of its special features is the Kipwise Slack command, in which you will just connect your tools to your Slack search commands, and it will be easier for your team to find whatever they need.
Not only that, but you can also have direct access to your team's knowledge management in your workflows to create a much easier way of informative documentation. 
Pricing
And, Kipwise also has a free trial before you purchase their full version since they do not offer a free version. This free trial will help you to discover other features of Kipwise and how this application works.
Kipwise is much more flexible and cheaper than GetGuru.
Kipwise's Professional Plan costs only $5 per user per month, which is affordable than GetGuru. This will be best for you, especially if you are looking for a cheaper but similar GetGuru.
Notion is another best alternative for GetGuru that you can find.
This application can use for teams and companies that want to improve their knowledge management, projects, collaborations, and documents. Individuals such as workers can also use this, especially in taking down notes and organizing their lives.
Features
Notion also helps your team in producing greater productivity and more efficiency in sharing resources and project updates to all teams. This will prevent you from giving more time in sending emails, searching for necessary information, and changing tools simultaneously. 
But, despite having these good features, you can't use Notion in person in terms of training, and it doesn't support business hours like GetGuru.
It doesn't have a decision tree as well as discussion boards as well, but it is still easier to use since it has clean layouts and flexible in customization.
Notion also has unlimited storage, so you don't have to worry about downloading some extra files using this application. 
Notion will give you a holistic user experience, and it will always keep you up to date in anything you need. And using only a single board, Notion can help you to design your system for your company.
Pricing
You can install Notion, whether on your web or mobile, and it is available at its affordable price of $5 per user per month. 
4. Trello
Trello is best for teams of all sizes. Creators and doers are mostly the ones who use Trello for their works.
Features
In Trello, you can have your customized design that could fit the uniqueness of your work, and it gives joy to teamwork by making it easy to share and transparent across boards and teams.
Not only that, since Trello is one of the Top 20 in Strategic Planning Software and Product Management Software, which makes Trello more reliable to their customers.
Just like Notion, you can also keep track of Trello by using a single board. You don't have to open many tabs or boards to see your progress in every project you make since you can see your progress in one single view.
Pricing
One of the best parts of Trello is that you can avail yourself of their free version of the application and not the free trial, which is better than GetGuru. That is why it would be easier for you to decide whether you will purchase the full version or not.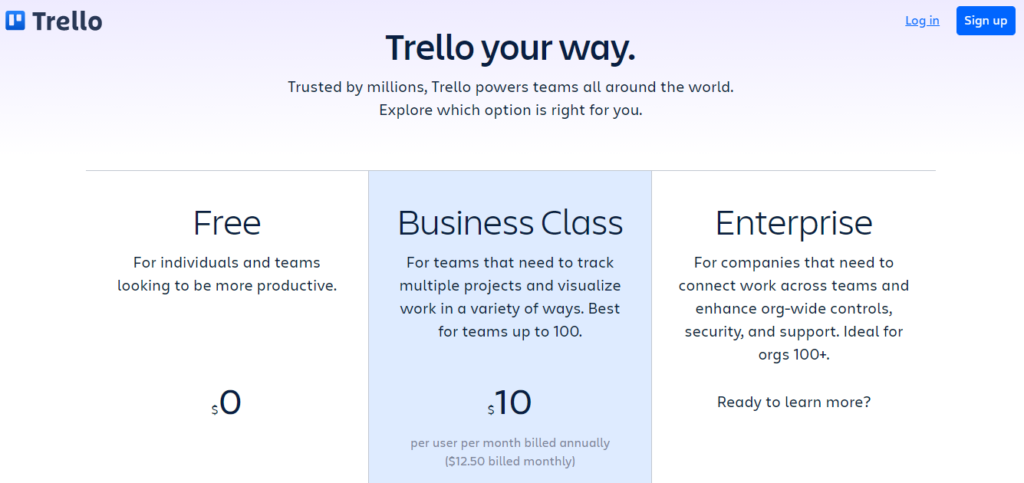 But Trello is a bit pricey for their starting price since it will cost you $12.50 per month per user, unlike GetGuru that has $2.50 for their starting price. But you don't have to worry since it is worth it to purchase once you get along with their free version.
Also, you can have the free version of Trello anytime you need, especially if you are on a budget; there's nothing much difference between the full version and the free version since both of them are accessible for you.
5. Asana
Asana is one of the best GetGuru alternatives since it is a remote work tool that helps you and your teams with their work, starting from their daily tasks to their strategic initiatives; Asana is the best tool for that.
Features
It can help you to connect your works and teams in just one place. Asana can help you to organize your work from lists to boards and others, and it will keep you organized and always in a correct flow.
This is also the easiest way to manage your team projects as well as the processes and tasks, and it delivers your work faster. 
One of the features in Asana is you can monitor the activities of your employee, and you can manage both your meeting and task, which is convenient for this application.
Not only that, but you can also use Asana in person, online, webinars, and documentation in terms of using it as training. This is also available anywhere, and you can install it whether on your web or mobile.
Asana is a very flexible application, and it is better than GetGuru in terms of flexibility.
Pricing
But Asana is much more expensive, unlike GetGuru since it will cost $10.99 per month per user as a starting point. You don't have to worry since Asana offers both a free trial and a free version which will help you to discover more about Asana.

So, if you are still on budget and you want to have an easier type of application, Asana fits for you, and you can use the free version if ever you don't want to purchase yet.
6. ProofHub
ProofHub is a management software that is a SaaS-based project, and it comes with an integrated group chat, workflows and boards, quick project discussion, and many more features that ProofHub have.
It also enables teams to collaborate and communicate with the projects easily in one place. Proofhub always connects teams since it is available in both Android and iOS. 
Features
Most freelancers use ProofHub for their work, and it is the best tool for project management and collaboration that can fit in any corporate setup you have.
But when you use it for training, it is not available in other types except the live online and doesn't support business hours, unlike GetGuru , but this is best for tracking your time and expenses and keeps you updated with your team.
Pricing
Unlike others, ProofHub doesn't have per-user fees or contracts; instead, you will pay for the month only. It will cost you $50 per month for its starting price, which is a bit more expensive than GetGuru, but you don't have to worry since you can have the free version, especially if you are on a budget.
They also offer a free trial for the application, which is better if you are planning to discover more in ProofHub. The free trial will come first before you are going to use the paid version; with this, it can help you to decide whether you will be going to avail of the paid one or not.
7. Teamwork
Teamwork helps in-house teams and agencies to improve their collaboration, accountability, visibility with the ultimate result. It is project management software, and it has a feature that you need, including planning, delivering your work, and collaborating.
Features
This online collaboration tool will help your team to achieve the results that you need for your business. You can also manage everything like delivering your client projects, executing marketing campaigns, sprint planning, and others.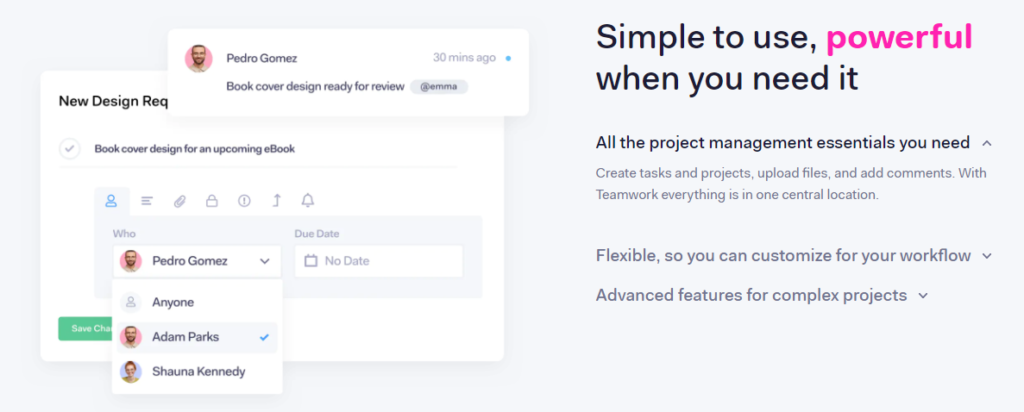 Though Teamwork doesn't have this budget management as well as the resources management, unlike in GetGuru, it has other features that GetGuru doesn't have, like the collaboration tools, cost-to-completion tracking, and many more.
You can also deploy Teamwork on your web or mobile, and it has only webinars and documentation when it comes to training.
Pricing
When it comes to pricing, Teamwork is not that pricey since you will only pay $10 per month per user in annual billing and $12.50 per month per user if it is monthly billing.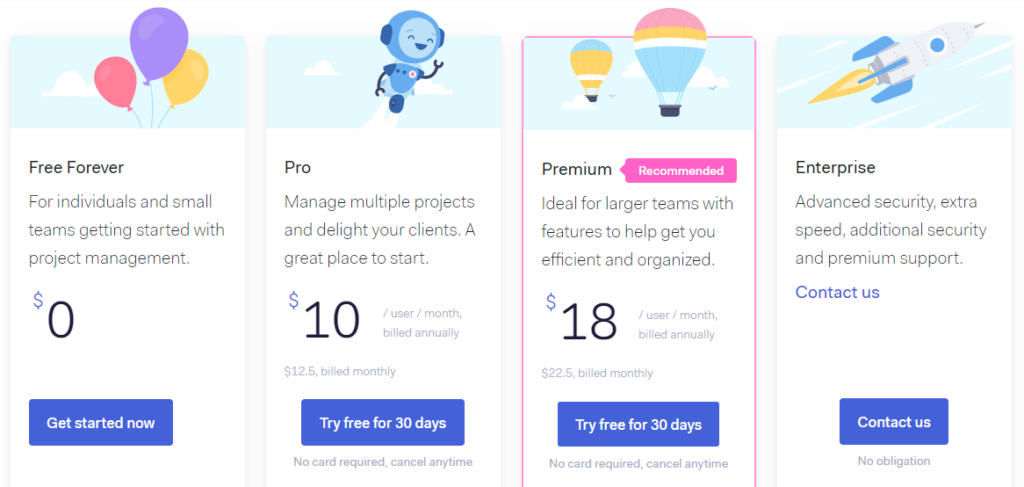 But you don't have to worry if you find it expensive since they have a free version of Teamwork, so you can have it in case you don't want to purchase one.
Teamwork also offers free trials like others so that you can discover more about the application before deciding to purchase the paid version. 
8. Obie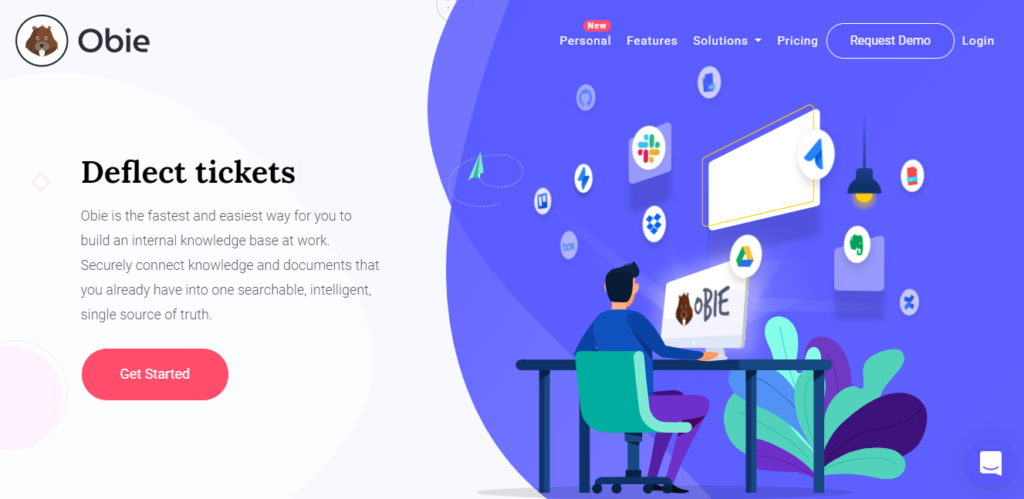 Obie is one of the fastest ways to access and capture knowledge, especially at work. You can find documents, notes, and wiki articles fast as well as text snippets for quick reuse.
Features
Obie enables you to also share documents with your teams faster than others, no need to waste more time in sharing files since it will be much easier in Obie.
Since their mission is to make knowledge universally accessible, they are enabling customers to create a single source of truth without using the native knowledge authoring tools. 
Compared to GetGuru, Obie has Robust Slack integration and 16+ knowledge integration than GetGuru has since they only focus on the native content tools.
But, Obie only has younger browser extensions and fewer verification features on its application which is a bit lower than GetGuru. 
Pricing
In pricing, Obie is less expensive than GetGuru because it only has $59 per month, and it includes 50 user licenses, unlimited storage, Slack Bot and browser extension, and others.
Obie also offers a free trial just like the other applications, so you can get along with the app and consider some other features of it.
If you are on a budget, Obie has personal freedom, which you can use for free, especially for individuals who are looking for quick docs, notes, and wikis.
You can have unlimited knowledge integration, document index, and personal FAQs for free!
9. JetBrains
JetBrains is one of the popular software applications out there, and they give a smooth and enjoyable experience to the users as they ensure that they can help you in building and shipping your side as well as planning your works.
Unlike those mentioned above, JetBrains is more on software development, communications, and team management. It unifies the team and allows them to collaborate and be more productive with their work.
Features
With JetBrains, it makes everyone work together and more agile and streamlined. This method can help your company grow and works effectively, especially in remote working.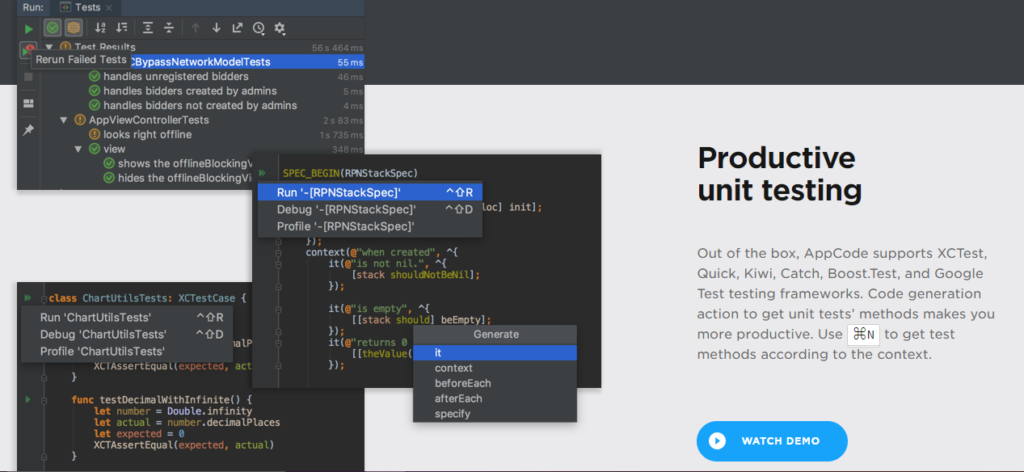 JetBrains comes with a lot of tools that could match your project needs. One of its tools is the Team Tools which will direct on how to manage your team along with their integrated knowledge. 
Pricing
When it comes to pricing, JetBrains is much more expensive than GetGuru. If you are going to avail of their monthly subscription, you will pay $49.90 per user per month, and for the annual subscription, you will pay $249 per user per year.
If you are in a small business and on a budget, you can avail of their free trial for seven days, and no payment added. It may be expensive, but it is worth it to buy.
10. Tettra
Tettra is usually used for teams that use the Slack application. It helps the team to organize and share organizational knowledge with everyone.
Features
It has a robust solution, especially for the growing teams, including success, support, operations, and many more. Not only that, since Tettra also helps you in abolishing unnecessary information that could reduce ramp time in hiring.
It can make the team more productive in their work and increase collaborative productivity, which ensures you move fast for your growing business.
And Tettra also encourages the employees to contribute their knowledge and to read since it is one of the key attributes to the team. And since it has a Slack application, it will be easier for the team to look for something that they need, and it is also easier for them to use. 
Pricing
Tettra offers 15-day free trials, and pricing plans can be billed monthly or annually.
For growing, it will cost you around $50 to $60 per month, including the Slack integration, 300GB file storage, 25 users, and many more.
Though Tettra doesn't have the free version, purchasing the paid version is also worth it to buy since you can avail yourself of their special features that you can find.
Conclusion
These are the Guru Alternatives (GetGuru alternatives) and, at the same time, an online collaboration tool that can make your team collaborate and share knowledge for your company's growth.
These tools will keep your team productive, which is why it is necessary to have these.
Always choose the best and most affordable tool that is perfect for your on-budget business. Like Klutch, you can supercharge your knowledge base performance with its free and efficient features and tools. Try it here.