In the modern world, sharing company documents and resources is a must for everyone. Unfortunately, some firms lack the basic software needed to make this sharing possible. Fortunately, there are several ways to share, edit, manage, and complete tasks on a single platform.
What is Gitbook?
Gitbook is a present-day documentation platform where your team can register everything. You can capture your products, APIs, and internal knowledge bases. It is a knowledge base software with online collaboration tools helping teams to work more efficiently. You can use Gitbook to create a simple, yet powerful service for your team. Basically, the platform helps your team to share their knowledge. 
Features
You don't need any code or design to create and publish beautiful documents using Gitbook.
This knowledge base platform organizes your knowledge and gets your team working centrally.
Gitbook's online collaboration tools synchronize your GitHub workflows with an in-built native integration.
It supports your save or merge (async) and instant doc collaboration.
The platform is free for open-source project management, students, and non-profit organizations.
Gitbook Alternatives
As much as Gitbook can support you well, it is operating in a very competitive market. There are several Gitbook alternatives that clients can use. Below are some of the Gitbook alternatives:
A new and powerful player in the world of knowledge is here to give you efficient tools. Klutch is perfect for various companies irrespective of size. It offers simple yet powerful features that pave the way for better team collaboration, access to knowledge, and more. With its user-friendly platform, you can safely keep your important company files that are relevant for onboarding, business collaborations, partnerships, internal communications, sales, and other business aspects that require consistent communication.
Knowledge management is important if your goal is to innovate your team and lead them to the next level of collaboration. With Klutch, you will have all the knowledge tools you need. You can organize company information and disseminate them properly. Your team members can even access your knowledge base while on mobile, and while working remotely.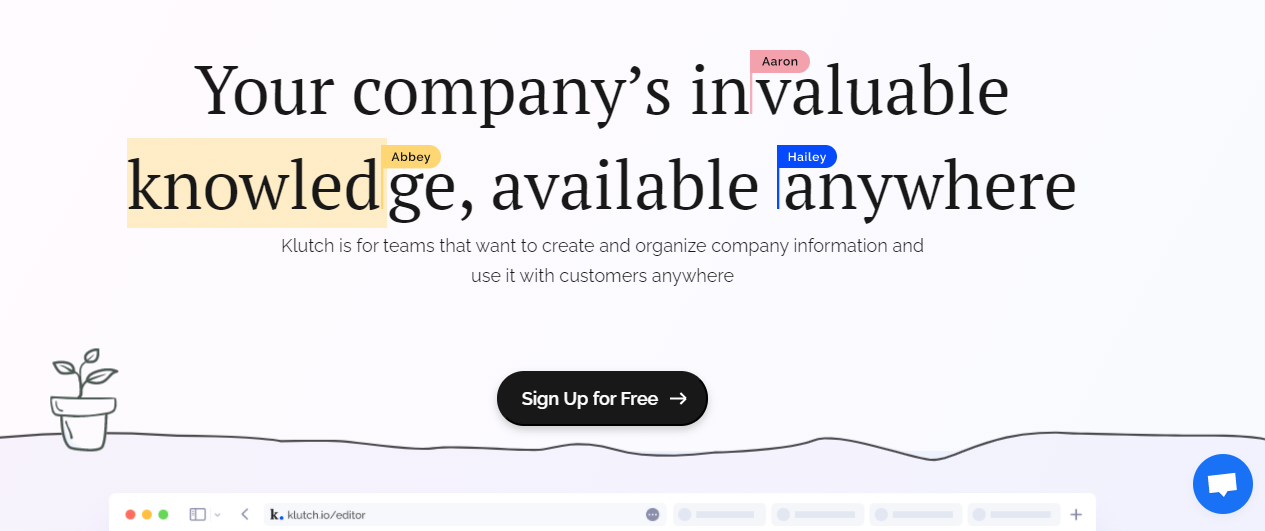 Here are some things you can do with Klutch:
Klutch Responses
Default responses help you in communicating more efficiently to your clients and stakeholders. This spares you from writing repetitive statements every now and then. All you can do is log in to your account and copy/paste the response you need to say. This is highly effective for sales teams and representatives. Your team can even add/edit the details as deemed necessary.
Klutch Pages
The company Poptin recently switched to using Klutch as their team's knowledge base. As a fully-remote company, Klutch makes it all easier to collaborate with teams in different areas. With Klutch, you can create long-form pages on company policies, reports, onboarding, contracts, employee information, sales, and more.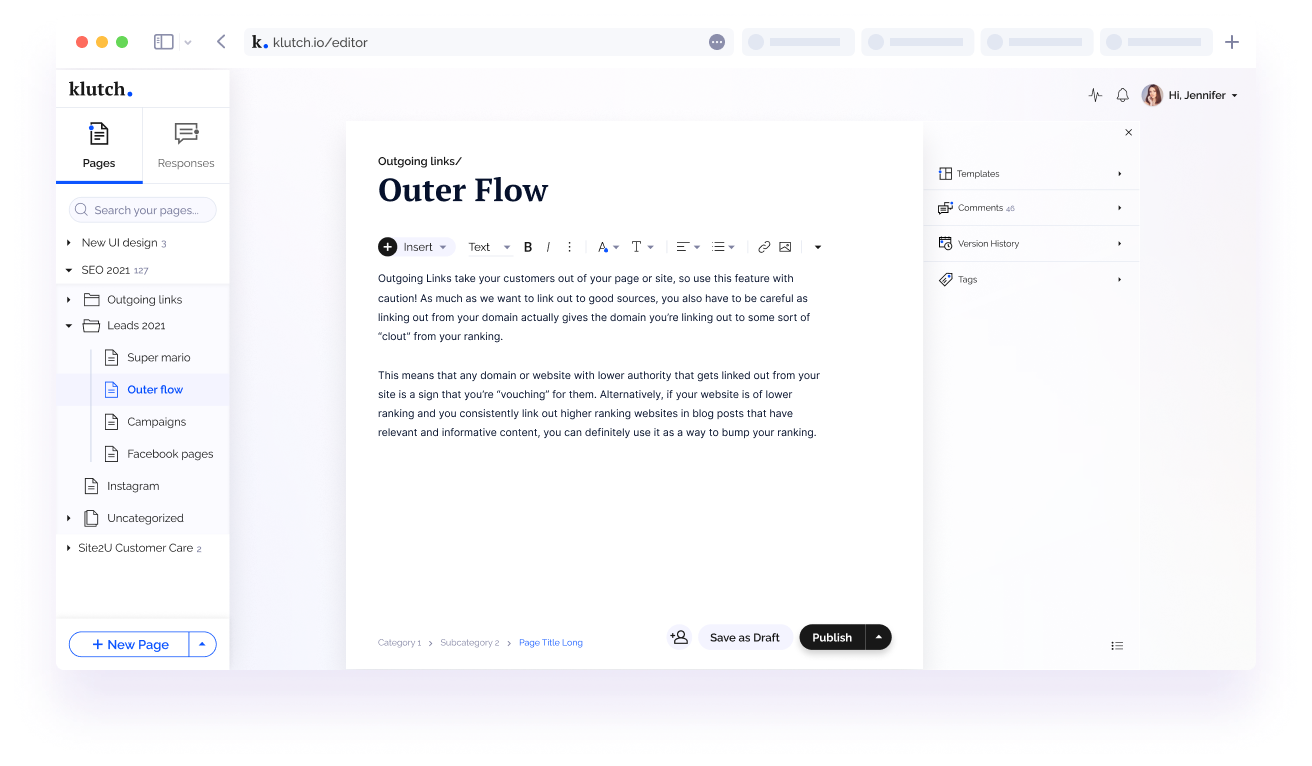 Features
You can collaborate with your team members in real-time
Use templates from the template library so you won't need to do everything from scratch
Flexible permissions
Sensible organizations
Even while on mobile, you can access company knowledge anytime, anywhere
Remote access and support
Easy access to information: categories, tags, permissions, and more
Pros
Beautiful ready-made templates
Can help you draft a huge number of canned responses
Real-time collaboration to drive productivity and teamwork
Highly-affordable
Efficient customer support
Cons
It's still a new app, but it has all the relevant features to be successful in setting up your company knowledge base.
Best for Who and Pricing
Klutch can be used by almost all the industries out there. It's easy to learn even for beginners. Whether you're into eCommerce, training, corporate deals, SaaS, and many others, you can take advantage of what Klutch has to offer. You can use Klutch and get access to its powerful features, easy UI, and other tools starting at $5 a month.
2. Slite
Slite is a knowledge base software with online collaboration tools that give your team a single platform to share ideas. The team collects knowledge and stays in tune on the same timeline and space. They share docs, catch up on work progress, and give project feedback.
Slite Features
Brainstorming and task management
Collaboration tools and content management
Discussions/forums and project management
Drag & drop and Full-text search
Knowledge base and document management
Notes management and real-time editing
Search/Filter and Templates
To-do list and version control
Best for Who and Pricing
It is best for small and medium businesses and is great for business ventures looking for shrewd organizing and sharing content solutions. Slite has its free version but does not offer free trials. For paid offers, the price starts at $6.67 per feature monthly.
Pros
It is an easy social media campaigns tracker. You can share documents and focus on the content through its online collaboration tools like the distraction-free editor.
An ideal knowledge base platform for company intranet and general procedure sharing.
You can write and flesh a note to colleagues highlighting certain areas of action from the app.
An excellent platform for capturing ideas.
Cons
This base of knowledge software does not work offline. You cannot access your local content remotely.
The software has an appeal mainly to young people. Older staff try their best to avoid using it.
Client reviews show a challenge with deleting an account when moving on. Worse still, the billing goes on even when you have issued a discontinuation notice.
You cannot conduct automatic sorting by note name. The sorting action is manual.
3. ProofHub
ProofHub is a project management app that teams use to organize and track projects. It is a team online collaboration tool used in managing projects.
Best for Who and Pricing
The platform has pricing plans of free, essential, and ultimate controls. It does not advertise the free offer on its website. You must request a free offer. ProofHub charges flat monthly and annual fees on its paid plans. The rates apply for unlimited account members. The paid plans also come with a 14-day free trial.
The essential control costs $50, while ultimate goes for $150 per month. The price, however, limits the essential account to 40 projects and 15GB storage space. The ultimate account grants 100GB of storage space and an unlimited number of projects. With its competitive prices, the platform is ideal for small businesses.
ProofHub Features
Proofing, custom roles, and white-labeling
Multilingual, tasks, and Kanban boards
Gantt charts, table view, and reports
Timesheets, discussions, and chats
Calendar, files, and notes
Project templates, integrations, and activity logs
Bookmarks, announcements, and request forms
Stickies, trash cans, notifications, and much more
Pros 
Requires little learning curve to understand and use; quick and easy to set up.
Caters for simple fixed price plans and does not charge a per-user fee
Enhances team accountability and timely project delivery
Provides all the needed team tools under one roof
It enhances effortless teams and projects control
Has a competitive pricing module
Cons
The platform lacks budgeting tools.
It tends to load slowly at times.
4. GetGuru
GetGuru is a wiki that provides your needed information at your fingertips. It uses your existing tools to manage your activities.
Best for Who and Pricing
GetGuru has a unique pricing proposition. Its offerings are broken into three categories of starter, builder, and expert packages. A starter pays $5, a builder $10, and an expert $20. All prices are monthly charges. Elements offered per package differ with the size of the group or organization. It is ideal for small businesses and large organizations. It works best for industries with ever-evolving knowledge. Educational organizations and agencies find it a classic choice.
GetGuru Features
Web Application and Browser Extension
Slack Bot and Analytics
Knowledge Unification and Filters
Knowledge Update Notifications and Publishing API
Pros
It has collections and boards for keeping your information organized.
It has a browser extension that enables working from everywhere.
It provides for slack integration.
It enhances employee onboarding and internal communication.
Accessibility & adaptability 
Cons
It is challenging to use the search functionality.
Free trials have limitations to some features.
At times, it can get too big to manage.
5. Document360
Document360 is a modern stand-alone knowledge base software. The platform specializes in creating and publishing company documents. It offers writing and editing services. Its in-built end-user tools help a great deal.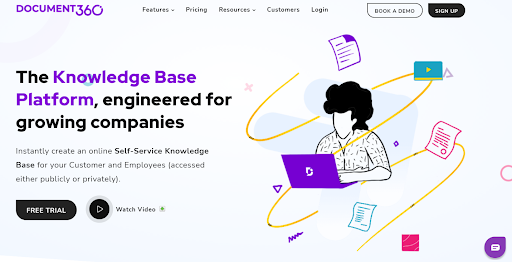 Pricing and Who Best For
The company's pricing captures four groups of people; startups, businesses, enterprises, and enterprise plus. The groups pay a monthly subscription fee of $49 for startups, $149 for businesses, and $299 for enterprises. The enterprise plus package requires calling the company to get details. All these packages have different offers. The differentiation is in subscription accounts, storage spaces, and knowledge base versions. Document360 is, therefore, ideal for all these groups. The platform has no free version account but offers a 14-day free trial.
Document360 Features
Cataloging/categorization
Full-text search
Knowledge base management
Content management
Collaboration tools
Self-service portal
Discussions/forums
Pros
Excellent branding and customization
Effective collaboration
Smart file management
Great editor
Advanced real-rime search
Effective workflow management
Reliable version control
Seamless category management
Powerful reports and analytics
Cons
Hard to set up with existing applications in use
Has difficulties with text formatting and lacks spellcheck
It gives hard times when uploading some audio files
6. Mavenlink
Mavenlink is an online project management tool built to help organizations. It is tailor-made for services companies who want to integrate their operations with other apps. 
Best for Who and Pricing
Viewing pricing plans requires signing in with your company details. It is the first step to engaging with the company. There is a free trial offer for starters. The account gets upgraded to either professional, premier, or enterprise accounts. The professional account costs $39 per month for every user. Contact Mavenlink to get prices for premier and enterprise accounts. This software is ideal for large established businesses.
Mavenlink Features
Task management and team collaboration
File sharing and personnel planning
Google and email integration
Online payment and SSL security
QuickBooks integration and invoicing
Custom branding and project names
Time & Expense tracking
Time, Expense & invoice reports
Gantt Charts
Task dependencies and work-in-progress
Project/job costing and summaries
Utilization reporting 
Pros
It is an entirely-featured project management plan.
It is rich in features
Very stable with an open API
It has strong permissions levels.
Cons
It is quite pricey compared to other providers
The platform lacks internal communication tools.
7. Nuclino
Nuclino is a software that allows team collaboration and information sharing. It is a cloud-based platform that makes work easy in real-time.
Pricing and Who Best For
Nuclino is highly affordable, even with its high-end account. The company has a free account and offers free trials. The paid account is standard, which fetches a minimum of $5 per month per user. The differentiation lies in the packages of the two accounts. This platform cuts across all industries and teams of different sizes.
Nuclino Features
Audio file and content management
Real-time editing
Document, task, and project management
Full-text search
Version control and video support
Self-service portal
Collaboration tools
Pros
An instant team and work organizer
Slick and simple storage tool for ease of finding your company's processes
Impressive WYSIWYG markdown editor
Cons
Its main undoing is the inability to set reminders
It displays PDFs as a hyperlink