Are you one of those who have invested time into knowledge management in your organization? Then you know how involved of a process this is.
In the most basic terms, knowledge management is composed of processes that deal with the collection of information or data, storage of currently-owned and incoming data, interpretation of that data, and creation, deployment, and usage of data-, organizational, and evidence-based knowledge.
One of the leading knowledge management tools today is Kipwise. It functions as a knowledge management tool that integrates flawlessly with Google Drive, Slack, and more. It enables us, users, to create their team knowledge base from their regular communication. Further, it lets you highlight, annotate, and save articles based on your Slack channel easily for quick and effective knowledge sharing. 
What is Kipwise
As mentioned, Kipwise is a knowledge management tool helping teams create their company knowledge hub effortlessly. It provides browser integration and Slack integration and is incorporated with Airtable, Trello, and Google Drive, among other things.
Self-service portal
Collaboration
Full-text search
Decision-free
Knowledge base management
Cataloging/categorization
Content management 
Kipwise allows you to make an online knowledge hub you can utilize to boost your employee onboarding process. It lets you bring together all the details from team members in one place, so a new hire could easily speed up. 
Are you looking for Kipwise alternatives? Maybe it doesn't fit your needs. Lucky for you, we have collected some of the best knowledge management tools that you can find in the market today! 
Kipwise Alternatives

Klutch is a free and efficient knowledge base platform that provides a user-friendly interface amongst Kipwise alternatives and competitors. It's perfect for small to mid-sized teams, salespersons, project managers, companies, and agencies that need help in storing and managing their company knowledge and relevant documents. By using Klutch, you can drive a better knowledge-sharing culture in your organization by having one database of knowledge.
You can add, edit, manage, and share company records, employee information, timesheets, projects, and many other important documents that your team needs anytime, anywhere. In just a few clicks, your team can get the necessary information even while on mobile, which paves way for better customer service and turnaround time.
With Klutch knowledge base software, you don't need any coding experience. You can have your own base of knowledge with a lot of premade templates for pages and canned responses to choose from.
Features
With Klutch, you can create pages and responses to store your company knowledge:
Klutch Responses
Manage your canned responses on your Klutch knowledge base. You can even use Klutch templates of responses so you don't have to write everything from scratch. Klutch responses are perfect for remote sales teams who need access to standard company communication responses for better customer service.
Klutch Pages
Manage your long-form pages that contain the basic up to the most confidential information about your company.  
Other helpful features of Klutch
Keep everyone on the team on the same page with real-time and efficient collaborations
Choose from Klutch's collection of ready-made templates 
Easily share your information across your organization
User-friendly interface
Pricing
Klutch is free to use. Its paid plans start at only $5 a month.  Sign up here!
Highspot
Compared to other Kipwise alternatives, Highspot offers businesses a strong sales advantage to interact in more meaningful buyer conversation and accomplishes their revenue goals. Its sale enablement platform offers enterprise-ready sales enablement in a modern design that marketers and sales rep love through AI-powered search, analytics, in-context training, guided selling, and over 50 technology integrations. 
The platform utilizes machine learning and presents semantic search and integration with flexible content management, intelligent recommendations, and CRM. It also allows teams to share relevant and valuable content with their customers and get insightful tracking on customer engagement. 
Features
Content optimization
Predictive analytics
Sales content management
Real-time alerts
Powerful and accurate analytics
Email and live pitch
Document storage 
What is unique about it
The major benefits of Highspot are its integrations, a single repository, customer engagement and tracking tools, advanced and insightful analytics, powerful content management feature, and flexibility. 
Its integrations are currently provided by the vendor Google Drive, Office 365, Microsoft One Drive, Dropbox, Webex, and so much more. 
Pros & Cons
Simple to upload and access content
Searchable documents
Offer insightful metrics
The relevance of file searching 
An easier interface
The directory may be better 
Pricing
$600 per user per year (annual only and fifty user minimum).
Who is this best for?
This is ideal for people with a content problem. Whether you cannot find what you seek or you have too many versions of content, your company needs to share the latest information. 
Obie
Obie is a simple and fast way to create an internal knowledge base at work. It can securely connect documents and knowledge you already have into one intelligent, searchable, and single source of truth.
It allows you to create a modern knowledge base, connect over sixteen of the box knowledge integrations in seconds, and capture a library of FAQs. Did you know that Obie is proven to lower the time knowledge workers spend locating for information by over thirty percent and automatically resolves knowledge gaps to allow better support and product development? 
Features
Content verification
Analytics and reporting
Request management
Workflow management
Web widgets 
Collaboration
Self-service portal
Knowledge base management 
What is unique about it
Obie is a cloud-based helpdesk solution helping mid and big-sized businesses to capture and organize documentation and knowledge from different interfaces on various platforms. It allows the team to work with all information in one place to facilitate ticket closure and boost operational efficiency. 
Pros & Cons
Find documents, wiki articles, and notes faster
Easily capture texts snippets
Share documents with others fast
Hard to search for additional information
Complete deletes search when editing 
Search results can pop up 
Pricing
Personal Free: FREE
Startup: $59 
Scaleup: $199
Growth: $499
Plus: $899 
Who is this best for?
Like most Kipwise alternatives, Obie is suitable for people who want to build increasingly growing teams and for those planning to scale sales, customer support, or IT. 
With numerous tools accessible in the market today, it can be challenging to keep everybody on the same page. Fortunately, Notion is a new tool that unifies everyone. You see, it is like Google Docs, but everything is discoverable and organized by time. In short, real collaboration in real-time. 
Are you getting tired of your clunky wiki? With Notion as one of the best Kipwise alternatives, adding all kinds of content is hassle-free and straightforward as drag and drop. 
Keep in mind that Notion is a famous productivity app that strives to unify your organization's work processes. It's a typical workspace for your team to manage projects, share notes, and collaborate. 
It streamlines the process of making, storing, and collaborating over detailed project documents with its crisp Kanban board interface. 
Features
Excellent note-taking
Projects and tasks
Templates
Integration 
Multiple views 
What is unique about it
Notion is a powerful all-in-one workspace that allows you to write, plan, collaborate, and get organized, not to mention it lets you manage projects, add tasks, and take notes, among other things.
Just visualize a Lego structure. This software offers the building blocks so you can make your layouts and toolkit to get any work done. 
Pros & Cons
User-friendly
All-in-one solution 
Work across different devices
Not scalable 
It is difficult to work with
Cannot compete along with dedicated project management tools 
Pricing
Free Plan
Personal: $4/month
Team: $8/month per user
Enterprise: $20/month per user 
Who is this best for?
Notion is perfect for organizations and companies that like a better way to organize collaboration, documents, projects, and knowledge. People can also use it for notes and organizing their lives. 
Confluence
Designed by Atlassian, Confluence is a content collaboration platform for modern teams. It supports teams to make, share, and collaborate on different projects in one place. Further, it lets you publish and access company data, capture, store, and grow the team's knowledge, among other things.
This software is accessible on mobile, too, allowing teams to trace team activity, stay in sync, and provide feedback, irrespective of the device they use. No matter if you are using the cloud-based version or spinning your managed instance, Confluence has a set of ideal features, which is ideal for creating a knowledge base. 
Features
Version control
Task management
Real-time editing
Brainstorming
Discussion boards
Calendar management
Content management 
Document management 
What is unique about it
Confluence is a collaboration tool. It is utilized to help teams to share knowledge and collaborate effectively. Using this means you can make pages and blogs that can be edited by and commented on by all team members. 
Pros & Cons
Enables team members to monitor project status
Enable tea members to trace their individual tasks
Allows sharing of project status along with non-team members
Not very user-friendly
Migration of data can be challenging
Backup service malfunctions 
Pricing
Free: $0 for ten users
Standard: $5/user 
Premium: $10/user
Enterprise: Has separate subscription 

Who is this best for?
Confluence is ideal for any functional department, whether it be project management groups, technical teams, marketing, finance, legal, and HR. Every team can get their work done with Confluence. 
GetGuru
Guru is another knowledge management tool that supports teams with the knowledge they require to perform their work, where and when they need it. The application brings knowledge management straight into workflows by integrations with Slack, Google Chrome, and others.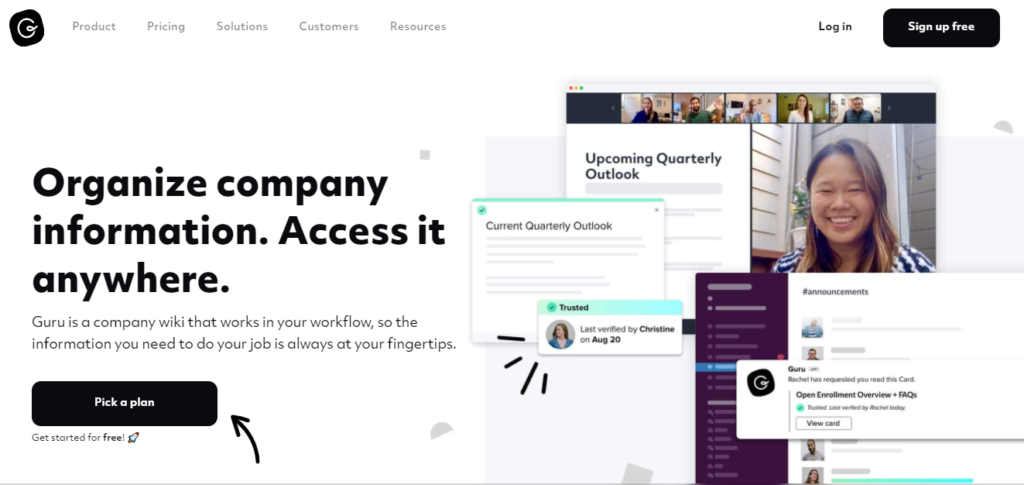 It removes the distraction and context switching previously needed to find important knowledge. What's more, Guru, as one of the Kipwise alternatives, makes it simple for professionals to democratize and document data, lowering shoulder taps and keeping the team productive and focused. 
Features
Categorization/Cataloging
Discussion boards
Content management
Self-service portal
Knowledge base management
Collaboration 
What is unique about it
Remember that Guru is a real-time knowledge management solution that determines how, when, and where to provide knowledge to you without even searching for it. Using this Kipwise alternative lets you organize your knowledge while making a network out of your organization's collective intelligence.
In addition, Guru does that by combining your joint knowledge and recommending insightful information to you in every application you work in and in real-time. 
Pros & Cons
Concentrate on the native knowledge base
Supports markdown, tables rich media, and more 
Can add, edit, and delete cards 
Limited to native card format 
Bias to native content tools create silos
Cost prohibitive, especially at scale 
Pricing
Starter Plan: Free
Builder Plan: $16
Expert Plan: $28 
Who is this best for?
Guru is suitable for SaaS firms, but this is also suitable for agencies and educational institutions too. The software work well in sectors where company knowledge is continuously changing. 
Atlassian
This is a project management tool for agile teams, personalized for any project type. Teams can begin with a project template or make their customized workflow. The software issues tasks monitor every work passing through the workflow steps to completion.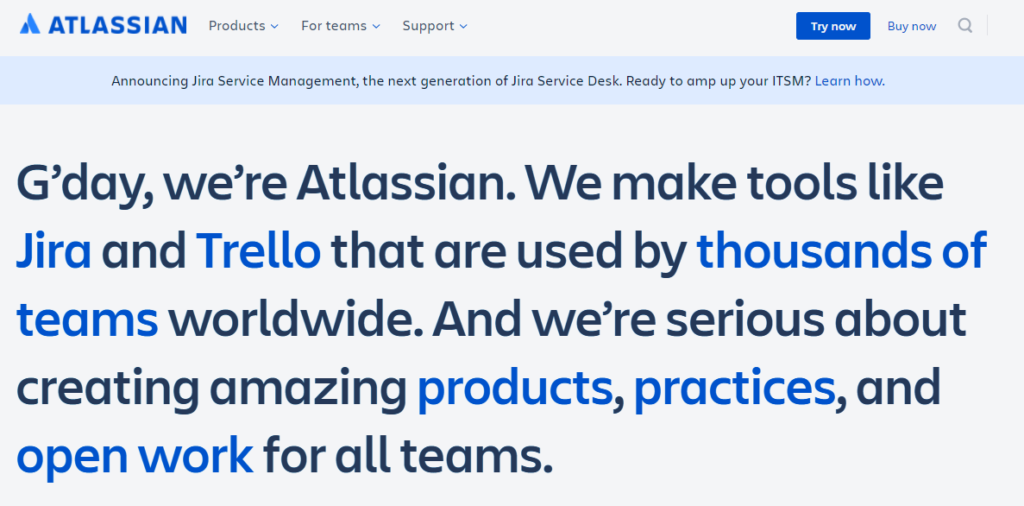 Its automation feature allows the team to automate tasks and processes effortlessly. With every piece of information in a single place, reports can be produced as well to trace development, productivity and guarantee nothing slips. 
Features
Advanced reporting
Search and filtering
Customizable wallboards and dashboards
Unlimited custom fields
Flawless source and issue integration
Advanced reporting 
What is unique about it
No matter if you are talking a talking about a project management software, task management tool, issue tracking tool, Atlassian can be personalized to suit any requirement. Further, you could even personalize Scrum boards, reports, workflows, and so much more. 
Pros & Cons
Offers excellent ticketing system
Good for automating workflow so you can assign the task
The tool can be integrated with another Atlassian tool 
Onboarding is such a hassle
No indication of what's missing from user permissions
Small details are missed 
Pricing
First 10-250: $3
Next 251-1,000: $2
Next 1,000+: $1 
Who is this best for?
Atlassian is a staple for professional and advanced Agile software development professionals and product developers. Their product is specialized in assisting the more technical-minded people. This sets it apart from the rest of the Kipwise alternatives. 
Throughout the years, the software has shifted into a project management software that can be utilized by all types of businesses and teams. 
Bottom Line: Kipwise Alternatives
There you have it! These are some of the best Kipwise alternatives you can use aside from Kipwise. Remember that knowledge bases could be made to help your internal teams, audience, or both. For your audience, a knowledge basis enables users to find the solutions to common questions and dig deep into the different aspects of your services.
Further, the knowledge base makes sure your team have the data and information they need to best finish their assigned tasks.
We hope you find this guide helpful and informative. What are your thoughts about this post? Share your insights with us by leaving your comments!