Knowmax is a knowledge management and development software for easing the procurement and classification of big data using different tools and modules. This software allows creating, curating, and disseminating of internal and external knowledge regarding an enterprise's environment.
However, choosing the right knowledge management tool would require assessing it based on your needs.
If you're looking for alternatives to Knowmax, you're at the right place.
Here are the alternatives to Knowmax
Klutch is a perfect tool for teams to work together. This Knowmax alternative will organize company information, help you find relevant documents, and save time responding to frequently asked questions. With this tool, creating short, easy-to-copy answers to avoid repeating yourself to every customer is a breeze.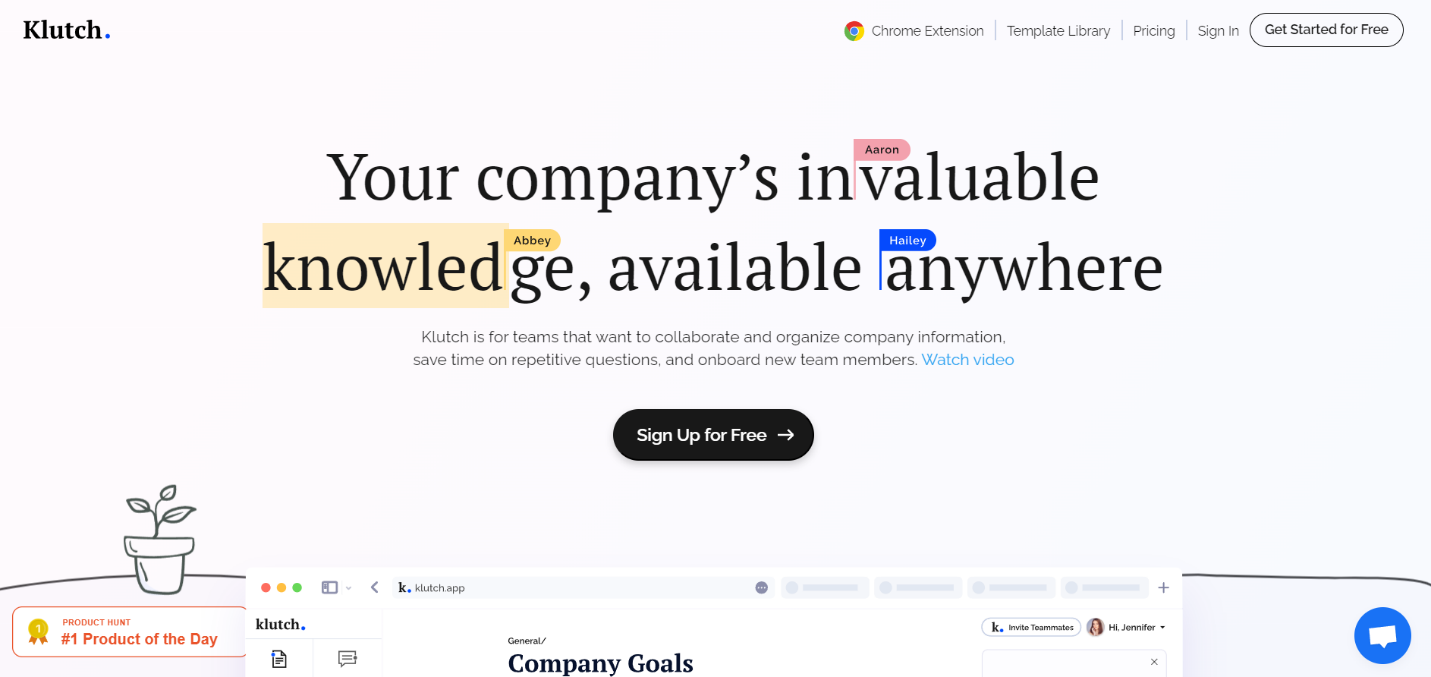 Features 
Sharing long-form important company information with your customers and colleagues becomes easier. Creating categories, tags, and permissions allows finding what you need effortlessly. Working on a document together in real time is possible, or you can leave a comment for team members to see later. 
Pre-made templates save you time, or you can create your own for sharing with your team. The templates are for teams and personal use. Templates for groups include marketing, financial overview, and UX checklist. Unique templates have an employee profile, a hiring process, an onboarding checklist, and many more.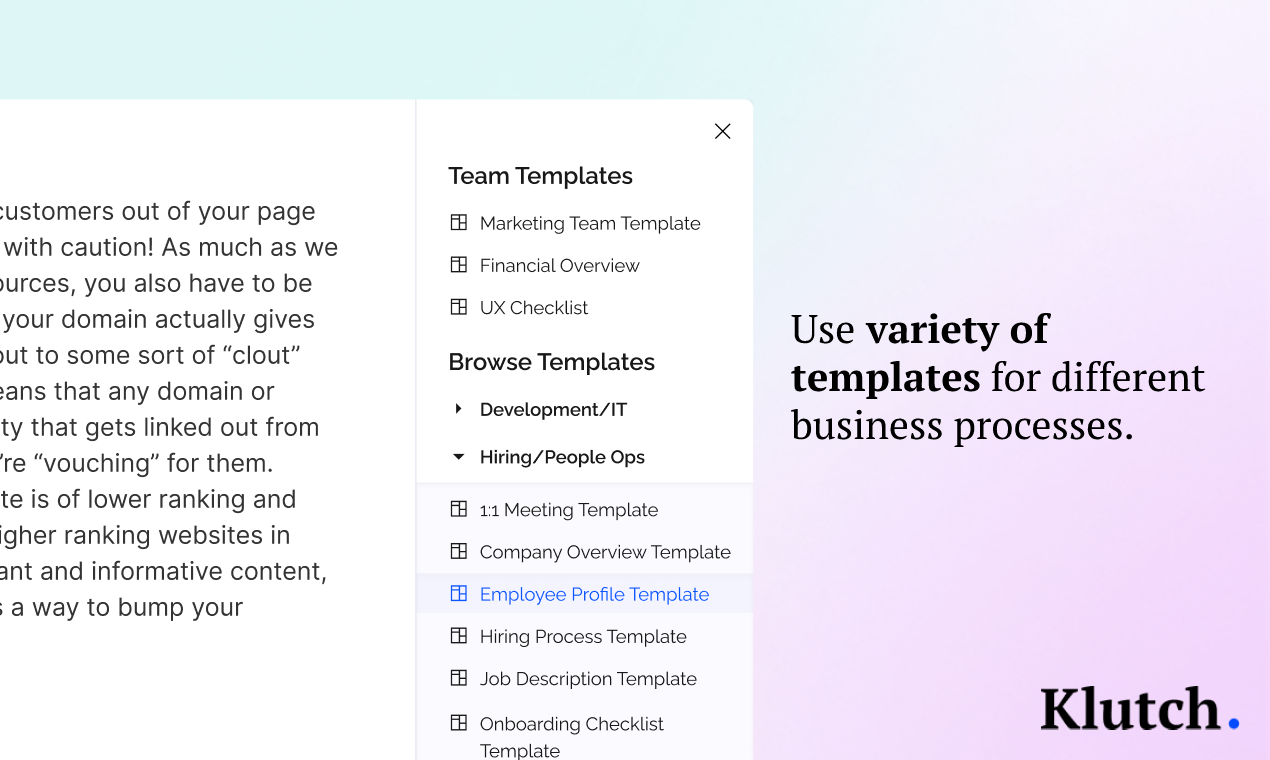 Sharing published pages or drafts with your team or customers is possible with Klutch using flexible permissions. Organizing pages and drafts in particular folders ensures that all your documents are intact. 
Team segmentation allows categorizing your employees into groups to ease delegating and collaboration. Doing this allows knowing which people are handling a particular task. You're also in a better position to track their progress and accomplishments. 
Pricing 
Klutch is free for use with up to 50 items and up to 2 GB with unlimited team members. The pro version is $4 for each user monthly, billed annually. Upgrading will keep your growing team in the loop using a single knowledge base system anytime from anywhere. 
Pros
Easy-to-use interface

Allows slack integration 

Handy Chrome extension 

Use pictures to share information and common responses 
Cons
Relatively new on the market 

Titles have a maximum length 
Slicki
Slicki is a tool for organizing company information to make it accessible from anywhere via your Slack channel. This tool can create, access, and maintain a team wiki securely and quickly.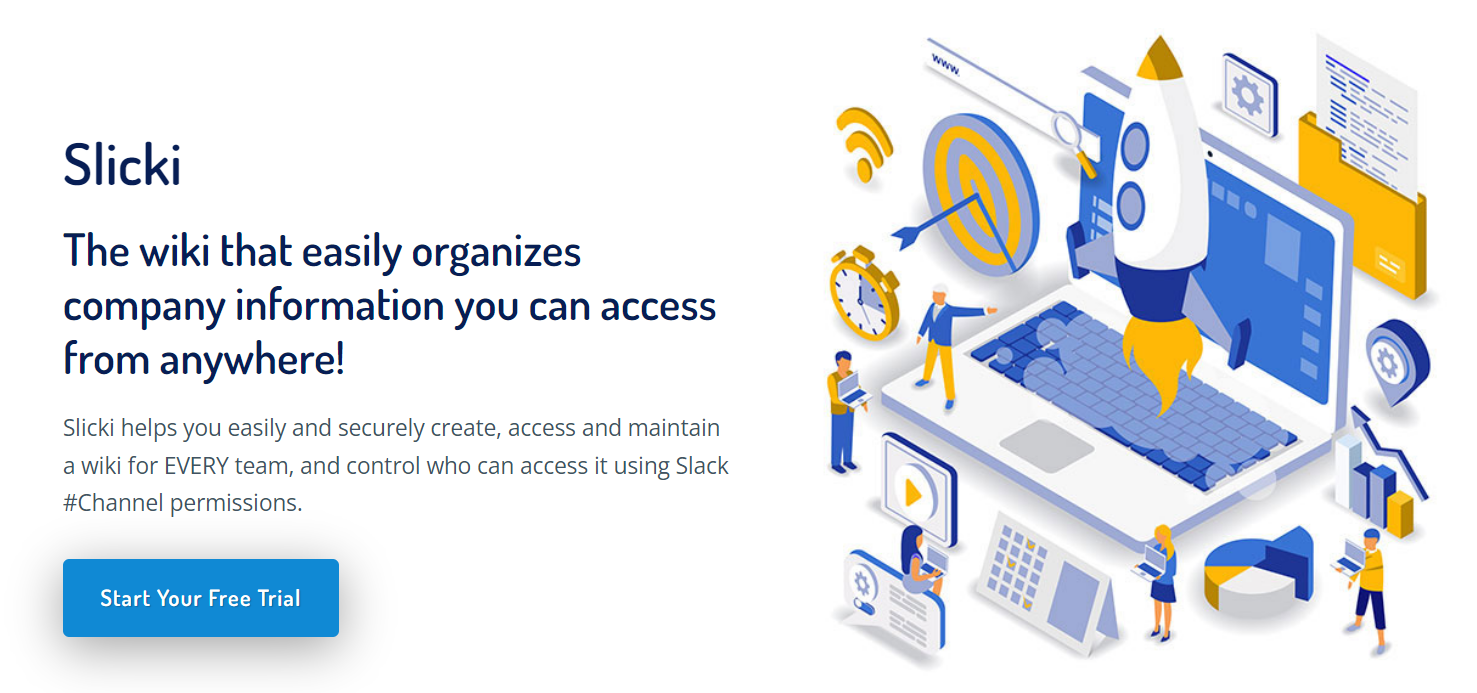 Features 
Giving your customer support team whatever they need to respond to customer queries becomes quicker and more accurate. This will ensure that they offer the best customer service. Anytime your techs ask a question in Slack, this tool creates a knowledge base of experts. 
Enjoy seamless employee onboarding by easing how they get integrated into their new roles and departments. Slicki allows the creation of a successful onboarding program while building a level playing field and solid foundation for all recruits. 
Pricing 
Getting started with Slicki doesn't require a credit card. When you add Slicki to Slack, you get 30 days of full access free for your whole team. When the trial ends, a subscription to the pro version costs $20 monthly for 10 users. You pay only $2 for each additional active user above 10 members. 
Pros 
Realtime collaborative editing 

Restricted access to wiki pages in private channels

Available on desktop, smartphone, and tablet

Upload images in Slack for embedding in wiki pages 
Cons 
Requires using Slack

Doesn't have pre-made templates
Document360
This well-structured tool creates a world-class knowledge base for your team and customers. It gives content producers power and those who consume the content simplicity. The advanced software offers a knowledge base portal for editors, writers, and reviewers. Thanks to the handy art editor, category manager, and analytics. 
Features 
Customers and employees access a simple site with a search feature optimized for reading on a desktop, smartphone, or tablet. You can personalize your knowledge base using brand colors or a custom domain. Additional customization is available, allowing adding call-to-action buttons, links, and social icons on the header and footer navigation. 
Pricing 
Document360 accepts the US Dollar, British Pound Sterling, Euro, and Australian Dollar. A free version is available with a maximum of five teams. It offers 1GB storage, including custom branding, a home page builder, and 50 articles. 
The start-up plan costs $ 99 per project monthly for five teams and $19 for each additional team. A business plan costs $ 249 per project monthly for 20 teams and $19 for each other. The enterprise plan costs $ 499 per project every month. All pricing is billed monthly or annually.
Pros 
All paid plans offer a 14-day trial period

Four plans for all kinds of businesses

Migration support from all knowledge base plans

Annual payments come with a 20% discount 
Cons 
Free version offers only 1GB of storage
Brightpod
Brightpod is a web-based project management and time-tracking tool for digital marketing and creative teams. Using this knowledge base software will take the chaos out of your marketing collaboration and planning. 
Features
You can delegate and track recurring task lists easily using this tool. The software gives you the big picture and allows your team to realize what they must do. You can assign multiple people to a single task. Things such as tracking a blog relevant to your industry are a breeze. 
No more wasting time on automating similar projects anymore with this tool. You can create workflows for similar projects to run smoothly with faster planning. Saving workflows for reuse becomes possible since most marketing projects are identical. 
Thanks to the software's handy content calendar, you can manage social media and content strategy in a single place. A unified drag-and-drop calendar makes planning content across all platforms seamless. You can drag and drop tasks to organize content on the homepage, blog, or Facebook. Smart filters find whatever you need in categories like the client, project, and task type. 
Pricing 
A 14-day trial is available before going for a paid version. The pro version costs $29 monthly for 15 projects, five users, and 10GB of storage. If this can't meet your needs, other plans include a popular studio plan that costs $59 monthly, an agency plan that costs $99 monthly, and the agency plus plan worth $199 monthly. 
Pros
No need to download anything 

Refund when not happy with the service 

SSL 2048-bit encryption security on all pages

Free month discount when you upgrade to an annual plan

Accepts MasterCard, Visa, JCB, PayPal, Discover, and American Express
Cons 
14-day trial period only available on an agency plan
Mavenlink
Mavenlink joined forces to form Kantata, a tool for unleashing all your professional services at your fingertips. Managing timelines, clients, and budgets becomes more accessible using the current project perspective. The tool will get you in total control of your business. Keeping projects running smoothly, profitably, and predictably becomes a breeze. 

Features 
Kantata will give you expert support at every step. Maximizing results and empowering your team to deliver better outcomes stops being challenging. This tool will allow you to use its features to realize your business goals. 
This software will make you embrace the possibilities of having experts by your side. The expert team at Kantata is always available to help when having issues. You will be better positioned to handle business challenges smoothly while growing and scaling your business. 
Pricing 
You can enjoy a free trial before subscribing to a monthly plan starting at $59 for every user. However, the pricing varies by industry, company size, and headquarters country. 
Pros
Amazing loading times

Great reporting capabilities

Intuitive system  

Extensive and flexible functionality
Cons 
Naming metrics can do better

Adding a comment goes to all entries
Tettra
It's time to organize your company's scattered knowledge using a single tool. Tettra makes this possible thanks to its knowledge management, Q&A, and knowledge base features. 
Features 
Integration with Slack and MS Teams allows your team to answer questions asked by customers using existing content. Tettra allows responding to queries using a few clicks, saving time and effort. 
Give your customers answers from experts. Not knowing who to ask is very frustrating and may encourage customers to switch to your competitors. With Tettra, you always set up knowledge experts to respond to questions from your customers. 
Your team needs content they can trust. A knowledge base article must be up-to-date to avoid mistrust and frustration. Access to subject matter experts allows customers to get verified content set on schedule. 
Pricing   
You can begin with a free plan that accepts up to 10 users, each getting 1GB of storage. The scaling plan costs $8.33 per month for each user. Those with administrative needs and hands-on support can opt for an enterprise plan that costs $16.66 per month. 
Pros
Try the scaling plan free for 30 days

App setting in HTML format allows exporting content 

PCI service provider level 1 payment processor ensures safety  

Demo version available
Cons
No discount for non-profits and educational institutions 

Free version restricted to 10 users 
Conclusion
When looking to simplify multiple-channel content curation, accelerate findability, or enhance knowledge base management, Knowmax is an ideal solution. However, various alternatives, such as Klutch, can give you similar results for less.