Working from home has been a fad during this pandemic. So, if you are switching to remote work, the transition will not be easy. Using some of the best knowledge management software can help make your life more straightforward and effortless than expected.
What are the options you should take advantage of, though? Here, we gather the top 16 best remote work tools that will take your productivity to the next level. Let's begin! 
Team Collaboration Tools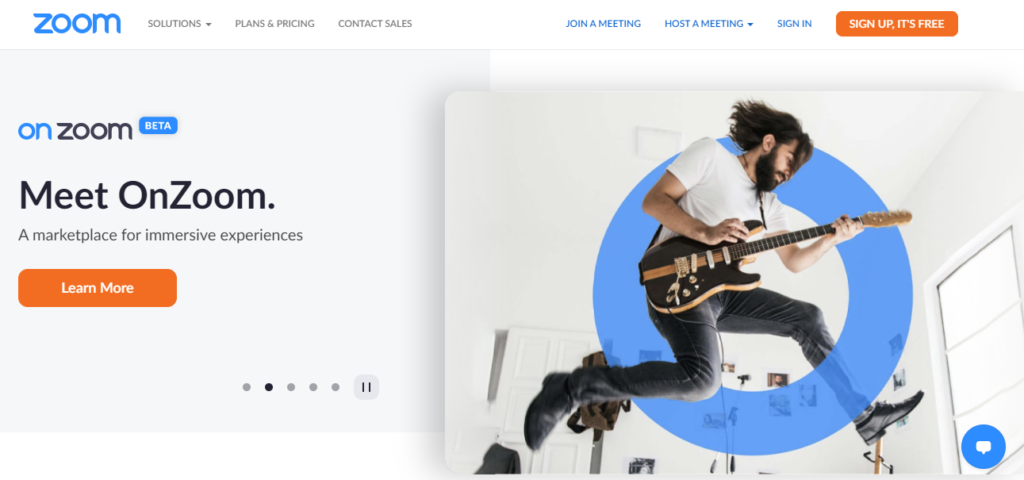 Two minds are better than one. Sometimes, we need to collaborate with our colleagues to get the project done quickly and efficiently. Since it is hard to meet your team during this Covid-19, video conferencing can come into play. But a reliable video chat should be on top of your list, and Zoom can exceed your needs. 
Features 
Ideal for Those Who Are Less Tech-Savvy. Its interface is intuitive and easy to use. 
Perfect for Businesses of all Sizes. Zoom is scalable, helping startups and well-established companies to upgrade their subscriptions to meet their unique requirements. 
Compatible with Google Calendar. Studies show that over 1.2 billion people use Google Calendar. If you are one of those individuals and are looking for a quality video conferencing platform, Zoom will be your best bet. 
Pricing
Although you can use Zoom for free, the features may be limited. Therefore, it is ideal for switching to the premium plan that usually costs around $14.99 per month.
Google Meet is considered an upgraded version of the Hangouts app for a reason. It is ideal for video conferencing, webinars, and other business applications. Hosting video calls with around 150 people is more seamless than before. 
Features
It is Convenient to Share Digital Presentations. From spreadsheets, documents to other files, Google Meet makes sharing of digital documents quick and comfortable. 
Accessible with Both Android and iOS Mobile Devices. Whether you use an Android or iOS device, Google Meet will never be a disappointment. It is compatible to whatever device you have. 
It is Fun to Invite Participants from Your Google Calendar. You can also create an event, enter attendees' email addresses, and copy in the meeting link. 
Pricing
Google Meet comes with different pricing plans, such as Basic, Business, and Enterprise. The Basic premium plan costs around $6 per user. The Business package is available at $12 per user. The Enterprise plan costs $25 per user. 
Another collaboration tool you can consider is the TeamViewer. It is designed to connect teams across the globe without any trouble. From complex businesses to an average individual user, TeamViewer is a multipurpose platform you should not miss. 
Features
User-Friendly Interface. Those who are less tech-savvy can navigate the platform like a pro. Learning the application would not require a lot of time and patience. 
It Allows You To Provide Support to Both of Your Partners and Clients. Although they are miles away from your location, you can provide responsive support to your partners and clients without hassles. 
Backed by Excellent Security Protocols. Your data stays protected and secure 24/7. 
Pricing
TeamViewer's starting price is $50.90 per month. 

Do you want to take your standard web conferencing experience to new heights? Your long wait is finally over with Adobe Connect! You can develop a webinar for quick distribution and use a customizable room. But wait, there's more! 
Features 
User Interface is Intuitive and Easy to Navigate. The modern design elements seem familiar, even if it is your first time using the application. You can use Q & A sessions, polls, chat boxes, and status options. 
Available with New Audio Workflows. You can adjust volume levels, disconnect your input from any audio source, or choose your preferred microphone. 
Expect a High-Quality Video. You can also set the video in a low resolution. 
Pricing
Although Adobe Connect does not publish everything about its pricing tiers, the most basic plan costs $50 per month. 
Team Messaging Tools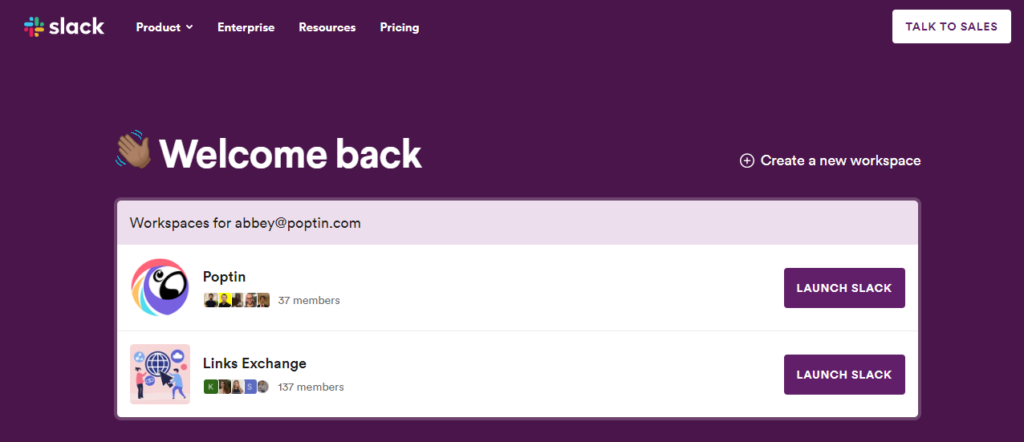 Have you been searching for a comprehensive, secure, and robust chat tool? There is no need to look further than Slack. 
As a business owner, you want the best for your startup and company. Slack got you covered! 
Features
Individual and Team Video Conferencing and Audio Calls. Aside from one-on-one or group chat, Slack provides team and individual audio calls and video conferencing, making collaboration easier than expected. 
Users Can Organize Teams and Multiple Projects by Using Hashtags. You can also share files via file-sharing services, including Dropbox and Google Drive. 
Every Chat and File are Synced, Searchable, and Archived. That means you can search for these details for future references. 
Pricing
Pricing tiers include Standard and Plus. The Standard package costs $6.67, while the Plus premium plan is $12.50.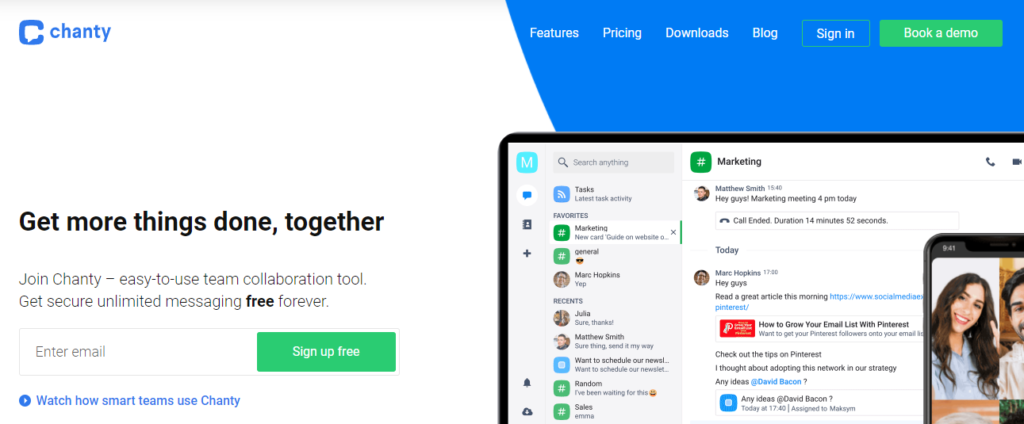 Another easy-to-use chat app that allows your team to communicate and collaborate is Chanty. 
What sets it apart from the rest is that it brings different aspects of communication. From chat, video calls, screen sharing to audio, Chanty is a one-stop chat platform you should try. 
Features 
Aside from communication, you can turn different messages into tasks and do some project management. 
Useful Integrations. Chanty is incorporated into Dropbox, Github, Trello, Teambook, and Google Drive. The Teambook is the most favorite of all, as you can see contacts, tasks, and even messages in one place. 
The Free Plan is Available with Unlimited Message History
Pricing
As a beginner, the free plan is recommended. But as your startup thrives, the Business plan is something you cannot overlook. The starting price is only around $3 per user. 
Viber is one of the most prominent applications worldwide for a reason. Its interface is intuitive. It is easy to use. It is developed with different options you can use, from the keyboard to the touch screen. You can even send SMS and make calls to people from around the globe. 
Features
It Provides Instant Messaging Service for Users. You can send text messages or call someone for free. 
Available with Superb Sound Quality. No wonder many people have switched to this application. 
It Offers Tighter Integration with Phones. It includes a complete view of your smartphone's call log in the application. 
Pricing
Viber is available without any cost.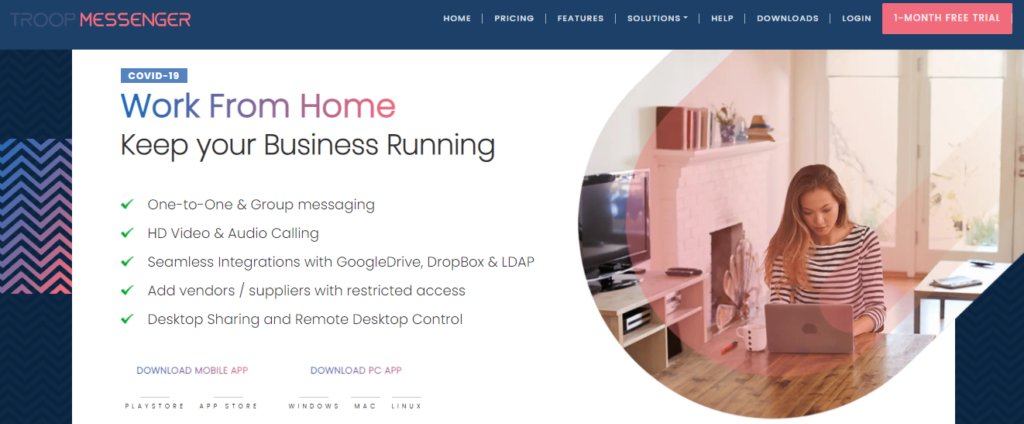 Communication is essential for those who work from home, and Troop Messenger can do the trick. Like other platforms in today's market, it offers real-time messaging and easy collaboration.
Features
It Comes with a One-on-One Messaging. It also provides group conversations, making it one of the best knowledge management software. 
It is developed with Furkout, Burnout, file previews, screen share, and voice-video calls to guarantee an uninterrupted and effortless workflow. 
Tailored to Reach the Requirements of Businesses of Any Size. Whether you are running a startup or a company, Troop Messenger got your back. 
Pricing
While there is a free version, Troop Messenger's pricing begins at $1 per user. It also comes with a free trial. 
Team Productivity and Management Tools 
9. Trello 
For productivity and management tools, Trello is one of the top choices for many. Since its launch, it has created a buzz all over the market because of its functionality and reliability. 
Features
Tracking Your Time is Made Easy. Unproductivity is a common concern among employees. Tracking your time can be a game-changer, and Trello could help. 
It Allows Users to Organize Their Daily Activities. Unorganized activities are overwhelming and confusing to handle. Leave the job to Trello today! 
It Enables You to Manage A Team or Project. Who says overseeing a project or creating a board for members is complicated? Trello makes the impossible possible. 
Pricing
Trello costs $12.50 per user every month. We also encourage everyone to try the free version for more details. 
10. Kipwise 
There's an increase in knowledge management software today. Kipwise, however, stands apart from competitors. Developed to help teams establish their company knowledge hub and drive productivity, Kipwise is worth your investment. 
Features
Powerful Integration. It provides a variety of integrations in Airtable, Google Drive, and Trello. It is also available with browser extensions. 
You Can Save, Retrieve, and Access Files Easily. All your files are available in one spot.
It Supports Real-Time Editing. Thanks to its built-in content review process. Plus, you can keep your content accurate and up-to-date. 
Pricing
Its pricing starts at $25.50 per month. Although it is not available with a free version, it provides a free trial. 
11. Proofhub 
A fantastic project management software? Affordable pricing plans? User-friendly interface? Name it! Proofhub has them all. It helps managers plan their projects, organize work of different sizes, and collaborate with teams as efficiently as possible. 
Features
Designed with Kanban Boards, Gantt Charts, Tasks, Project Manager, and Custom Roles. Kanban boards are made to organize your work. On the other hand, the custom role guarantees that any project information is used and accessed with the right people. 
It Comes with Chats, Mentions, Announcement, and Email-In. You can talk to your colleagues in no time, announce something necessary, or upload files using its email-in feature. 
Pricing
It is only available at $45 per feature. That's not all! It offers a free trial and a free version. 
12. Favro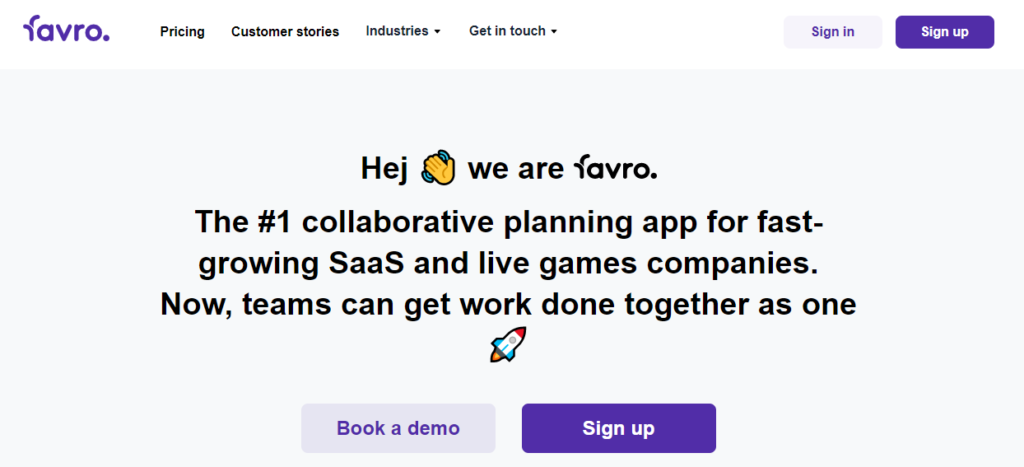 Another productivity tool you cannot afford to ignore is the Favro. As one of the most agile collaboration platforms, Favro helps teams organize themselves and guide managers to make their long-term objectives happen, especially if they're transitioning into a remote work setup. 
Features
Considered a time-saving, innovative, and smart solution for small, medium-sized, and large teams. There are also roadmaps, databases, and planning boards.
Simple and Flexible. Even if it has a simple interface, do not underestimate its versatility. It is a one-stop platform for organizing any job. 
Incredible Integrations. It integrates with GitLab Source Control, Slack, JIRA, Dropbox, Microsoft Calendar, Google Drive, and more. 
Pricing
Favro Pricing plans include Lite, Standard, and Enterprise. The Lite plan starts at $12. The Standard package costs around $16. The Enterprise plan is $30 per month. 
Team Creativity Tools
Developing a product or service is your expertise. But designing may not be your specialty. Don't worry! Canva, one of the leading creativity tools, should be on top of your mind. Whether you are a newbie or an inexperienced designer, nothing can beat Canva! 
Features 
A Perfect Choice for Online Entrepreneurs, Marketers, and Small Business Owners. Whether you are running a startup or a large company, you can never go wrong with Canva. 
It Prides Itself with Photo Effects. You can flip, crop, adjust the brightness, blur, or add a filter in every photo you have like no other. 
Enjoy Unlimited Access to Videos and Photos. But it is only available with the Pro plan. 
Pricing
It costs $9.95 per user and per month. 
14. PhotoADKing

Another design tool that is worth considering is PhotoADKing. Every business relies on marketing to increase visibility and brand awareness. Today, most businesses prefer digital marketing to promote their products or services around the world.
PhotoADKing provides you with a variety of pre-made designs such as flyers, advertising posters, brochures, banners, and so on that make your designing work as easy as possible.
Features

Easy to use. It is possible to design just about anything for social media content using these templates. You can edit and customize your creation to reflect your visual identity or corporate brand.
Over 10000 templates are available with PhotoADKing, and you can customize them according to your need.
Pricing

It costs $6 per user and per month.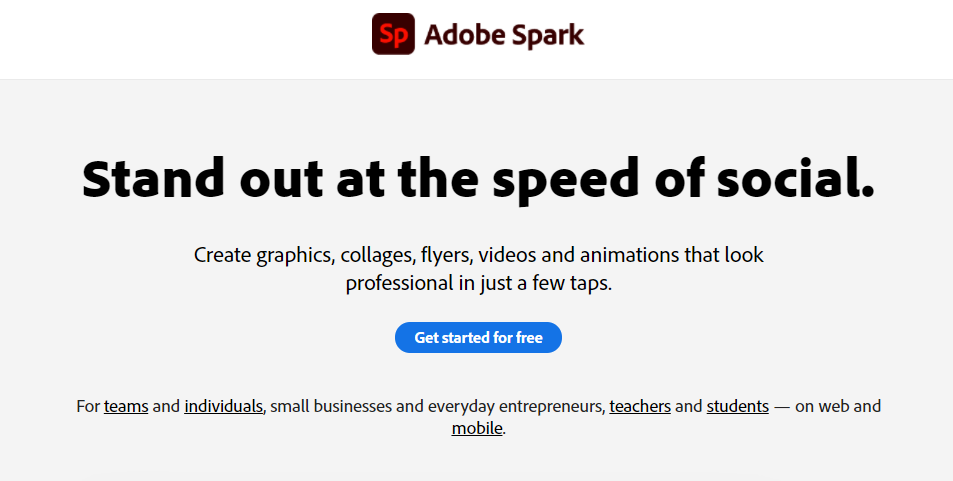 Probably, you have heard Adobe Spark a couple of times already. But what is it, and what makes it different from the rest? Adobe Spark is simply a collection of apps that run on smartphones or even online. It lets you create social graphics, presentations, videos, and web pages. 
Features 
A Great Choice for Small Businesses, YouTubers, and Bloggers. It is a flexible option, indeed. 
One of the Most Favorite Creativity Tools. You can develop a banner for your FB page, craft an invitation card, create videos for your YouTube channel, enjoy stunning pages for your website. 
There are Multiple Layouts and Colors. You can find a suitable theme, color, and layout for your specific project. 
Pricing
Adobe Spark is competitively priced. People can enjoy tons of features for only $9.99.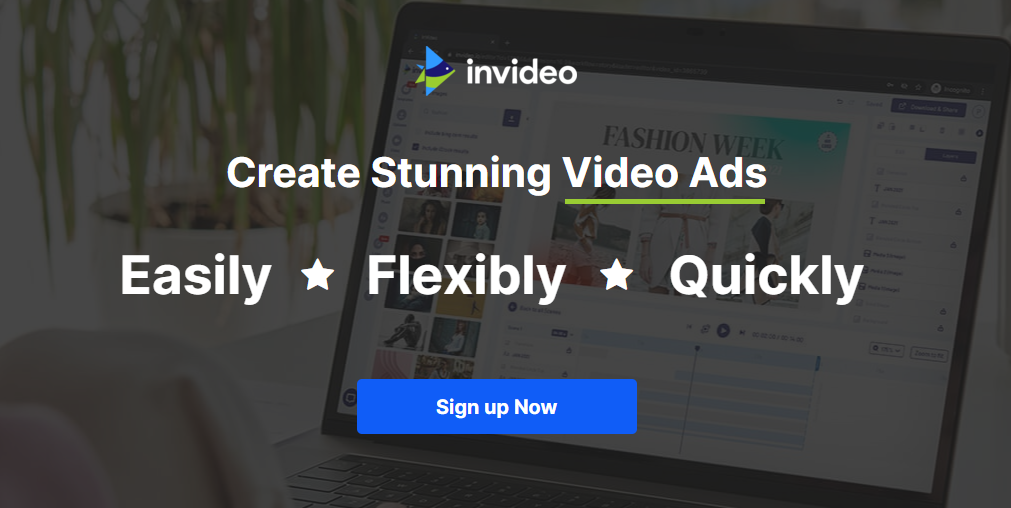 Why a film adaptation of a book becomes more popular than the book itself? It's because people nowadays prefer to watch films instead of reading books. Experts also say that video creates appeal to our sensory memory. 
Features
It is More than Video Editing Software. With inVideo, you can create multiple videos from texts, saving your time and reducing efforts. 
There are Pre-Made Templates. You can choose from around 3,000 pre-made templates for your content. That's not all! You can customize each template according to your requirements. 
Available with Blank Canvas. You can shoot or edit any video file for your comfort and peace of mind. 
Pricing
inVideo has Unlimited and Business plans. The Unlimited package is $60 per month. On the contrary, the Business Plan is $20 per month. 
Have you ever tried Canva, Adobe Spark, and inVideo? Are you looking for alternatives? Whatever your case may be, Snappa can leave you in amazement. 
Features
Intuitive Cloud-Based Graphics Editor. You do not need to have prior experience to use and navigate Snappa. 
Graphics Editor for Social Media and Marketing Purposes. You do not have to invest in separate services. Snappa has them all. 
It Helps You Create any Visual Content without Too Many Problems. It is different from Photoshop and other complicated platforms. 
Pricing
Snappa's pricing price is only $10 per month. 
Conclusion
What's your choice? Whatever it is, you can be confident that you make a bright decision. If you still encounter some trouble choosing the perfect knowledge management software, messaging tool, or any other software for your team, it's all right. There is no pressure. Take your time, and you will find the most tailored solution soon!