Most likely, you came across Slab when looking for knowledge-based software. In this article, we've compared the top Slab alternatives based on functionality and usability and developed a list of products that might be a good fit for your company.
What is Slab?
Slab is a fantastic tool for document collaboration. It is popular among customers because of features, such as competitive cost, high integrity, ease of use, and team collaboration.
This platform is a modern web-based team wiki that is easy, elegant, and powerful. It has a user-friendly editor, lightning-fast search, and a slew of connections, like Slack, GitHub, as well as GSuite, to bind all the factors together.
Slab can help you keep your corporation's paperwork well-organized and collaborative. Slab seeks to maintain accurate, appealing, findable, and communicated information to the appropriate individuals at the right time as your organization grows.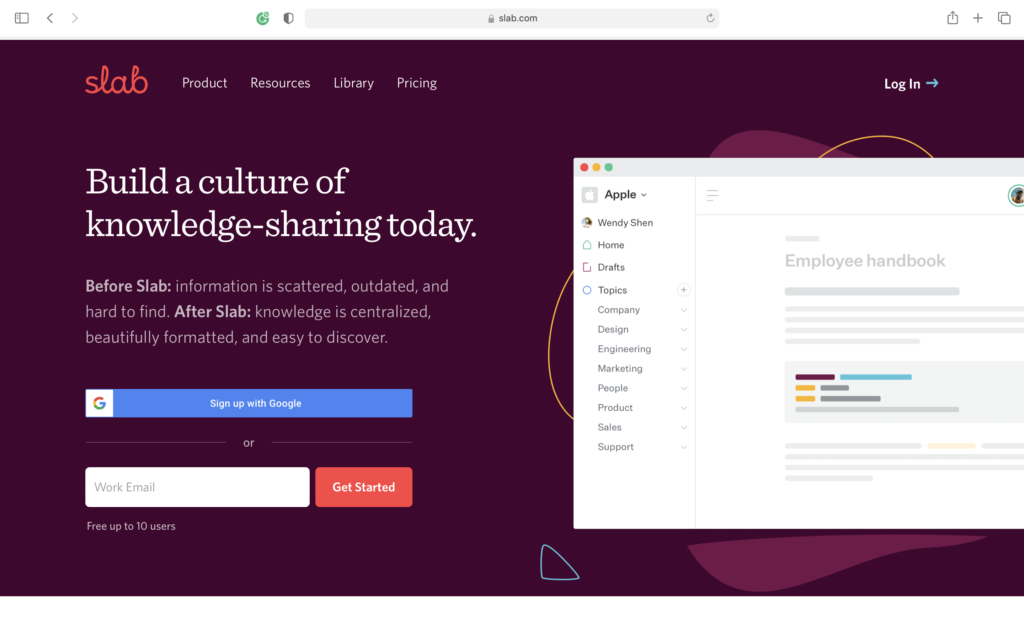 Features
Slab is a stunning team wiki and base of knowledge that has been reinvented to be faster, more intuitive, and more powerful. Consider it your group's long-term memory.
It combines Google Docs' traditional collaboration and editing functions with the organizational elements of a modern intranet.
Slab interacts with all of your other preferred productivity tools for all other tasks, such as GSuite, Slack, Asana, GitHub, and many others, with an emphasis on only solving long-term group knowledge.
Why Should You Consider Slab Alternatives?
Despite the fact that Slab has a lot of useful capabilities for constructing internal wikis, knowledge bases, and staff handbooks, one can't overlook the fact that it falls short in a few critical areas. Slab's knowledge base software has received unfavorable feedback from users on reputable internet sites, prompting firms to question the platform's efficiency.
Slab is designed primarily for internal team usage; hence, it cannot be used for client self-service. Internal knowledge management and client self-service support are essential features of an excellent knowledge base platform. Slab, on the other hand, is not like that.
According to several web reviews, there aren't many text formatting options, and you can't add user groups. Several users complain that the layouts aren't sophisticated enough and that there are no possibilities for embedding PDFs or uploading other file types. Furthermore, for others, Slab lacks the significant integrations that its competitors offer.
Slab only handles the English language; thus, you won't be able to produce content in any other language. This is a significant disadvantage, particularly for companies with workers working all around the world.
Looking for a user-friendly Slab alternative? Klutch is the best knowledge base for you. Aside from being free to use, it comes with efficient user interface that's perfect for startups, salesteams, agencies, and more. You can manage all your company information, knowledge, and documents in one single database. No coding required. By using Klutch, you allow your company to have a healthy knowledge-sharing culture for better teamwork and productivity.

Klutch knowledge base lets you store company pages that can include employee information, onboarding articles, tutorials, and relevant documents. Aside from that, you can have a separate database for all your canned responses that are helpful for sales teams. This gives them access to relevant information essential for addressing customer concerns anytime, anywhere, even on mobile. You don't have to go through all the company documents, in just a click, information are readily available for you.
Features
By using Klutch, you can benefit from a lot of user-friendly features. It has integrations with external apps so you can seamlessly create a smooth funnel in information and report acquisition. Let's check some of Klutch's best features for you.
User-friendly knowledge base interface
Well-written and customizable page and responses templates
Righ Click, Quick add responses
Google Chrome Extension
Integration with Gmail
User Groups
Page permissions
Real-time collaboration
Version control
Slack – coming soon
Pricing
Klutch is free to use, along with major features such as 1GB storage, up to 50 items, unlimited members, and all other features and tools you can see here on the pricing page. For bigger teams, you can get access to unlimited items, unlimited storage and all features from the free plan when you upgrade to pro for only $4 per month. 
Pros
Collaborate with your team in real-time.
Add comments, suggestions, and have control over your page versions
Limit the number of users who can access a specific page or responses
You don't have to create everything from scratch. Klutch comes with a lot of templates to get you started
It has a premium support to help you with anything you need
Get instant access to canned responses so your team are equipped with the right information to disseminate anytime
Mobile-friendly
Cons
Klutch is pretty new in the knowledge base industry, however, it already has a lot to offer especially for growing business, startups, and even bigger teams and agencies.
GetGuru
GetGuru is an excellent Slab alternative. It interacts perfectly with the company's workflow, allowing all teams to have access to corporate information easily at any time and from any location. Guru's adaptability as an internal information resource is unrivaled, whether for new staff onboarding, improving internal communications, or building a collaborative workspace.
Features
Guru's strongest feature is that it provides simple access to expert-verified, dependable information exactly where teams operate – in Email, Slack, CRM, and other places.
Other GetGuru features include:
Using Collections and Boards, you may organize your corporation's scattered information.
Provide teams with a single point of contact, allowing them to access expert-verified information they need to complete their tasks.
Staff onboarding can be automated so that new employees may learn at their own speed.
Even when working in a remote situation, you can streamline team operations and improve cooperation.
Pricing
Choose between the following three price plans:
The Starter pack for $5/ month per user
GetGuru's Builder version for $10/ month per user
The Expert package for $20/ month per user
Pros
With its Microsoft Teams and Slack connectivity, it keeps teams in sync
Intelligently built to fulfill the specific requirements of numerous teams and departments
Request that company specialists verify and update information on a regular basis
Give salespeople AI-powered advice while they're chatting with clients
Cons
Guru's content migration mechanism has room for improvement.
If you are unaware of the appropriate keywords, it's challenging to find specific cards.
Primarily ideal for internal usage. It does, however, enable you to generate public cards that may be sent to customers.
Atlassian
Atlassian is a popular alternative to Slab that is used by companies all around the world. The cloud-based software enables you to create a remote-friendly work environment for your teams, where information can be quickly exchanged, and work can be done collaboratively. Atlassian's range of tools, including Trello and JIRA, integrate effectively with Atlassian. This expands its potential and transforms it into an extremely useful tool for internal collaboration and communication.
Features
With Atlassian, you can:
Make a flexible workplace where teams can work on tasks together.
On a social intranet, allow teams to post news, ideas, and receive feedback.
Make use of your group's pooled knowledge to develop a centralized information hub.
Enhance group productivity by integrating with communication, collaboration, and project management applications.
Pricing
There is a free version for up to 10 users
The Standard package is $5/ month per user
$10/ month per user for the Premium version
The Enterprise plan is available as per request
Pros
The tool is free for 10 users indefinitely and has minimal functionality in the free plan.
Over 3,000 marketplace apps are supported by third-party connectors.
It helps you write content quickly and remain consistent between tasks
Spaces and pages can be used to effectively organize content. Its comprehensive search and page hierarchy provides for a pleasant search experience.
Cons
Only designed for internal organization use.
Asana
Asana assists you in coordinating all of your team's work. As a result, everyone is aware of what needs to be done, who is responsible for various tasks, and when projects are due.
Features
Asana is essentially a team collaboration and productivity solution. It is a popular pick because of its feature-rich and user-friendly interface. While Asana lacks some of the more typical project management tools, it excels at workflow and task management.
Pricing
There is a basic free plan.
The Premium plan costs $10,99/ month per user.
Asana's Business plan costs $24,99/ month per user.
The cost of the Enterprise package can be discussed with the Sales department at Asana.
Pros
Feature-rich platform
It is one of the most popular options for workflow and task management
The interface is fast and intuitive
Cons
Initially setting up Asana when you are unfamiliar with it can be slightly challenging.
The platform does not have offline capabilities – you need an internet connection when working with Asana.
Wrike
Wrike is a business-grade interactive work management platform that enables firms to execute their best work, regardless of where their workers are located.
Who uses this platform? Wrike brings together geographically dispersed teams to ensure that their entire organizations are coordinated, agile, and flexible. It caters to creative and marketing teams, product teams, project management teams, professional service teams, and others.
Wrike is the ideal platform for ensuring collaboration and delivering efficiencies for teams across the company, with many companies transitioning to a remote workplace environment for the workers.
Features
Wrike is an excellent online collaboration solution for distant workers.
Gantt charts, Kanban boards, synced calendars, time-tracking, auto-assignment, and real-time updates all help you stay on schedule, and they are all secured by enterprise-level security. Wrike integrates with over 400 apps and Adobe Creative Cloud, allowing you to keep utilizing the tools you need every day. Tailor your process to eliminate the need for emails, check-ins, meetings, and other administrative tasks.
Pricing
A free plan is available.
Paid packages start from $9.80/ month per user.
Pros
Provides a broad spectrum of features
Prioritizes safety
Completely customizable
Cons
It is only ideal for internal usage.
Showpad Content
Showpad Content brings together sales content management, coaching, and training in a single user interface.
This platform has helped thousands of clients bridge the gap between marketing and sales by establishing one central location that allows sellers to present, discover, and share the latest branded content in graphically engaging encounters with Showpad Content.
Features
Content storage
Templates
Content creation
Content import
Advanced search
Account-based engagement
Reporting
Content utilization
Live and mobile presentation
ROI reporting
Pricing
Showpad Content offers various paid plans; however, you have to contact the company directly to receive a quote per month per user. 
Usersnap
Usersnap is an input tool that assists software firms in collecting and analyzing customer feedback and measuring user experience. Additionally, graphically track issues for UAT, QA, and beta testing, and connect your processes with over 2,000 integrations (Jira, Zapier, ServiceNow, Zendesk, etc.).
Each feedback item comes with all metadata (browser, screen size, browser problems, and so on), screenshots, and screen recordings. Airbus, Microsoft, Canva, Hawaiian Airlines, and Instacart are among the company's clients.
Features
Defect tracking
Audit trail
Backlog management
Assignment management
Online collaboration tools
Customer segmentation
Project management
Analytics
Dashboard
Self-service portal
Multi-channel data collection
Pricing
Usersnap does have a free trial available.
The pricing starts at $19/ month or $9/ month if paid annually.
Kanbanize
Kanbanize is the most popular Kanban software for managing agile projects and portfolios. It integrates execution and planning and assists teams with achieving faster by providing visibility across all tasks and domains. Kanbanize, which is based on the notion that all processes develop, can readily adapt to changes in your business, whether it is a startup or a Fortune 100 corporation.
Kanbanize is a trusted provider for over 1,000 enterprises and 150+ partners all across the globe, with the most extensive feature set in the market and a support group that is second to none.
Pricing
If there are 15 users, you can expect to pay from $149 per month.
30 users fall within the price range of $299 per month.
If you have a team of 50 users, pricing starts at $449 per month.
100 users cost a minimum of $799 per month.
If your team consists of over 500 users, you need to contact the sales department to receive a quote.
The Bottom Line
Slab is a collaboration tool that helps teams collaborate and be more productive at work. It was designed for the modern office. The platform is unquestionably beneficial to businesses seeking to democratize company information and streamline internal work processes.
However, no matter how polished the functionality and features are, Slab has weaknesses, which is why it isn't the best tool for every company's specific needs.
While several users criticize the free plan's limits, others believe the user interface is obsolete. Some users are dissatisfied with the application's topic structure, while others are frustrated that it was designed solely for internal use.