Slack is a business communication platform that connects people to the information they require. It transforms the way companies communicate by sharing knowledge and bringing people together to work as a unified team.
Instead of requesting information from someone every time, you can use Slack's search function and browse your company's entire conversation history, saving all team members valuable time. 
You can further improve this by integrating your organization's current wiki or internal knowledge base with Slack. This way, you can create a central place where everything you need for work is within arm's reach.
What is Slack Wiki for?
A wiki is a collaborative tool where people can contribute or edit pages through a web browser or other related software. However, for companies, it mainly stands for an updatable internal information source. 
Slack Wikis have this function and are better suited for collaborative workflows. Other wikis without integrated collaborative software or Slack usually fail to account for how work changes over time. 
If you add your internal wiki to Slack, you can access your company's entire knowledge base at all moments without interrupting your workflow or conversation with your peers.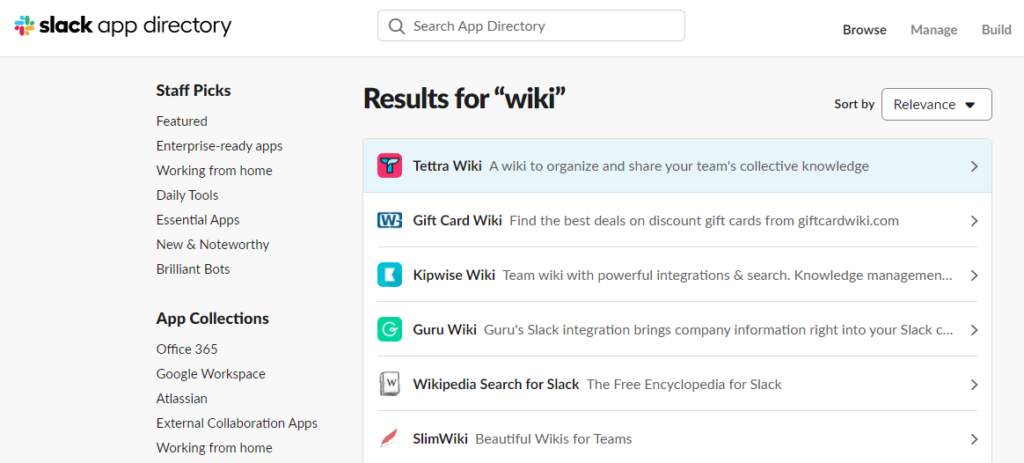 Team members can check all of the company's policies without asking. They can share data with coworkers who need help as well.
Traditional wikis, including some with Slack integrations, usually become outdated and hard to manage with growing teams. After all, the amount of knowledge they handle rapidly increases. 
If you ever look for an internal corporate wiki tool, you must ensure it offers Slack integration. The ones that don't provide that feature can make it troublesome to maintain adequate and accurate content.
Additionally, leaving your communications platform to access the wiki can be hindering, causing a loss of productivity. Integrating your workplace's wiki with Slack solves all of those issues and gives the mentioned benefits.
Top Slack Wiki Apps
Check out the following Slack Wiki apps and integrate them with Slack to improve productivity and create an accessible knowledge management system. Each option is highly effective and can significantly enhance everyone's remote work experience.
Klutch knowledge base is a knowledge management solution for businesses irrespective of size. It allows companies and teams to create an internal knowledge base of all essential pages, records, resources, and canned responses.
Its integration with Slack offers a lot of helpful shortcuts and collaboration features for faster communication and sharing of information with the team.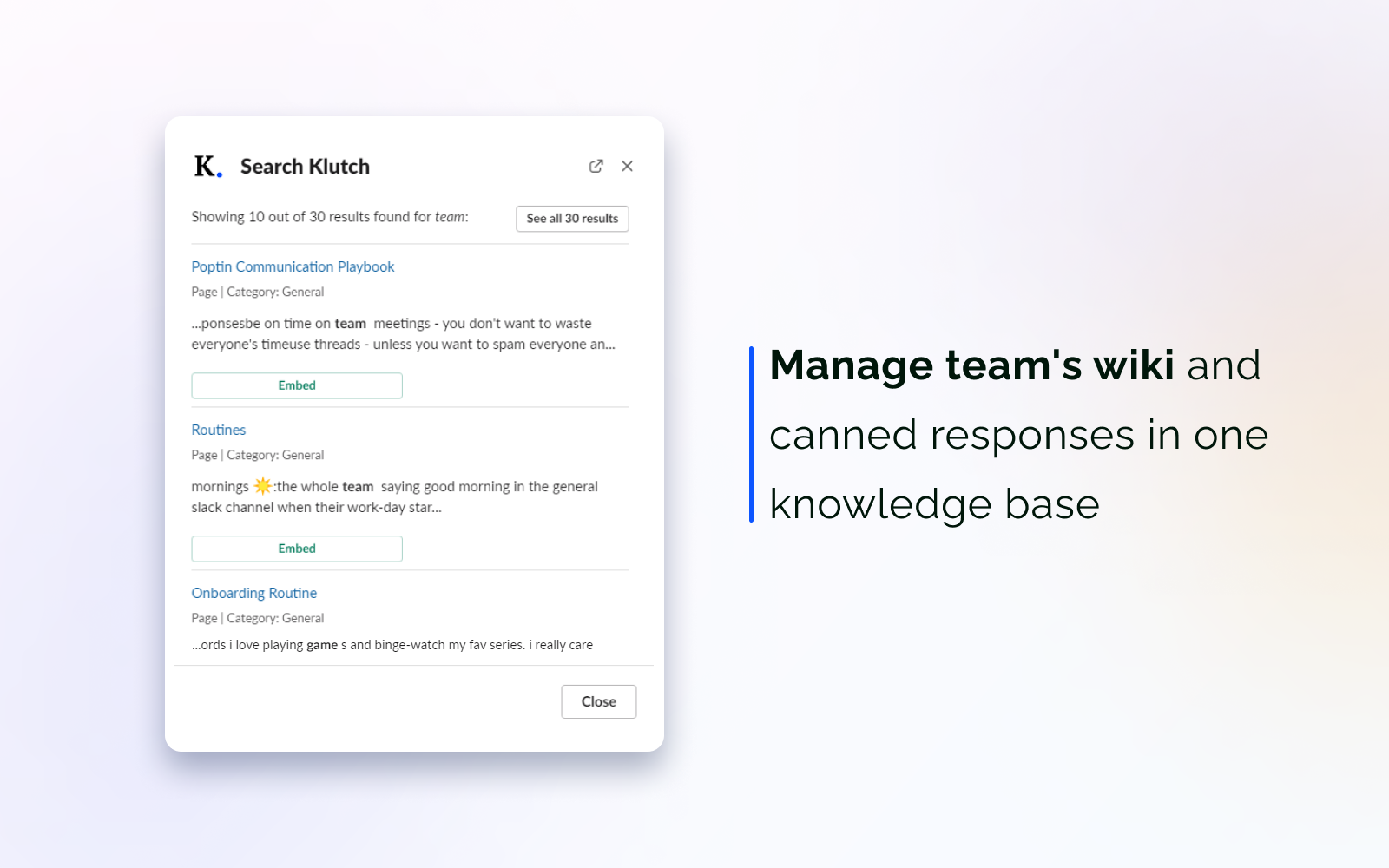 Features
Real-time collaboration features
Creation of company pages and canned responses
Advanced editing features
Third-party integrations
Mobile responsive & compatibility
Privacy settings and permissions
Tags, comments, categories
Slack Wiki integration
With Klutch Wiki and Slack integration, you can create a central hub for your organization's information and files and share them across your Slack channels. You can also manage your canned responses and pull them into Slack when needed. You can also use several Klutch shortcuts on Slack for better accessibility.
Type /klutch create page to add a new page on your Klutch knowledge base
Type /klutch create response to add a new canned response on your Klutch responses tab
Type /klutch <search keyword> to quickly find content from your Klutch Wiki account to be shared on your Slack channel
Add new content to your Klutch account using the message drop-down option
On right-click, add and save Slack messages as canned responses and/or pages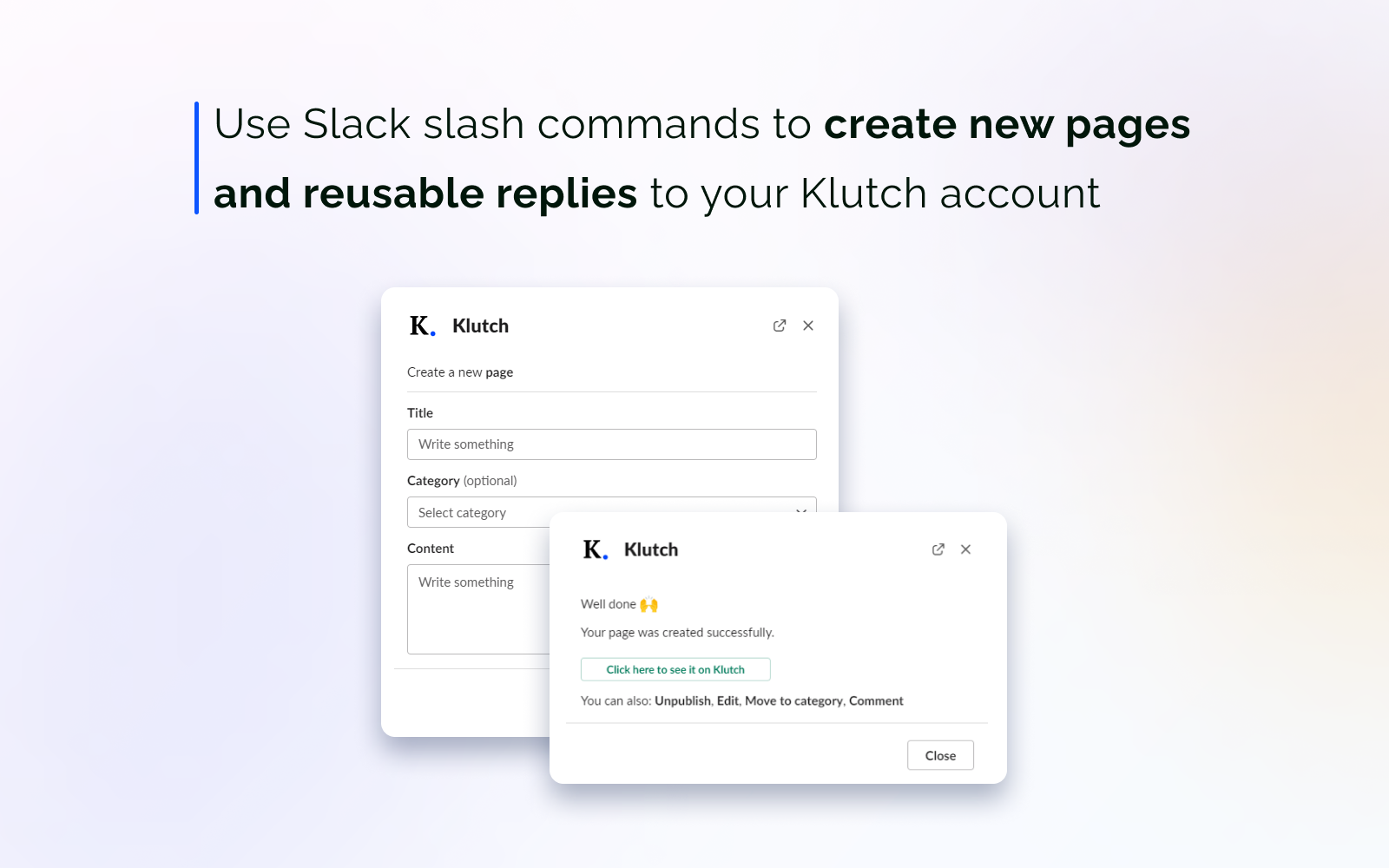 Integrate Klutch Wiki on Slack to experience seamless collaboration with teams and manage your knowledge base effortlessly.
Install Klutch Wiki & Canned Responses to Slack now.
Pricing
FREE. $0/month as long as you want. Unlimited members, up to 50 items, up to 2 GB storage.
PRO plan. It starts at $4 a month per user with unlimited items & members, external sharing, and up to 100GB storage.
Reviews
Yossef Trabelsi, Founder, YosK – "If you want anything to get done faster – you need to get this extension! It's absolutely amazing. It will literally save me HOURS each year."
Brandi Weyant-Ceron, Client Support Specialist – "This extension is just what I was looking for! I could not be happier!'"
2. Tettra Wiki
Tettra Wiki is an internal knowledge base that allows you to organize your organization's scattered knowledge and use it to answer questions inside Slack. 

Features
Verifies pages on a schedule, keeping them up to date
Has an analytics section to check how your content performs
Allows you to assign content experts that can offer precise answers
Can reference existing Google Documents in your internal knowledge base, eliminating the need to recreate the content
Slack Wiki Integration
After integrating the Tettra knowledge management system with Slack, you can use the latter to send a new or existing answer. You can also send notifications for any page you create or update so that your team reads it.
Pricing
Starting: $0/month for the first five users. Afterward, it's $5/user/month
Scaling: $99/month for the first 10 users. Afterward, it's $8/user/month
Enterprise: Custom pricing plan without user limit
Reviews
Laura M. (COO) – "It's very sleek, easy to use, and the platform makes perfect sense. Tettra has a lot of customization options, which add to its aesthetics."
Jay A. (Founder) – "Our business would implode without Tettra." 
3. Guru Wiki
Guru is an internal knowledge management system that works in your workflow. It keeps all the information required to do your job at your fingertips.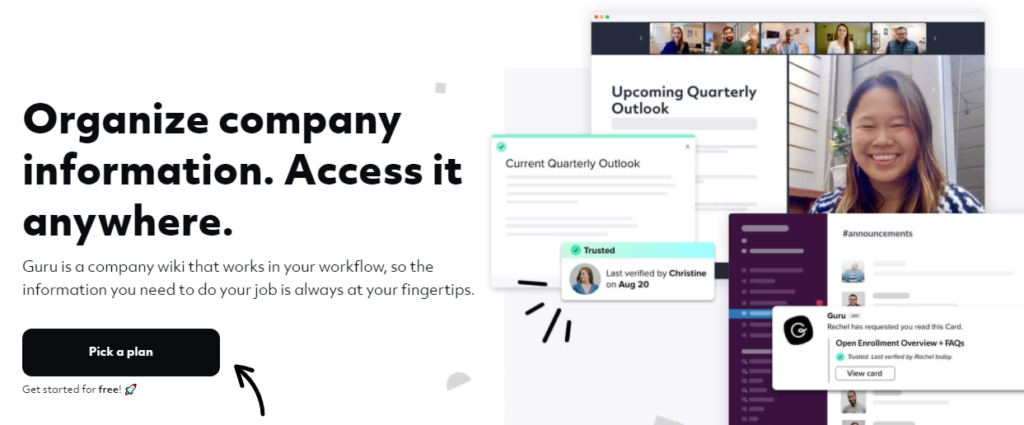 Features
It gives onboarding employees a sense of independence from day one by providing all necessary info in the Slack Wiki
Allows you to share critical updates and access data within workflows
Enables teams to keep up with product changes
Slack Wiki Integration
Its Slack Wiki integration allows you to capture company info, categorize it, and assign it to an expert who ensures it stays updated without leaving the platform. Additionally, it lets you share Guru Cards through channels or direct messages.
Pricing
Starter: $5/user/month, free for teams with three core members
Builder: $10/user/month
Expert: $20/user/month
Enterprise: Custom pricing plan that includes every feature
Reviews
Cody B. (People Operations Specialist) – "Fabulous tool that serves as our internal company information hub."
Carlie M. (Technical Business Analyst) – "It's a great tool for product management."
4. Kipwise Wiki
Kipwise is a company wiki tool that integrates seamlessly with everyday tools. It allows you to easily save and retrieve your team's knowledge at a moment's notice.
Features
Internal FAQs engine
Chrome and Safari extensions
Real-time collaborative editor
Keeps and connects every tool you use to search for information in a single place
Can set designated content reviewers
Slack Wiki Integration
With Kipwise, you can create an internal knowledge base without leaving Slack. You can add new pages and search the entirety of Kipwise with slash commands. Moreover, you can clip meaningful discussions and save them with just a few clicks.
Pricing
Basic: $25.5/team/month for the first 10 users, $2.55 per additional one
Professional: $42.5/team/month for the first 10 users, $4.25 per additional one
Enterprise: Volume pricing with flexible billing that includes every feature
Reviews
Ekaterina M (Marketing Lead) – "A perfect solution for a team wiki." 
5. Slim Wiki
SlimWiki is a knowledge-sharing platform for teams. It offers an exceptional editing experience, including easy image, video, and attachment management.

Features
Robust free-text search
It has a page version history where you can see who made changes and revert them.
Allows you to restrict content for specific teams or keep it visible to everyone
Offers simple drag-and-drop image placement
Slack Wiki Integration
Teams can share knowledge quickly and effortlessly with its Slack integration. It lets you comb through wiki pages fast and create new ones with its slash command. 
Pricing
Free: Up to three users, but it doesn't include Slack integration
Pro: It starts from $20/month and has every feature
Reviews
David S. (Technical Support Specialist) – "It's cheaper than most competitor wiki solutions, and honestly, you get what you pay for."
Notion is an all-in-one workspace for wikis, notes, project management, and collaboration. It allows you to turn all of your knowledge into easy-to-find answers. Moreover, it features customizable tables, lists, Kanban boards, and more.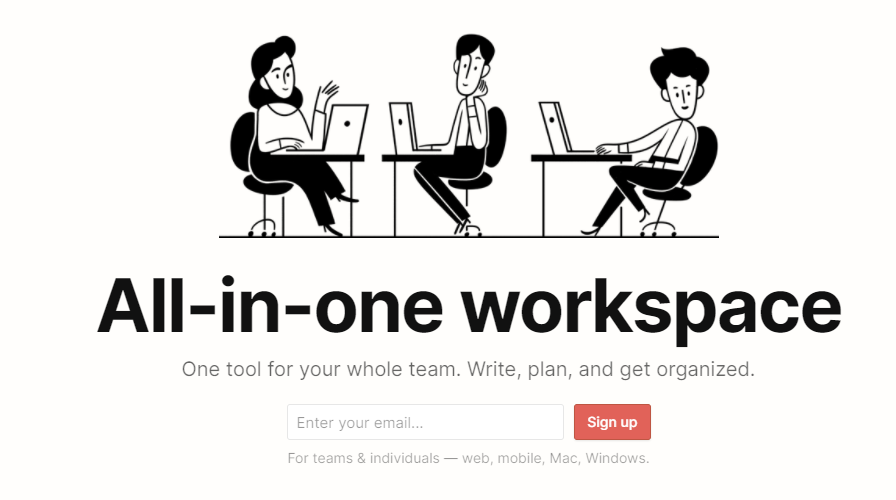 Features
Allows you to collaborate in real-time, visualize product roadmaps, and write feature specs
Can track multiple projects and content calendar
Offers the option to build a flexible CRM
Helps with employee onboarding thanks to its easily accessible internal knowledge base
Slack Wiki Integration
When you integrate Notion with Slack, you can make pipe edits and updates on any of its internal knowledge base pages from your chosen channel. You can also receive notifications whenever people make comments or changes to them.
Pricing
Personal: Free to use pages and blocks which you can share with five guests
Personal Pro: $4/month
Team: $8/user/month
Enterprise: Custom pricing plan that includes everything in the previous ones and more
Reviews
Joey P. (Customer Success Lead) – "It's an excellent solution for assigning and managing tasks for a team."
LaToya B. (Associate Director of Rec. Programming) – "I love that Notion can be a calendar, record keeper, task manager, habit tracker, and queen of databases."
7. Outline
Outline is an open-source internal knowledge base and wiki for growing teams. It lets you keep your meeting notes, onboarding guides, playbooks, documentation, and work logs in order.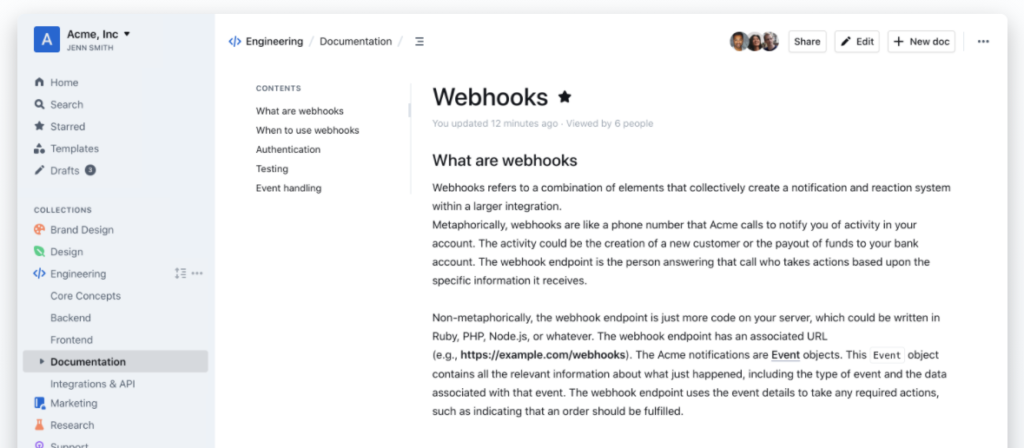 Features
Fast wiki search speeds and easy-to-navigate UI
Imports, exports, and stores all documents in plain-text Markdown
Allows you to manage read and write permissions
It has every function available through the API
Slack Wiki Integration
This integration provides several functions that allow you to keep your team up to date and informed. It gives notifications regarding newly published and updated pages and documents. You can also search Outline directly within Slack with the slash command.
Pricing
Outline has different place plans depending on where you host the product. 
Cloud: Three price tiers with increasing benefits: $10, $79, and $249/month
Self-managed: Free option with limited features and a $4/user/month enterprise plan
8. Lessonly Knowledge
Lessonly Knowledge is an excellent tool that growing teams use to find information, documents, lessons, wikis, and answers at work. Its bot, Ollie, brings up all relevant data from its knowledge management system.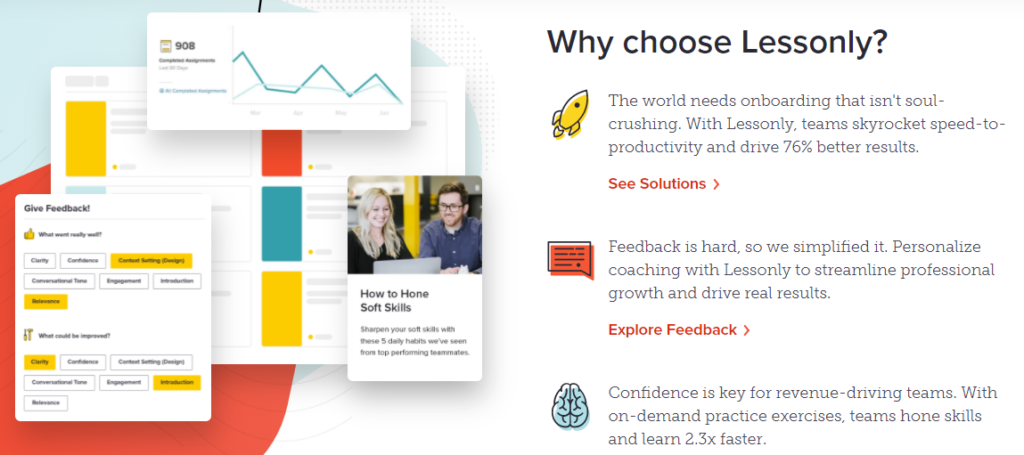 Features
Allows you to create a modern knowledge base, search for lessons, and organize a wiki
The bot understands and leverages natural language processing to answer questions
Automatically resolves issues, provides knowledge and documents, and reduces question repetitiveness
Enables users to build a self-serve workflow that connects Lessonly with their service desk
Slack Wiki Integration
Integrating Lessonly Knowledge into Slack allows your team to start lessons directly from its platform. It also enables onboarding employees to receive notifications regarding assignments. 
Pricing
Lessonly has three price plans. However, they don't offer information about their price as it tailors it to your needs.
Pro
Pro + Coaching
Enterprise
Reviews
Crystal W. (Director of HR) – "Completely impressed the values, leadership, and the product."
Sasha A. (Training Specialist) – "Great learning tool. It helps you keep track and sign up for knowledge courses."
9. Slab
Slab is an internal wiki for the modern office. It helps teams unlock their potential through documentation and knowledge sharing. This platform lets you create content that looks great by default and makes it easy for people to discover topics.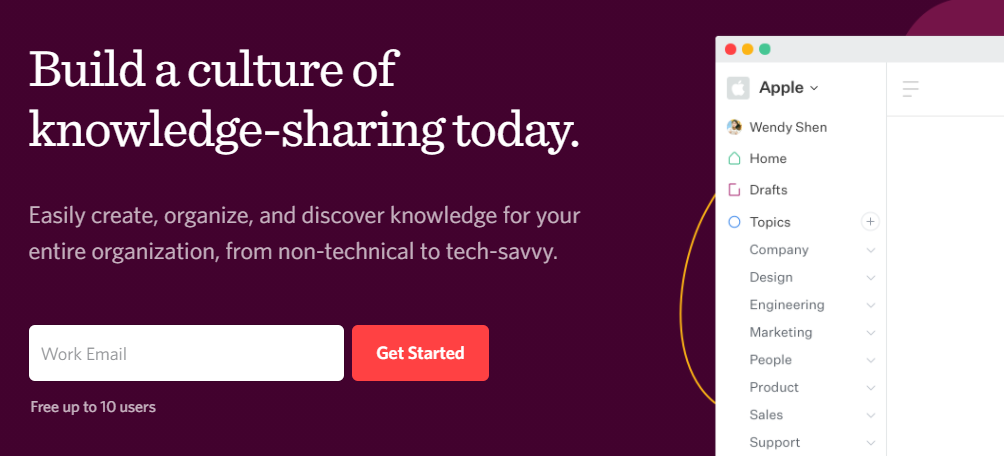 Features
Provides modern editing capabilities within an intuitive user interface
Makes it easy to learn company policies and procedures through Slab Topics
Allows you to pull relevant answers from Slab and other integrated tools with its Unified Search
Slack Wiki Integration
Slab goes hand-in-hand with Slack. It allows you to access Slab's entire knowledge base within it and vice-versa. You can view posts directly within Slack and create new ones with a single slash command. Also, it offers customizable notifications for mentions, edits, and comments.
Pricing
Free: Offers limited features for 10 users
Startup: $8/user/month
Business: $15/user/month
Enterprise: Custom plan that includes every feature
Annual payments offer two months free.
Reviews
Ricardo F. (Product Manager) – "Great internal knowledge base with growing sharing features."
10. Slite
Slite helps remote teams save knowledge, share ideas, and collaborate anytime from anywhere. It offers everything they may need to improve their productivity, including better management options, employee onboarding, and meetings.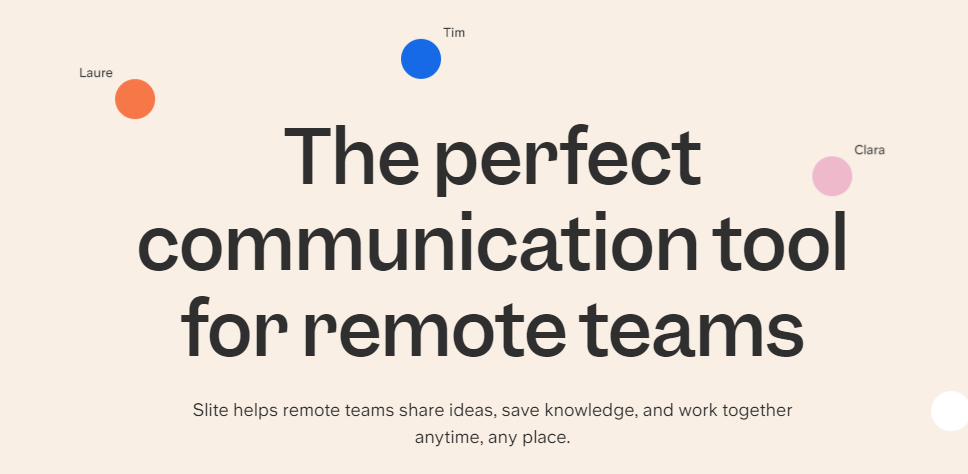 Features
Fast and reliable searcher
Informs you every day of the place where you're needed most with its "Catch up" mechanic
Enables you to edit specific documents with clients or invite them as guests for long-term projects
Slack Wiki Integration
With this Slack Wiki integration, your team can paste Slite links directly into Slack, where it shows the title, author, and channel. You can search and share notes using slash commands. 
Additionally, team members can receive activity highlights from any channel whenever people create or edit notes.
Pricing
Free: Up to 50 documents
Standard: $8/user/month
Premium: $15/user/month
Enterprise: Offers everything available in previous plans and more
Yearly billing offers a 16% discount.
Reviews
Deepak C. (Product Lead) – "Clean, well-designed, powerful tool for product management."
11. Papermind
Papermind is a simple knowledge management system that allows users to quickly create, organize, and share content through Slack. It's easy to use and lets you keep everything in one place. 
Features
Allows you to create remarkable articles with a simple text editor
Keeps files in one location and a step away from Slack conversations
Shows your entire team in Papermind
Allows you to tag content and create a personalized collection of articles and files
Pricing
Papermind 1: Free for one user
Papermind 10: $19/month for 10 users
Papermind 50: $49/month for 50 users
Papermind 100: $99/month for 100 users
Papermind Enterprise: $2/user/month without limits
Conclusion: Slack Wiki
These aren't the only Slack Wiki apps available; they are the most popular and effective ones. Most offer either free or trial versions, so you can try each one to see which option suits you the best at no cost.
Don't hesitate to use any of these apps. They make it significantly easy to manage an internal knowledge base within Slack. Additionally, several allow you to share info with team members asking for help and research company policies beforehand. 
Remember that any of these Slack Wiki integrations can help your organization achieve success. Moreover, they're significantly advantageous when dealing with onboarding employees.