Knowledge base software can be highly beneficial to your company or team. Many times, it's used as part of other online collaboration tools. Therefore, it's important to know which of the base of knowledge software choices are best for your needs.
Though SlimWiki is a great choice, you might find that it doesn't do everything you want. With that, the cost may be a deciding factor. Therefore, you can learn about the top five SlimWiki alternatives and how they might benefit you more.
What is SlimWiki?
SlimWiki is a knowledge base that features an inline editing tool and helps you create content. It offers tons of options to focus more on your business.
With that, you get versatile topography and layouts, so you can make great designs. Many people claim that SlimWiki is an easy-to-use project management and knowledge base platform.
Others feel that it doesn't offer everything that knowledge base software should. Here are a few SlimWiki alternatives to consider instead:
Top Alternatives
A new player in the world of knowledge management has finally entered the industry with a bang. Klutch is a knowledge base software that lets you create and organize company information in one user-friendly platform. It gives teams direct access to knowledge that helps boost productivity, employee engagement, and more.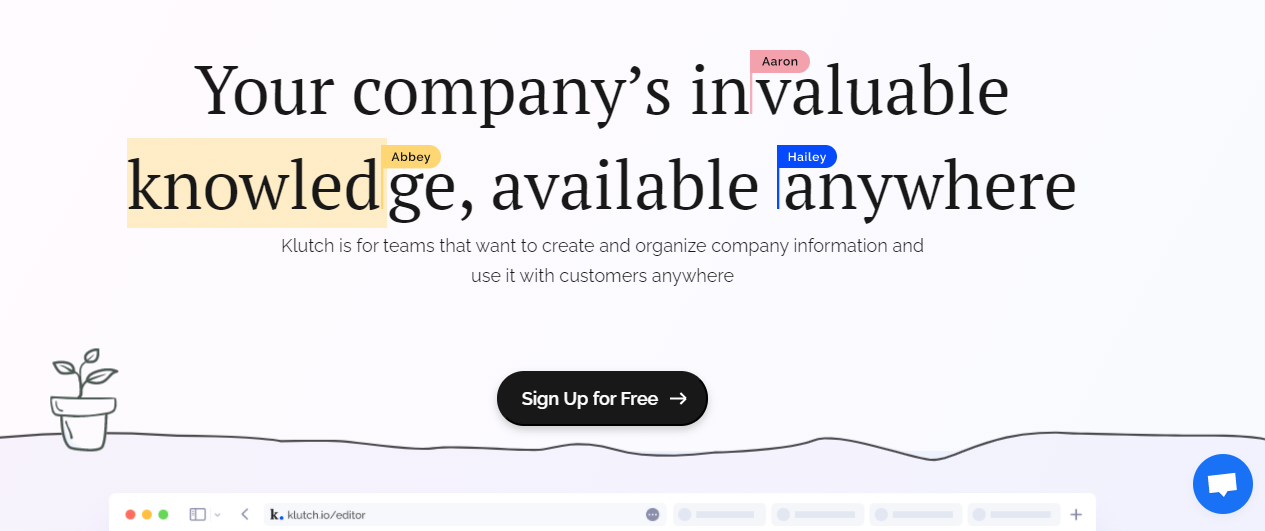 As you document your company knowledge, you'll also have faster access to relevant information that paves the way for more efficient customer service.
Here are some of the major things you can do to document your team knowledge:
Klutch Responses
This response database would give you direct access to default communication statements for better customer engagement and assistance. Using Klutch to maintain such information helps you stop repeating yourself to customers and manually typing them from time to time.
Klutch Pages
With Klutch, you can create long-form pages that contain relevant and confidential company information that is meant to be shared across departments.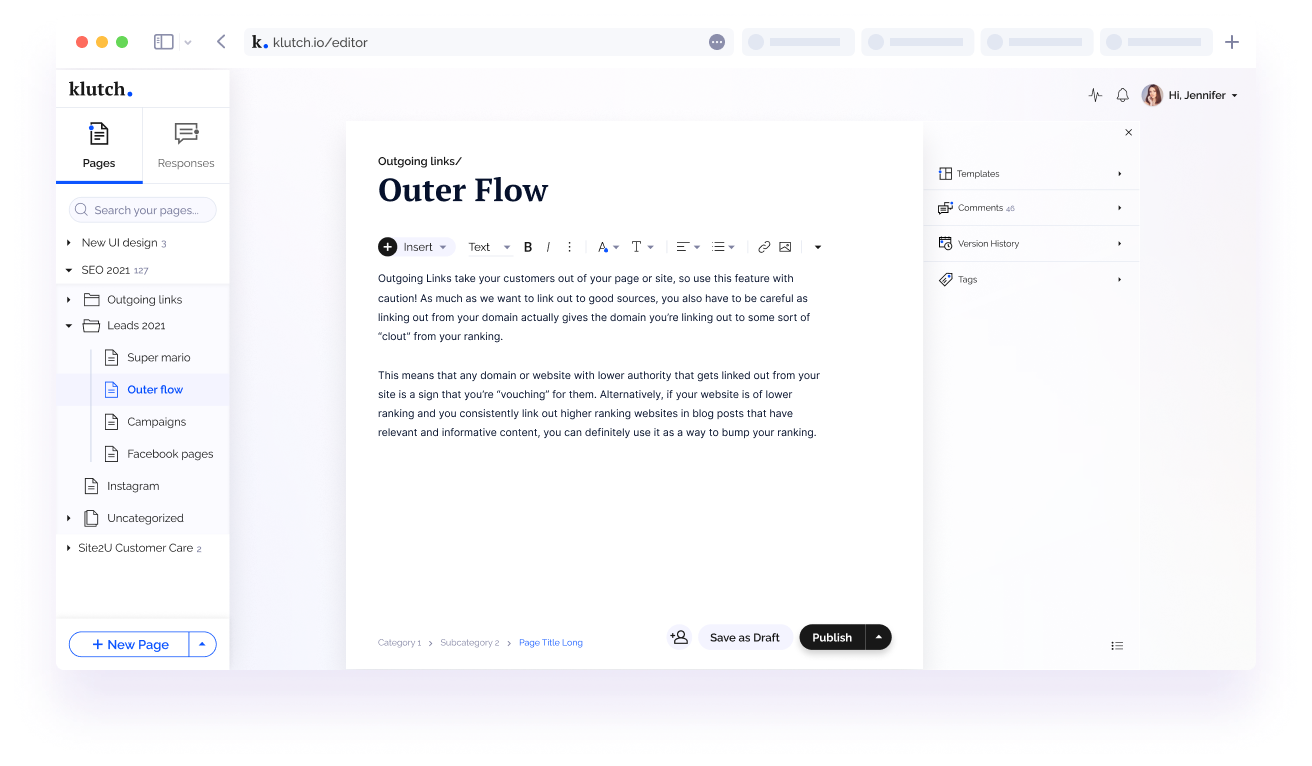 Features
Real-time collaboration
Template library
Flexible permissions
Sensible organizations
Mobile-responsive
Remote access and support
Easy access to information: categories, tags, permissions, and more
Pros
Easy onboarding
Well-written templates
Drive productivity and teamwork
Can draft a large number of canned responses
Very affordable
Cons
It's a new app so it may have more features to add and improve in the future, yet for businesses, it provides the relevant tools for a good knowledge base.
Pricing
You can use Klutch and get access to its robust features and interface starting at $5 a month.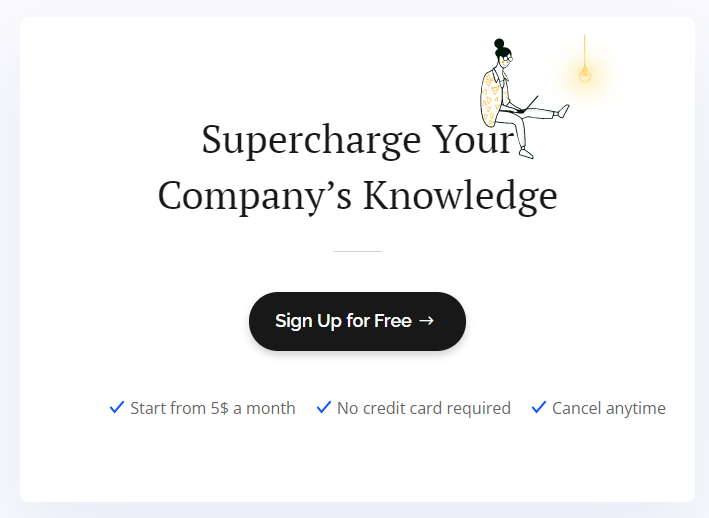 Who it's Best for?
Klutch knowledge base can be used by all industries, regardless of team size. Whether you're into eCommerce, SaaS, B2B, consumer goods, education, and more, you can enjoy the features of Klutch and the benefits it provides. Sign up with Klutch today!
GetGuru
It can be hard to work remotely, but GetGuru can help you organize your information and make it accessible wherever you are. That way, teams are engaged, connected, and confident. Ultimately, it's what every base of knowledge should be!
With that, GetGuru is a wiki that works within your workflow. Therefore, the information necessary to do your job is right there. It's also easy to share, create, access, or update information as needed. The goal here is to unify the collective knowledge within the organization, verify that it's accurate, and empower everyone to get what they need to work.
Features
The features available from GetGuru include:
Self-service portal
Remote support
Remote control and access
Knowledge base management
Employee monitoring
Forums and discussions
Content management
Online collaboration tools
Categorization and cataloging
Pros:
Employee onboarding
Product enablement
Internal communications
Low price
Cons:
Gets expensive (pay per user)
Better features only available on high-tier plans
Pricing
The prices for GetGuru are quite low compared to other SlimWiki alternatives. With the Starter package at $6, you get the Slack App, Microsoft Teams app, a browser extension, and verification.
Then, at $12, the builder package offers duplicate detection, analytics, and even more. From there, the Expert package is $24 and includes ticket linking and many other perks.
Just remember that the price you pay is per user each month. Therefore, if you have 10 users, the starter package costs $60 a month.
Who it's Best for?
GetGuru serves various industries where company knowledge evolves. Primarily, it focuses on e-commerce, direct-to-consumer, SaaS, and B2B tech agencies.
Slab
Slab is considered a knowledge hub for a modern workplace. It helps teams with documentation and shared learning. With that, you have everything you need at your fingertips.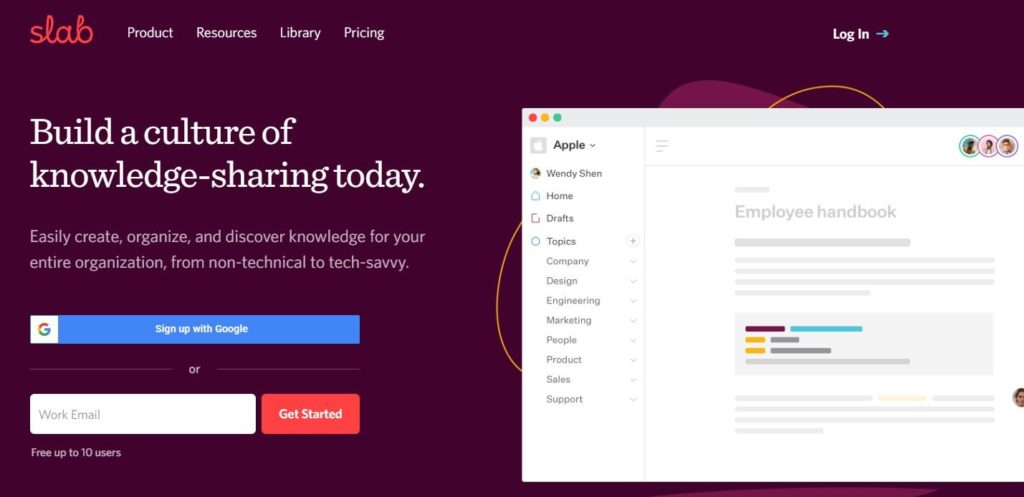 You can also integrate Slab with other productivity tools. These include G Suite, Slack, and Asana. That way, everyone can optimize their workflows and streamline the work. Plus, Slab structures and organizes content using hierarchical topics. You can add multiple labels to a post, as well!
Features
There are many features to enjoy from Slab, such as:
Version control
Task management
Project management
Self-service portal
Real-time editing
Meeting management
Knowledge base management
Full-text search
Document management and classification
Content management
Online collaboration tools
Brainstorming
Retention and archiving
Pros:
Excellent live chat support
Intuitive and sleek interface tool
Easy-to-use editor
Cons:
Could have significant downtime
Doesn't integrate well with other project management tools (Basecamp and Markdown)
Pricing
You're sure to appreciate the forever-free plan with up to 10 users, 10MB attachments, and 90-day version history. From there, the Startup plan is $8 and gives you unlimited users, more attachments, and a long history.
As you progress through each tier level, you get more perks. For example, the Startup option gives you private topics, while the free version doesn't.
Who it's Best for?
Typically, competitive companies use Slab throughout their organizations. It's powerful for technical teams but approachable for those who aren't technologically advanced yet.
Document360
Document360 is a knowledge base platform that lets people build their help centers using various third-party integrations. It's easy to set up and possible to reduce support requests by 50 percent. 
With that, people can collaborate, create, and publish their knowledge bases with an easy-to-use SaaS platform. You can have different versions and get advanced analytics to match your brand's identity.
Features
There are many amazing features to experience when using Document360. These include:
Self-service portal
Knowledge base management
Full-text search
Forums and discussions
Content management
Cataloging and categorization
Online collaboration tools
Integrations with project management tools
Pros:
Easy to use
Flexible to meet your needs
Cons:
No mobile app
Can be expensive
Pricing
The prices for Document360 are also tiered. Startup costs $59 a month per project, and you can have two accounts, 5GB storage, and one version of your base of knowledge.
From there, Business costs $179 a month per project and gives you five-team accounts, 50GB storage, and two knowledge base versions.
Enterprise is next at $359 per month per project and has even more perks. If that's not enough, you can contact the company to get Enterprise Plus. 
Who it's best for?
You're sure to find that Document360 works well for those who want knowledge base software that's easy to use and flexible. Still, it's not an all-in-one support system, but many of the other SlimWiki alternatives weren't, either.
Wrike
Wrike is an excellently powerful professional software and is trusted by over 20,000 companies throughout the world. You can easily create a more streamlined workplace, and it's all digital. With that, you may use Kanban boards, custom request forms, time tracking, Gantt charts, performance reports, and all the rest.
In fact, everything is in one place, which makes it easy to share information company-wide. It doesn't matter if people are working remotely or in the office! Plus, you can integrate with 400 applications to help automate your everyday needs. Customize workflows, make sending emails easier, and so much more!
Features
With Wrike, you can enjoy many perks and benefits. They include:
Asset management
Asset library
Categorization
Approval workflows
Analytics and ROI tracking
Notifications and alerts
Agile methodologies
Ad-hoc reporting
Newsfeed and activity feed
Activity tracking and planning
Activity dashboard
Accounting integration
Access permissions and controls
Pros:
Easy to use
New intelligent features added to flag projects
Manage ongoing work and projects
Special account types for creative/marketing teams and professionals
Cons:
Hard to choose the best plan
Pricing
The pricing structure for Wrike includes a forever-free option. You get unlimited users, a personalized app experience, and subtask/task management.
Professional is next at $9.80 per month per user. It comes with a free trial and then offers shareable dashboards and interactive Gantt charts. You also get various integrations and up to 2GB of storage per person.
Business is $24.80 per month per user and has the same features as Professional. With it, you also get custom workflows and fields, a branded workspace, automation engines, and so many other perks.
Last, you have Enterprise, and you must call to discuss your needs to be quoted a price. It includes Business features, but you also have two-factor authentication, SSO, 10GB per user, audit reports, and many other benefits.
Who it's Best for?
Ultimately, Wrike is perfect for enterprise companies and mid-sized businesses that want to run many projects simultaneously. If you embrace teamwork and your clients, you can tailor Wrike to meet all of your needs.
Tettra
Tettra is considered a reliable Wiki company designed for businesses using Slack. The program helps everyone share and organize their knowledge and is knowledge base software for growing teams.
With that, you can get rid of information silos in the organization and make it easier for everyone to get the data they need. You're sure to find that collaborative productivity is increased, so everyone works quickly and helps support the business.
Features
You're sure to find that the features of Tettra are excellent. They include:
Automated table of contents
Page requests
Slack integration
SSO
Internal page linking
Search and share pages right to Slack
Markdown support
No coding necessary
Pros:
Easy to use and set up
Forever free version with integrations
Excellent paid features
Cons:
Quite similar to Google Docs
Limited collaboration functionality
Pricing
The Starting package is free forever for up to 10 users. With it, you only get Google and Slack SSO. Still, it's a great way to check out the service.
Scaling is next at $10 per user per month and comes with 250 users and team usage analytics. For those who have other requirements, Custom is available and is based on what you require.
Who it's Best for?
Ultimately, Tettra is a great choice for those in engineering. However, operations teams, growing companies, and those with a specific product can find a use for this knowledge base software.
Conclusion
Having the right knowledge base software could be the answer to productivity problems. When project management is a concern, you need to streamline things so that people get the information necessary to do their jobs.
These five SlimWiki alternatives could be the answer. Check each one out to determine what is best for your company and budget.