With more and more businesses shifting to a remote work environment, online collaboration tools are crucial. One of the biggest things people forget about is having a base of knowledge. That way, employees can look up the information themselves and get assistance with everyday tasks.
If project management assistance is needed, these Slite alternatives might be ideal.
What is Slite?
Slite is a documentation platform designed to help companies share, create, and update their knowledge base software. That way, employee onboarding, and team meetings are much easier to handle.
People can manage their project plans, view document history, and receive updates on team activity. 
While it's great for SMBs, it doesn't work well for large enterprises. At first, the pricing structure seems affordable, but you have to pay "per feature." Therefore, it could add up quickly if you need many online collaboration tools.
Others claim there are usability issues, such as text disappearing while typing. Overall, the Slite alternatives listed below might work better for your project management and knowledge base software.
Top 5 Slite Alternatives & Team Wiki Apps
Klutch is an excellent base of knowledge software for pages and responses. You can provide short and copyable answers to customers so that you don't repeat yourself with basic questions. This saves you a lot of time and effort.
The powerful tools make it easy to get work done. Plus, Klutch is designed to boost productivity, information security, reports, accountability, sales processes, and all the rest. Here are some of the features you should be aware of:
Klutch Pages –

Store long-form documents with confidential information about your company (reports, income, agreements, contracts)

Klutch Responses –

Create a canned-response database to prevent repetitive tasks. Copy-paste your responses when you get those questions. That way, you boost response rates and have positive feedback from people.

Sensible Organizations –

You can organize everything to make sense to your company.

Flexible Permissions –

Determine which employees can do what. Should only a few be allowed to create new snippets of information?

Template Library –

Keep everything similar and streamlined for an eye-appealing effect.

Real-time Collaboration –

Online collaborations are available so that everyone can talk about what's happening at work, even if they're remote employees.

Mobile-responsive –

Use the knowledge base software on your phone to look up information while working from your computer (or working anywhere and accessing the information).

Pros:
Well-written templates

Easy onboarding

Very affordable

Draft large amounts of canned responses

Drive teamwork and productivity
Cons:
Quite new in the world of knowledge base software
Pricing
It's unclear how much Klutch costs. However, prices start at $5 a month and go up from there. If you're worried about the price, it might be wise to contact the company or create a free account to see pricing plans and other pertinent information. 
You may cancel your account at any time, so there's no risk to you.
Who It's Best For
Klutch is great for almost any industry imaginable. Beginners find it easy to use, so there's no need to fear it. Generally, it promotes itself as project management and online collaboration tool for e-commerce sites, training requirements, SaaS, corporate deals, and more. 
2. SlimWiki
SlimWiki calls itself the next generation of Wikis. It has simple editing tools and makes it easy to create content. Therefore, teams can efficiently and quickly collaborate on projects. This is just one tool in the tech stack of knowledge management.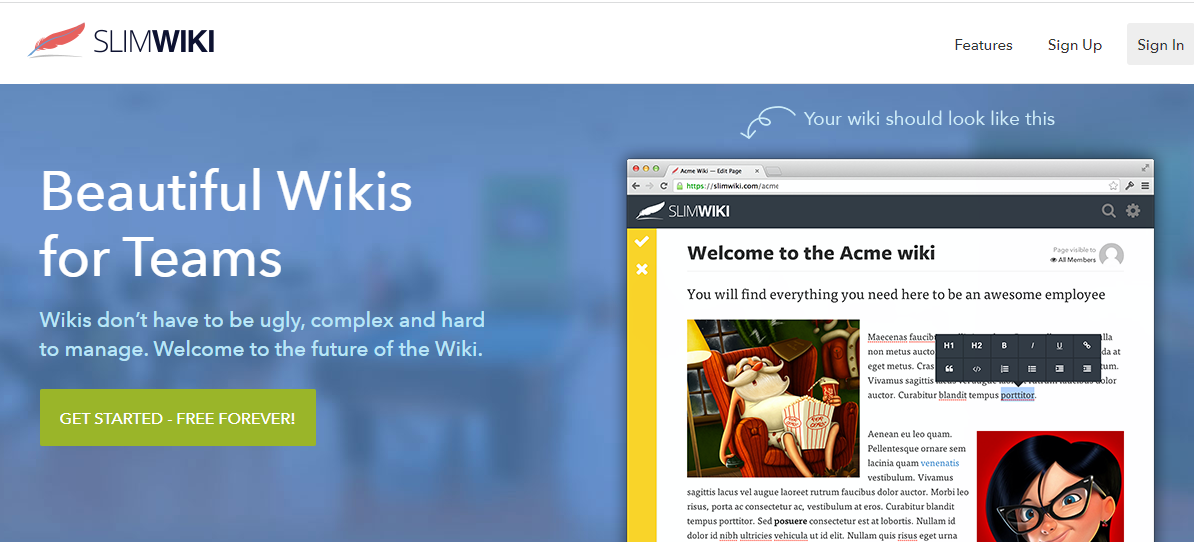 The features include:
Full-text searching

Drag-and-drop insertion of files and images

Modern-style editor

Team permissions

Full-page versions

Private Wikis
Pros:
Safe to use

Make content visible to specific teams or everyone

Quick and easy to use
Cons:
Few templates/layouts available

Can't create your own template
Pricing
SlimWiki offers a forever-free plan that costs nothing, but you only get HipChat and Slack integrations and 1 GB of storage. The Pro version is $20 a month and comes with multiple admins, a custom domain, and 4 GB of storage.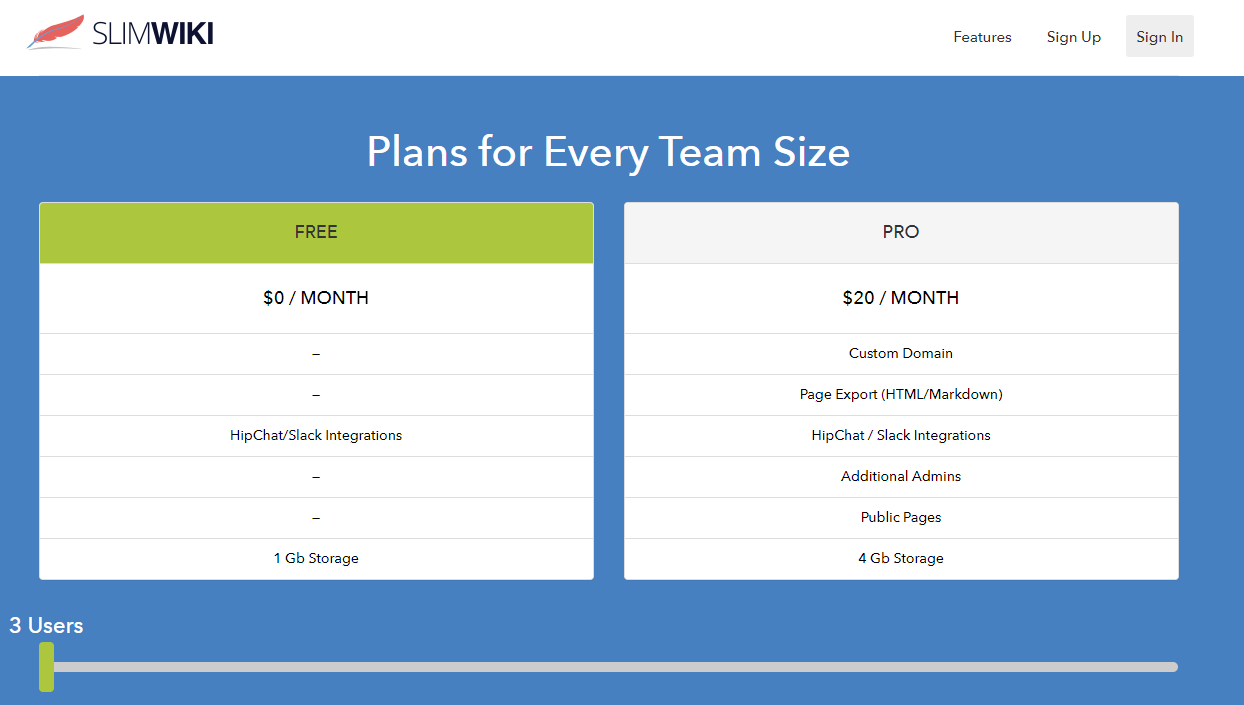 Who It's Best For
If you want a full project management solution, SlimWiki isn't it. It seems ideal for individuals, but it can work for SMBs if they don't need an extensive knowledge base software.
3. TypeDesk
TypeDesk is considered a canned-response base of knowledge solution. Your team can easily organize, create, and send out unique messages.
With the editor, you have access to reusable snippets, variables, and formatting to create dynamic templates. Use it to write similar answers each time, communicate with clients, and send out cold emails.
Though it's considered knowledge base software, there are few online collaboration tools available.
Pros:
Great UI/UX

Saves time

Increases productivity

Extensions for browser
Cons:
No mobile app is available

Expensive and confusing to purchase

Can't add sub-folders to organize templates
Pricing
There's a forever-free version with TypeDesk, but it's only available for a single user, and you can't upload images. To get unlimited canned responses, image uploads, notifications, and team folders/sharing, you should choose Premium. It's $5 per month per user, which could get expensive quickly.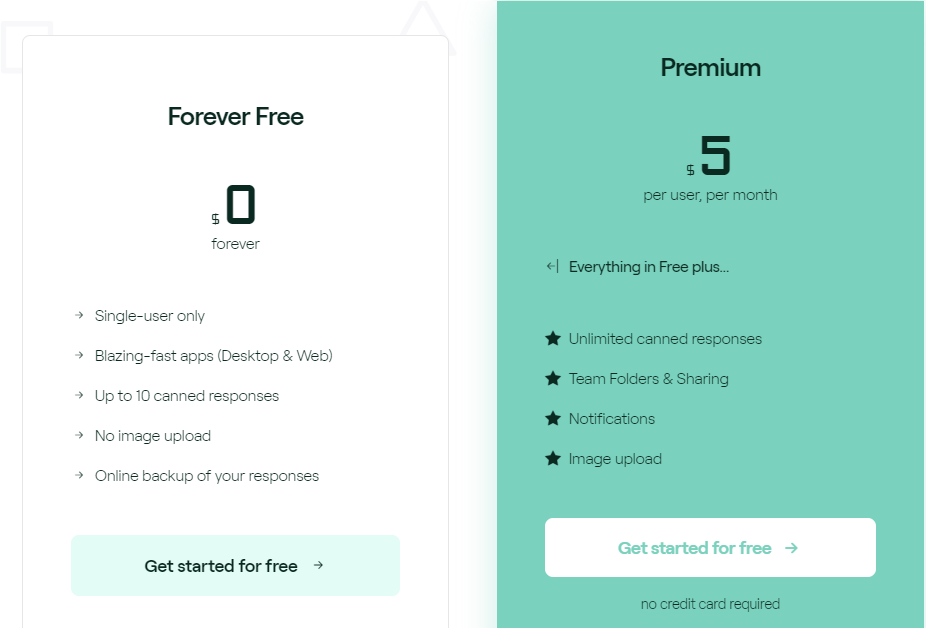 Who It's Best For
While the base of knowledge competitor claims it works well for enterprises and large companies, it's best for freelancers and SMBs.
4. JetBrains
When it comes to Slite alternatives, JetBrains might seem a little different than the other online collaboration tools available. Developers use it as an API. That way, they can create a customized base of knowledge that assists with project management and communication.

Those who want to build their own knowledge base software are sure to appreciate it. You get a full developer toolkit, learning tools for students and teachers, and various integrations for your teams.
In fact, everyone can work on the development phase of the knowledge base software because it offers remote development environments that are set up in seconds.
The tools available include:
PHP

Python & Django

macOS and iOS

Java

.NET

Ruby & Rails

Many others
Pros:
Automatically includes dependencies

Excellent auto-complete function

Great document integration
Cons:
Must understand coding and how to use APIs

Isn't for non-developers
Pricing
The pricing plans are in two forms: organizations and individuals. Companies can spend anywhere from $39.00 to $64.90, depending on what tools, IDEs, and extensions they need. From there, they must buy things like DataGrip, CLion, and GoLand separately.
Individuals spend a bit less (between $14.90 to $24.90) and must also buy other features separately.
Who It's Best For
If you want to combine online collaboration tools and project management into one, JetBrains is ideal. However, you must be a developer or have one on the staff to use it efficiently.
5. Slab
Slab knowledge base software helps modern workplaces. Teams can use shared learning and create documentation with ease. It integrates well with other tools, such as Asana, Slack, or G Suite. Plus, it organizes the content with hierarchical topics.
The features include:
Brainstorming

Online collaboration tools

Retention and archiving

Project management

Content management

Full-text search

Real-time editing

Version control

Self-service portal

Task management

Knowledge base management

Meeting management

Document management and classification
Pros:
Easy-to-use editor

Excellent live chat support

Intuitive and sleek interface
Cons:
Might have significant downtime

Can't integrate with other project management tools efficiently (Markdown or Basecamp)
Pricing
There are four pricing plans for Slab, and they are all relatively inexpensive. The free version allows for 10 users, 90-day version history, and 10 MB of attachments. However, the Startup plan gives you a longer history, more attachment space, guests, and unlimited users.
However, all plans are based on the number of users, as well.
Who It's Best For
Competitive companies like Slab for their project management needs. It's powerful enough for those technical teams and approachable for non-tech-savvy individuals.
6. GetGuru
GetGuru helps companies organize their information and makes it accessible for remote workers. Teams are more connected, engaged, and confident because of the online collaboration tools.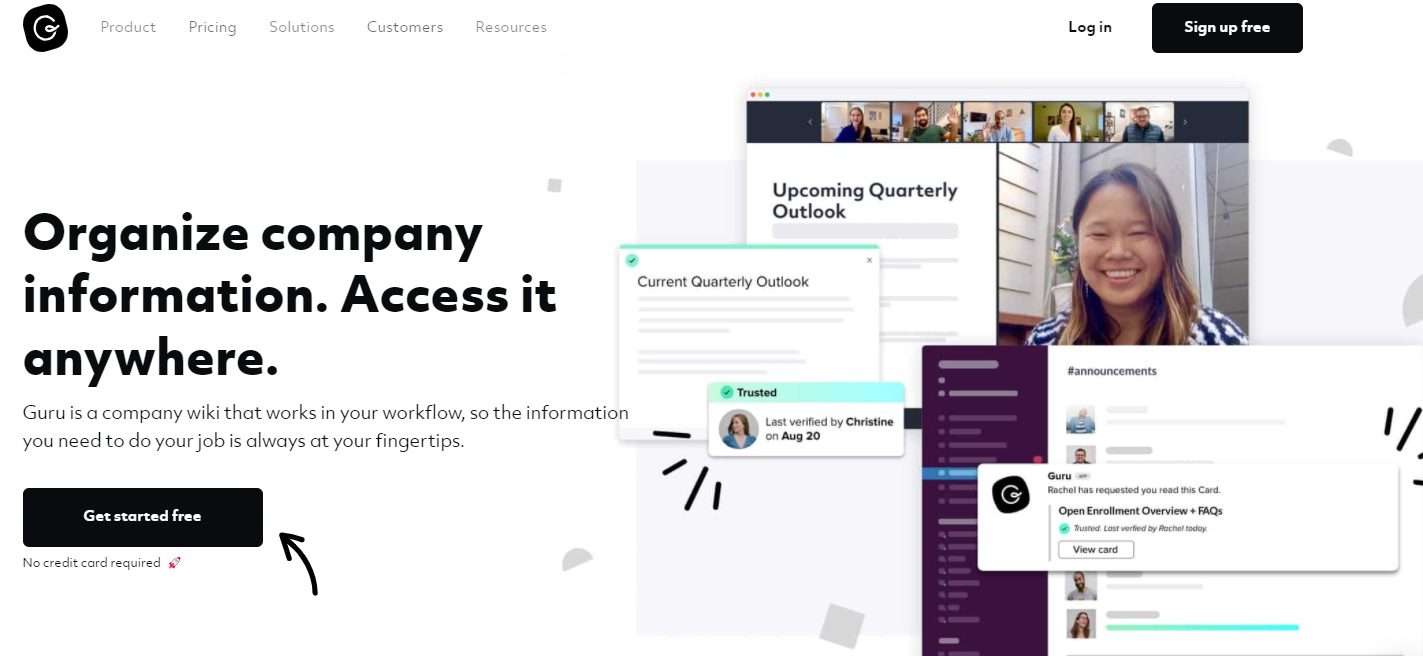 Overall, it's a wiki that works within workflows. The information you need is there, but you can create, share, update, and access information when it's needed.
Enjoy things like:
Categorization and cataloging

Content management

Employee monitoring

Remote access and control

Self-service portal

Online collaboration tools

Forums and discussions

Knowledge base management

Remote support
Pros:
Product enablement

Employee onboarding

Internal communications

Low price
Cons:
Can be expensive (must pay per user)

Best features available only on higher-tier plans
Pricing
There are three packages available: Expert, Builder, and Starter. It begins as free for three core users and progresses to $5 for more core users. However, the price you pay is per-user, so it can get expensive pretty quickly. Still, you have access to analytics, knowledge triggers, ticket linking, and more.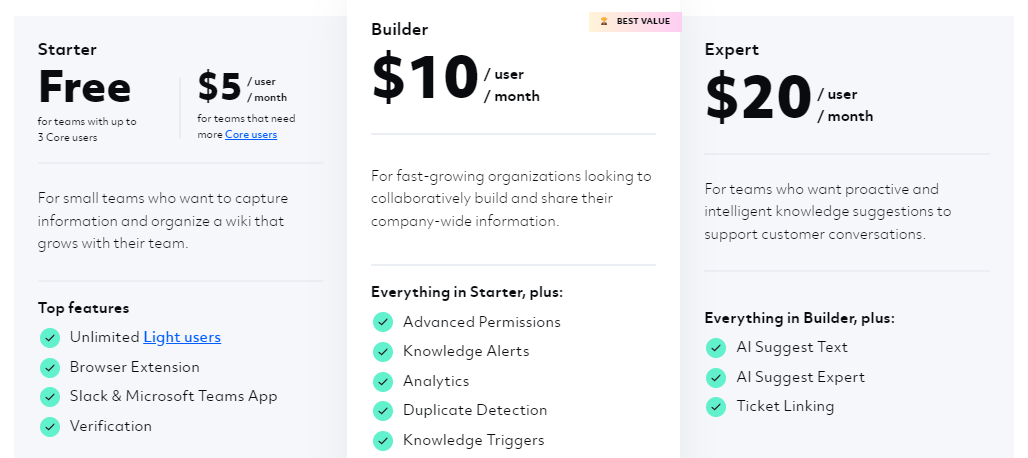 Who It's Best For
As far as Slite alternatives go, GetGuru is great for various industries where the information evolves. It focuses on helping SaaS, direct-to-consumer, e-commerce, and B2B tech agencies.
Conclusion
Online collaboration tools are crucial for project management. Most companies use various products to get what they need, but knowledge base software can help everything run efficiently.
While Slite is a great choice, Slite alternatives might work better for you. Generally, Klutch is the best choice because it offers plenty of features, has a low price point, and contains everything you need in your base of knowledge.
Please sign up to try Klutch today!