Knowledge management software is crucial for many startups and SMBs. However, they rarely take the time to create them because they don't know how important it is.
As a project manager, it's your goal to focus on team productivity. Obie is often referred to as a knowledge worker's secret weapon. This set of tools delivers accurate and fast support for scaling teams. 
It focuses mostly on project management, but it can also help you create your knowledge base. Still, some people dislike it because of its price tag. Here are the top nine Obie alternatives to consider:
Among the top Obie alternatives, Klutch provides the easiest knowledge management tool for growing businesses. It's entirely free to use including major features. With Klutch knowledge base tools, you can create pages and responses with so much ease by taking advantage of its customizable templates.
Klutch knowledge base software opens opportunities for better knowledge management, fast employee onboarding, accurate HR documentation, efficient customer service, and more.

Features
With Klutch's free and pro plans, you can enjoy the following features to unleash your team's potential.
Knowledge base and management
Content management
Canned Responses
Unlimited pages and responses (Pro)
Unlimited members
Unlimited storage (Pro)
Templates
Real-time collaboration
Chrome extension for easy access to canned responses
Gmail integration
Slack integration (coming soon)
Pros:
User-friendly UI
Perfect for team collaboration and management
Easy access to canned responses through the Chrome extension
Reliable customer support
Cons:
Limited items and storage on the free plan
Pricing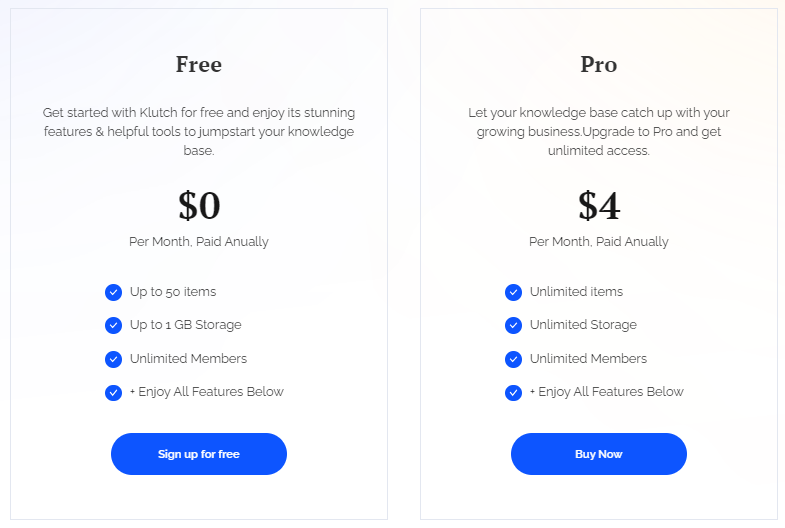 Klutch knowledge base software is free to use, without an expiration. If you need unlimited pages and responses, with unlimited storage capacity, don't hesitate to upgrade to Pro. It's perfect for larger teams, corporations, eCommerce sites, and agencies that manage multiple clients at a time.
Who Is This For?
Klutch is most suitable for remote teams, startups, small to mid-sized companies, sales teams, and basically all growing businesses that need to enhance and digitalize their company knowledge and documents. Among other Obie alternatives, Klutch is a perfect option to upscale your project management, team productivity, and data security.
2. Slab
Slab is a collaboration and knowledge management software designed to help companies create a database. This can be full of how-to articles, policies, procedures, documents, guidelines, and more. 
Organizations can easily remove, store, and modify information from a centralized location, organizing content by topics.
Features
There are plenty of features to enjoy from Slab, making it a top contender for Obie alternatives. It offers:
Brainstorming
Archiving
Retention
Content management
Collaboration tools
Meeting management
Knowledge base management
Full text searches
Real-time editing
Much more
Pros:
Easy to teach others how to use it
Focuses on team productivity and collaboration
Fast and constantly improved
Cons:
Few permissions for the project manager
Can be hard to figure out what to do with posts and projects
Pricing
With Slab, you get a forever-free plan for 10 users with a version history of 90 days. There's also 10 MB for attachments, unlimited posts/topics, and much more.
Startup is the next plan at $8 a month per user, and you can have unlimited users and three guests for each user. You also have 25 MB for attachments and keep the version history for a year. Private topics are available, as well as other benefits.
Business is next at $15 a month for unlimited users and five guests per user. You also get 100 MB of attachments and unlimited version histories. 
Enterprise is the last option for a custom price based on how many users and guests you require.
Who Is This For?
Primarily, Slab is suitable for competitive companies that want a knowledge base for the entire organization. It's a powerful option for technical teams and increases team productivity and project management.
3. Freshdesk
Freshdesk is primarily a ticketing system designed for businesses to collect customer conversations into a central knowledge base. It can also be used for project management to automate repetitive tasks and resolve issues faster.
Features
The goal of Freshdesk is to ensure that businesses can exceed customer expectations. Therefore, the primary benefit is the ticketing system, which collects support tickets from different channels. 
You can then categorize and assign them to the right person, boosting team productivity. This happens automatically with the "suggester" option. The project manager can use collaboration features to share tickets and link them, making project management that much easier. 
Plus, it can be used as knowledge management software.
Pros:
Easy to use
More control than with other Obie alternatives
Cons:
Hard to create reports
Few integrations
Pricing
With Freshdesk, you have five plans. The forever-free one comes with unlimited agents, email/social ticketing, a knowledge base, and a few other perks.
Blossom is next at $19 a month per agent and comes with automation, marketplace apps, collision detections, helpdesk reports, and more.
Garden is $45 a month and includes time tracking and custom apps. You also have a multilingual knowledge base and many other perks.
Estate is $69 a month for customer segments, custom reports, and many other features. Then, Forest is $125 a month for skill-based routing, audit logs, and other benefits.
Who Is This For?
Ultimately, Freshdesk is ideal for SMBs that focus on serving external customers and helping them. However, it might not be right for enterprise businesses with IT departments and internal problems.
4. Document360
If you want document management software for your company, then Document360 is ideal. This platform lets you set up your knowledge base for internal teams and external users. Plus, it's great for project management because the project manager can quickly get things going.
Features
With Document360, you have something that's easy to maintain and set up, which is why it's one of the best Obie alternatives. 
The knowledge base portal helps you create documentation. Plus, there's a WYSIWYG editor that's quite simple. 
You're sure to appreciate that there are no limits on how you organize the pages. Create six levels and categories, adding tags to make life easier.
Pros:
Quite easy to use
Offers flexibility for organization
Cons:
No mobile app
Can be expensive
Pricing
Though there's no forever-free plan, Document360 offers a Startup version for $49 per month per project. You get two team accounts, one knowledge base, and 5 GB of storage.
Business is $149 a month per project. You can have 50 GB of storage, five-team accounts, and two knowledge bases.
Enterprise is next at $299 a month per project. With it, you can have six knowledge base versions, 150 GB of storage, and 15 team accounts.
Lastly, there is Enterprise Plus for a custom price. You get unlimited accounts, 12 knowledge bases, and 300 GB of storage.
Who Is This For?
In a sense, Document360 isn't an all-in-one customer support system. Therefore, it might not do well for internal needs and team productivity. Still, this knowledge management software I great for SMBs and startups!
5. ManageEngine
ManageEngine with ServiceDesk is the top IT helpdesk software. It's delivered as an on-premises solution or in the cloud. With it, IT helpdesks can provide better service through the knowledge base for more team productivity and better customer engagement.
Features
Primarily, ManageEngine offers an ITIL-ready framework to incorporate incidents, changes, problems, and more for project management. 
With it, you can speed up your ticket resolutions. Automations are a big part of this knowledge management software. Once the tickets are made, you can assign different statuses as the project manager. This boosts team productivity because the right technician gets the ticket.
Pros:
Improved UI (beta version)
Free plan available
Cons:
Limited third-party integrations
No monthly prices available for on-premises installations
Pricing
The pricing for ManageEngine includes Standard at $12 a month. With it, you get up to 500 nodes and five techs.
Professional is next at $23, which offers IT Help desk and asset. Lastly, there is Enterprise at $58 per technician. It comes with an IT help desk, change, assets, and projects.
Who Is This For?
In a sense, ManageEngine is better suited for large corporations that require a little more than traditional knowledge management software. However, it can work for startups and SMBs, too.
6. HelpJuice
HelpJuice is a knowledge management software in the cloud. It claims to be ideal for companies of all industries and sizes. Plus, it offers applications to create and manage external and internal knowledge base options.
Features
You're sure to appreciate that HelpJuice offers a centralized repository, making it one of the top Obie alternatives. It helps all businesses create and maintain their knowledge base. That way, customers can get help on their own without having to turn to support staff.
It also features a simple UI, so you can easily create what you want. Its smart feature helps employees and customers find what they need while they're typing. Plus, there are various ways to customize and control the information, which is suitable for the project manager.
Pros:
Great integrations
Web-based
Role-based permissions
Cons:
Pricing
While each plan offers a 14-day trial period, it is quite expensive. However, all of the features are included in each plan, and you get free customization.
Prices are as follows:
Starter – $120 a month for four users
Run-up – $200 a month for 16 users
Premium Limited – $289 a month for 60 users
Premium Unlimited – $369 a month for unlimited users
Who Is This For?
While HelpJuice claims that it is designed for startups and SMBs, the prices don't correspond with that. However, there are many features to enjoy, and it can be great for project management and team productivity assistance.
7. Groove
Groove is primarily a customer service software option that's web-based. It focuses on providing information via email. Plus, many customers like the knowledge base feature so that they can find what they need on their own.
Features
In a sense, Groove is a stripped-down knowledge management solution that shares inboxes to offer support with the knowledge base feature. It doesn't include built-in live chat, so you require third-party integration. 
Plus, it offers great reports. You can easily see what people are searching for or what they want to know.
Pros:
Easy to understand inbox interface
Analytics reporting for the knowledge base
Customer support widgets
Cons:
Needs a better chat feature
Should have 24/7 support
Pricing
The Starter version is $15 a month per user and includes a web widget, one mailbox, @mentions, and assignments.
Plus is $25 a month per user and includes reports, five mailboxes, and API access. You also have 40 integrations and rules.
Pro is $40 a month per user. It comes with teams, 25 mailboxes, and various integrations.
Company is a custom option built around your needs. However, you can have SAML and SSO, priority support, and unlimited mailboxes.
Who Is This For?
Ultimately, Groove claims that it is designed for SMBs and startups, but it does have high prices more suitable for companies with high budgets.
8. Zendesk
Zendesk is a whole suite of things, but its newest addition is the knowledge management software that includes a knowledge base. 
It is designed to manage issues from internal teams, which can promote better team productivity. That way, project management doesn't suffer, and the project manager can streamline concerns.
Features
There are many features to like from Zendesk. For example, it offers request management, email-to-ticket options, and issue management.
You also get live chat, knowledge management software, and monitoring across multiple dashboards.
Pros:
Affordable prices
Unique features
Intuitive interface
Cons:
Could have better response times
Can only get reporting features on high-tier price plans
Pricing
The Suite Team costs $49 per agent. It includes on help center, 50 AI-powered automation, and much more.
Next, you have Suite Growth at $79 per agent. You can have multiple help centers, up to 100 AI-automation, and many other perks.
Suite Professional is $99 per agent and includes up to 500 AI-powered automation. You also get advanced APIs and many other things.
Who Is This For?
In a sense, Zendesk is a great choice for many different users. It's not necessarily cheap, but it can work well for SMBs and startups.
9. LiveAgent
LiveAgent is yet another of the Obie alternatives to know about. This knowledge management software is easy to use. It's often hard to do everything for everyone, but this one is excellent.
Features
With LiveAgent, you have issue management, so you can interact with each task card. There is also the email-to-ticket feature, so you can easily organize everything as the project manager.
You also have reporting and analytics, management of your knowledge base, and many options for service desk needs.
Pros:
Excellent features
Intuitive design
Great pricing
Cons:
Too much use of the color gray
Pricey for social integrations
Design for knowledge base could be better
Pricing
Prices for LiveAgent include:
Ticket – $15 per month per agent
Ticket+Chat – $29 per month per agent
All-inclusive – $39 per month per agent
Who Is This For?
Generally, LiveAgent is ideal for SMBs, startups, and enterprise-level companies. 
10. HelpScout
HelpScout is a web-based knowledge management software solution offering shared inboxes. Plus, it comes with a knowledge base to improve customer satisfaction scores.
Features
With HelpScout, you don't get one inbox for help tickets and another for customer communications. It's all mixed up to contain everything in one.
You can add tags, leave private notes, and much more.
Plus, the knowledge base is great. It helps customers look up their questions and uses AI-powered features to do so.
Pros:
Shared conversations
Advanced reporting options
Cons:
Can't apply tags to customers
No phone support
Pricing
The prices are as follows:
Standard – $25 per month per user
Plus – $40 per month per user
Company – Custom pricing
Who Is This For?
Ultimately, HelpScout is great for SMBs and startups, but it works differently than other options. Therefore, there's a learning curve.
Conclusion
As you can see, there are many Obie alternatives available to help with project management. If team productivity is something you crave, it's crucial to have a knowledge base where they can get and provide answers.
However, choosing the right knowledge management software is crucial. As the project manager, it's your responsibility to select the right platform to hold your knowledge base. 
Any of these nine Obie alternatives are a great solution for SMBs and startup companies. Pick one of them, input your questions and answers, and help your customers and team do what they want to do.