Your company is growing, or maybe it has already grown. You find yourself constantly typing up the same answers over and over. Maybe you find your time is complaining that they are constantly answering the same questions with the same answers. Wouldn't a knowledge base software tool like Typedesk be nice to help ward off the repetitive nature of running a business?
What is Typedesk
That is where platforms like Typedesk come in. These knowledge base systems help create canned responses to customer and team member needs.
Typedesk is one of the leaders in knowledge base software. It saves you time organizing your responses everywhere you work.
This article, however, will explore some of the great Typedesk alternatives on the market if you're not satisfied with it yet.
Top 5 Typedesk Alternatives
Coming in hot in the first spot is Klutch. Klutch is a sleek and simple knowledge base software that makes keeping you and your team organized and on the same page simple and effective. With Klutch, you won't have to worry about constantly having to type out the same responses over and over.
Klutch Features
Klutch has many features that are desirable for you and your team. It might not have all the bells and whistles, but it's a powerful tool right for just about anyone. 
One feature that Klutch has is a separate system for pages and one for short, canned responses.
The pages feature a great place to keep all employee knowledge. This feature creates a great knowledge base and team wiki. Here you can keep your knowledge base up to date so your team can stay informed. The pages feature also great for onboarding employees because all the knowledge they need is in one place. 
Klutch helps take the headaches out of onboarding and training.
The response feature is great for customers and new or confused employees. Simple answers that don't need long-form responses are stored for those frequently asked moments. Klutch makes it easy to keep this feature up to date with all your employee and customer most asked questions.
One incredible feature that Klutch has against all its competition is its diversity in usage. Klutch can be used as a desktop application, web-based Chrome extension, or on mobile. This company wants to make reaching all your knowledge base simple and accessible.
Klutch Pros 
Klutch is great for both employees and management

No coding required

With mobile, web-based, and desktop access Klutch is easily accessible.

The team at Klutch wants to keep things easy for you and your team, so they keep their product simple and straightforward.

The Chrome extension gives you the ability to copy and paste your canned responses directly to your email or messaging apps.
Klutch Cons
Unfortunately, Klutch does not have much integration tools yet. As a result, all knowledge must be manually entered and not migrated from other applications.

Klutch does not have many extras. It is simple and straightforward. However, depending on your needs, Klutch has all the necessary elements to start your knowledge base.
Pricing
The good news about Klutch is also the best! Klutch is totally free. You can unlock unlimited pages, responses, and storage for only $4 a month! See full pricing and benefits here.
Who is it for?
Klutch is great for small companies on a limited budget. If you're trying to steadily grow your company Klutch is a great platform to do it on. While not flashy, Klutch offers powerful tools to help scale up your business while keeping it professional.
2. GetGuru
GetGuru is another Typedesk alternative with knowledge base systems to help you and your team grow.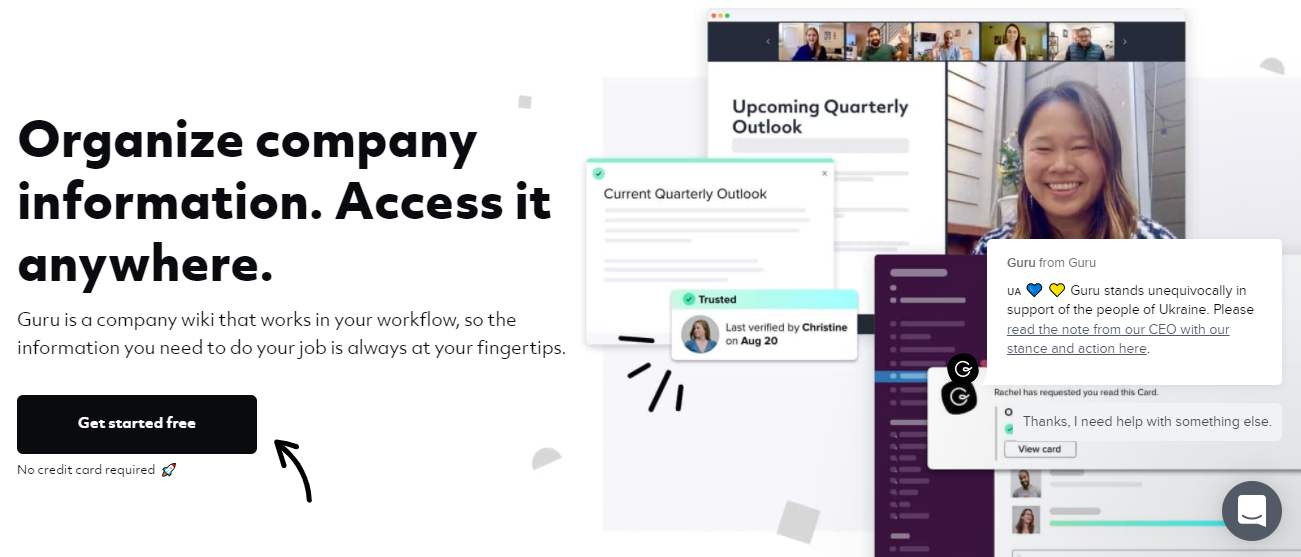 GetGuru Features
One great feature that GetGuru has to offer is its incredible integration tools. GetGuru can connect to applications like Zoom, Gmail, Slack, and SalesForce. Powerful integration helps make project management a breeze.
With these integration tools, GetGuru could capture company information from the internet and capture information right from Slack without you having to start completely from scratch. 
GetGuru also has smart organization tools making it easy to find what you're looking for promptly.
There are even duplication detection offers if you accidentally import a document twice.
Finally, GetGuru offers an online collaboration tool so your time can work together to make your knowledge base as powerful as it can be.
GetGuru Pros
There are powerful integration tools.

GetGuru is great for teams.
GetGuru Cons
Unfortunately, if you want to unlock all the features that GetGuru has to offer, you will need to pay more.
Pricing
GetGuru is free for up to three core members. It then scales up to $20/month to unlock all the great features it has to offer.
Who is it for?
Remote teams will benefit for most from GetGuru. Its integration tools help keep the workflow in one place so your team doesn't bounce around applications.
Want GetGuru alternatives? Click here.
3. Tettra
Tettra is a leader in creating team wikis with powerful AI and quick response tools.

Tettra Features
Integration is prevalent with Tettra. It uses applications like Slack to import information and organize it, so you're making sure all your response is in the right place. 
With a quick response, you can use expert knowledge from your team without them being there. They can easily set responses from frequently asked questions that you can then select and answer quickly.
Tettra's AI can also identify knowledge gaps. If questions are being asked without the proper answers, Tettra can let you know that you need to add the correct information to make your business run smoother.
The AI can also clean up the clutter. The program scans for knowledge that isn't in use, so you can easily delete it, keeping your company's workspace neat and organized.
Tettra Pros
Tettra is intuitive.

This platform offers many integration tools.

Tetra keeps you looking professional.
Tettra Cons
Most features need to be paid for to use.
Pricing
Tettra's price range-wide. It ranges from free to $16.66 per month. Keep in mind the free option is very limited.
Who is it for?
Any large company, agency, or customer-focused company would benefit the most from Tettra. Its quick response system helps keep teams and clients on the same page.
4. Kipwise
Kipwise is one of the biggest Typedesk alternative and has a huge project management software with a lot of integration, a chrome extension, and ready-made templates.

Kipwise Features
One feature Kipwise has is its inability to seamlessly integrate with applications you use every day, like Slack and Google Drive. Instead, Kipwise makes it easy to keep everything in one place, making your knowledge base easily accessible.
The chrome extension with Kipwise helps suggest automated responses without you having to search for the answer. If a client asked a question, Kipwise would suggest an appropriate response to their question speeding up the process.
Kipwise also has a template library. You don't need to start anything from scratch with the template library. You can easily find a template that works for you and edit it, making response generating quick and easy.
Kipwise Pros
This platform offers many integration tools for seamless transitions in your day today.

The automated system helps expedite frequently asked questions.
Kipwise Cons
Kipwise is very expensive.
Pricing
Unfortunately, Kipwise does not offer a free version of its services. Instead, if you want to use this powerful tool, you can get anywhere between $25.50 and $42.50. Kipwise even offers an enterprise option for even larger companies.
Who is it for?
Remote companies can really benefit from the integration of commonly used applications.
5. Document360
Document 360 is the last on this list of Typedesk alternatives. However, it is also the biggest with the most high-tech features.
Document360 Features
Two of the amazing features Document 360 offers is its ability to create a private knowledge base and a public knowledge-based.
The private knowledge base is for you and your team. Here your team can access valuable company information without dredging through any irrelevant content.
A public knowledge base is a website to answer any client's questions. Knowledge base articles are comprised to make it easy for your clients to find answers to questions.
Another major feature that Document 360 has is creating a 24/7 automated support team. This bot comprises your canned responses and can help answer a client's questions at any time of the day.
Document360 Pros
Many integration tools are used with Document 360.

Document 360 is great for any company trying to scale up their customer support area without having to spend a lot of extra money.

A learning library on their site makes it easy to learn how this application works. 
Document360 Cons
There is nothing cheap about Document 360.
Pricing
The prices for Document 360 range between $99 and $499. Like Kipwise, they also offer an enterprise option.
Who is it for?
Document 360 is for any company trying to grow. It can help take your business to the next level making it a professional masterpiece.
Conclusion
There are many types of Typedesk alternatives. Each with their unique abilities to help you and your business grow.
However, if you're looking for something easy, simple, and accessible, try Klutch. 
Sign up for Klutch today and get your company on the right track!