Knowledge management is one of the most important aspects of owning online businesses, as workers must understand everything about the company and their daily tasks.
However, teaching team members the basics of their job and every other tiny detail can become highly repetitive and tiring, so knowledge bases were created as a place where people could store all the needed information about their business.
Usewhale is a top-rated knowledge base platform, but it isn't the only one available for you, so we created this handy list of the best seven alternatives for it.
What is Usewhale?
Usewhale is a great knowledge-sharing tool that's meant to help teams become much more efficient and productive by gathering all relevant data and information of the company in one simple digital library that anyone can access at any time.
This is a fantastic tool, as it helps you forget about extensive training and having to repeat yourself all the time.
Your employers can check the database and go through any of the valuable documents stored in it.
Usewhale Alternatives
Although Usewhale is a pretty solid platform, several others can offer a much better service for a lower price.
Therefore, we encourage you to keep reading to find out the best knowledge base alternatives for Usewhale.
Klutch is a fantastic Usewhale knowledge base alternative. It is sure to make your business processes a lot faster and more efficient by allowing you to centralize all your important data and information in a handy virtual environment or hub.
This is great for making training and onboarding processes more straightforward and allowing other team members to revisit the information whenever needed.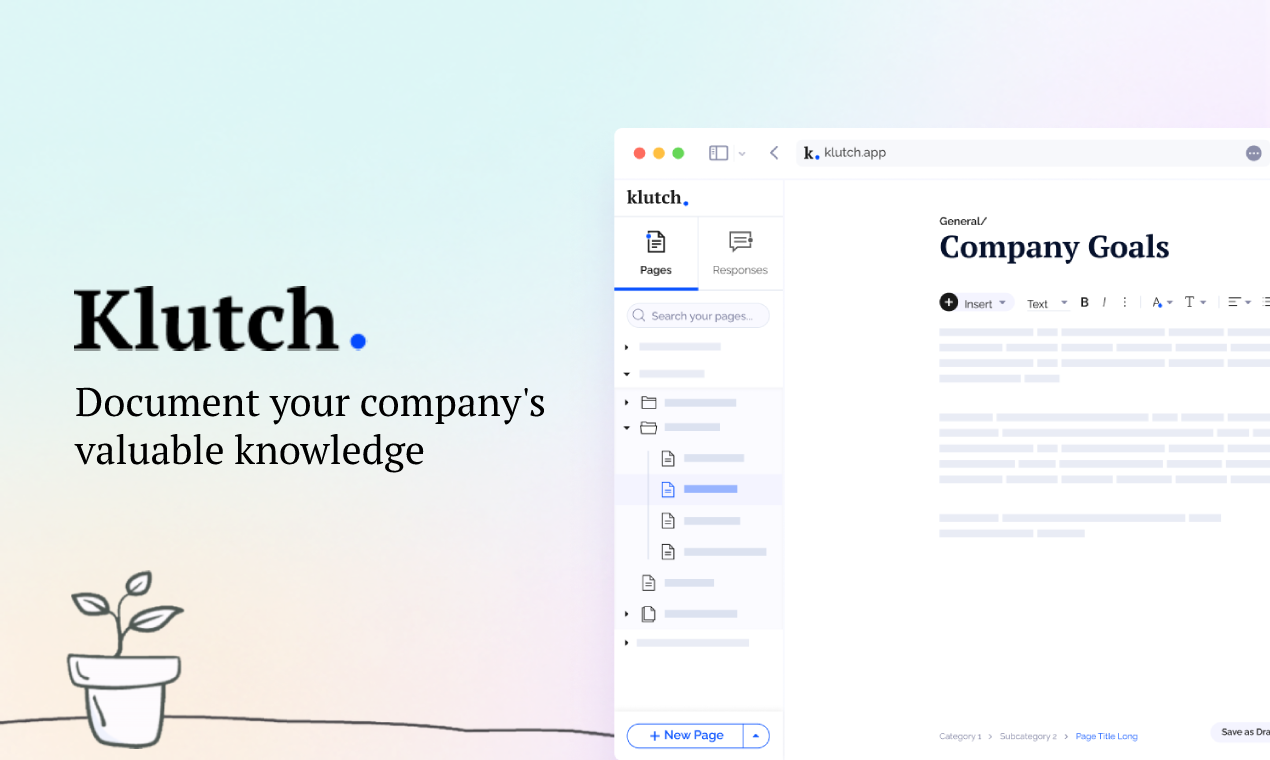 Moreover, this app allows everyone to understand all the procedures of the enterprise and learn all the updates as soon as they're being made.
Features
You can collaborate with everyone in your team in real-time, which promotes the teamwork and enhances their productivity.

It features a library with dozens of templates for documents and other knowledge base elements. However, you can also create your own templates from scratch.

You can give administrator rights to anyone in the team and decide who can view certain files.
Pros
It features a wide range of knowledge base templates and canned responses

You can test its free version

It is highly compatible with other apps, such as the Google Suite

Many shortcuts are available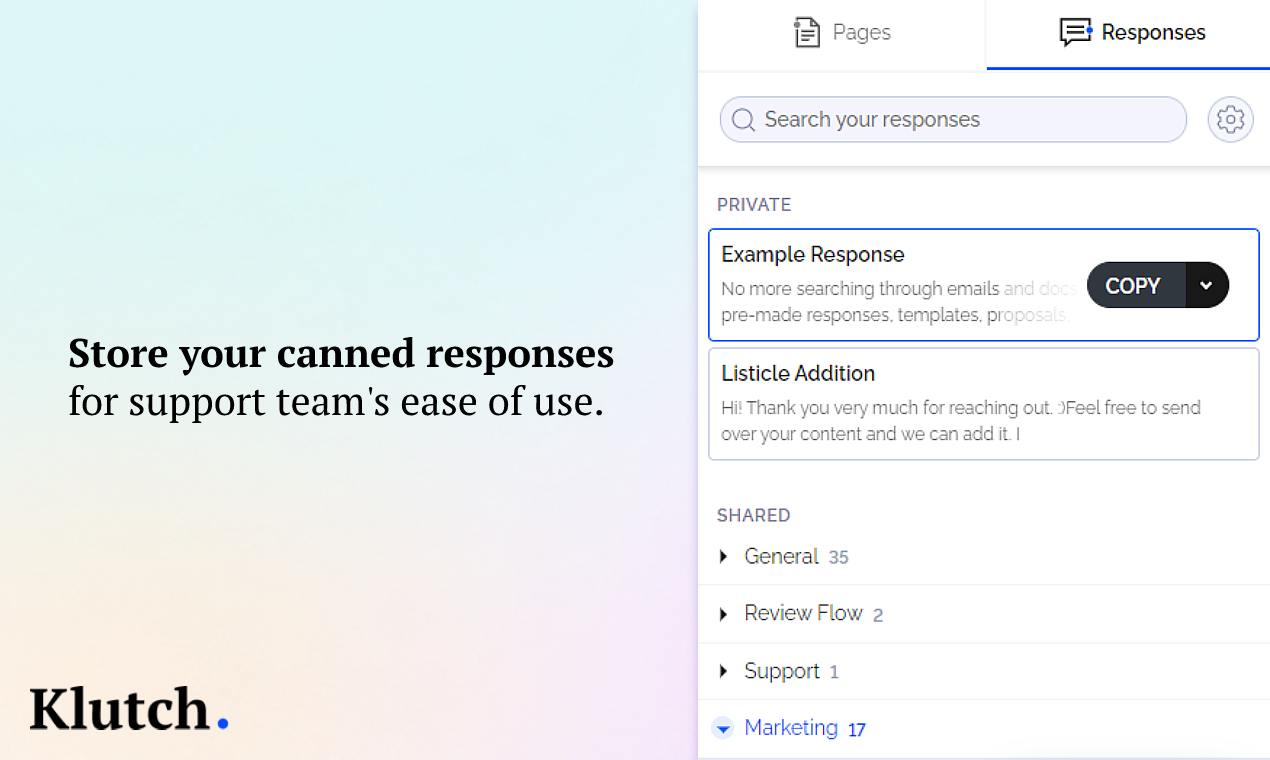 Cons
It can still be improved, as it is pretty new software
Pricing
Klutch features a free version and a Pro version for only $5 per month, which includes all of its advanced features.
Best Fit For
This app can be used by any growing business that needs to make its processes much more efficient and track its workers, especially if they don't work in the same physical space.
2. Friday
Friday is a fantastic app that can improve any team's communication and productivity by allowing them to have complete access to all needed documents.
This eliminates the unnecessary chaos we usually experience in virtual teams, and it helps to track all achievements made within the group.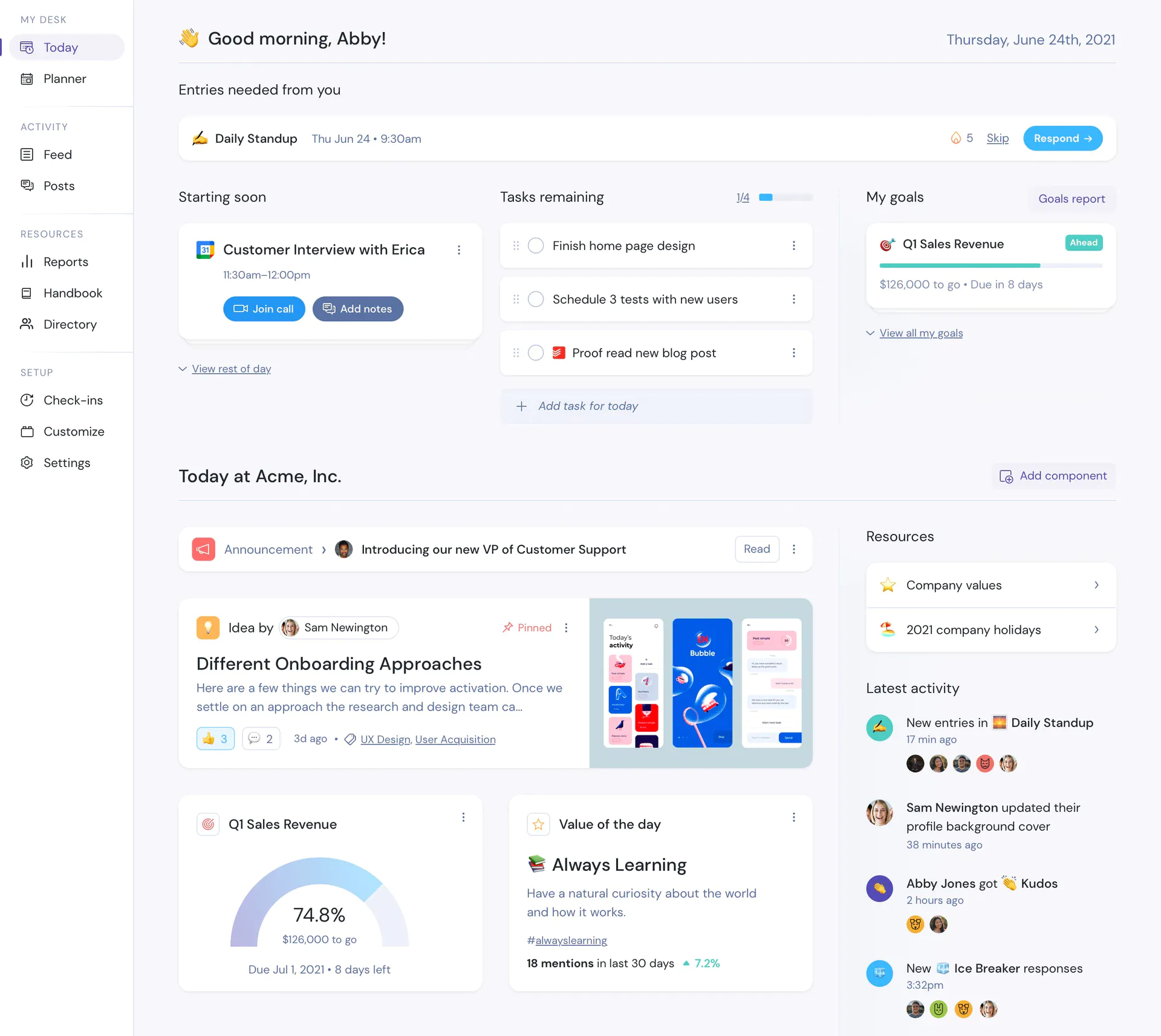 Features
Task and workflow management

Easy project tracking

A chat app for all teams

Several templates for documents

Reporting and analytics
Pros
It is compatible with asynchronous teams

All types of businesses can enjoy its features

You can use its reporting feature to understand your team's efficiency and performance

It features a free trial and unlimited integrations
Cons
It can be slightly hard to use

You can't add as many teams as you want

The personnel is going to need to be trained to use this platform
Pricing
You can choose from three payment tiers. The first one is free, and it allows you to enjoy all of the platform's basic features. Nonetheless, you can also buy the second and third tiers, which cost $5 and $9 per month, respectively.
Best Fit For
Online teams can highly benefit from this app, especially if they've been struggling to stay productive and effective. Moreover, all businesses can use it, no matter if they're big or small.
3. Evernote
Evernote is a great knowledge management app that allows you to take efficient notes and store information.
It is compatible with several devices, and it is one of the top note-taking apps on the market.
Features
You can search for text and find pictures of the words you looked for

It analyzes the data of your notes and suggests related content

All members of your team can collaborate on the same note and chat while they're doing it
Pros
It is effortless to use

The search tool is highly effective

You can access your notes whenever you want
Cons
The free version is pretty limited

Its premium plan is expensive
Pricing
It has three pricing tiers
The free plan

Its Plus plan for $34.99 per month

The Premium plan for $69.99 per month
Best Fit For
All businesses can use this basic sharing app, but it is more suitable for small businesses.
Notion is famous for being an online workspace that integrates all the features any team needs to succeed, making it one of the most versatile apps on this list.
Features
Some of the things you can do are create notes, docs, and other elements

It features project management tools

You can create wikis and knowledge hubs

It is entirely customizable
Pros
The user interface is pretty intuitive

It can be used for a plethora of purposes

You can integrate several apps and avoid wasting time when using them separately
Cons
There's no offline mode

It doesn't feature a free version
Pricing
You can use its Personal version for $4 per month or its Enterprise version for $8 per month. Both of these versions can be upgraded to feature all the accommodations you need, but you need to contact Notion's sales team to create a customized package.
Best Fit For
All businesses can use it, but it is also suitable for individuals who want a better personal organization.
5. SlimWiki
SlimWiki is a simple cloud-based platform that helps teams stay connected and share documents with other team members through its interactive interface.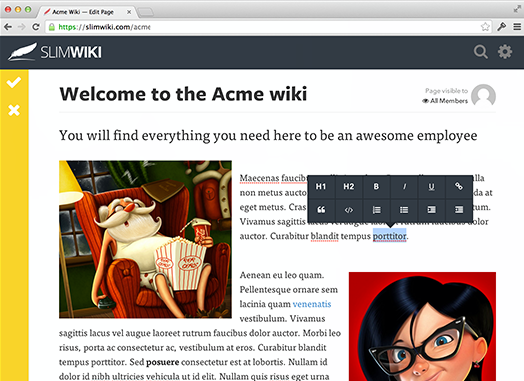 Features
You can find data through its search bar

It has excellent content categories 

Teams become much more collaborative when using this platform

The customer service is fast and effective
Pros
It is easy to use

The developers are fast enough when fixing bugs

It has several content categories
Cons
This platform can be pretty basic
Pricing
SlimWiki features a free version and a premium account for $20 per month. However, its price may increase depending on the number of users.
Best Fit For
It is excellent for content-creating teams that need a constant flow of information and editing. However, it is more cost-effective if the teams are small.
6. Bloomfire
Bloomfire is a knowledge management platform that allows teams to exchange and share information as fast as possible while avoiding unnecessary setbacks, such as Slack or Drive requests that could potentially get lost in your mail.
Features
You can upload or create content on the platform

Several integration services are available

You can embed documents

It features a mobile version
Pros
Your team is going to become much faster and more efficient

It eliminates the need for internal emails

The interface is pretty user-friendly
Cons
Several users have reported bugs

It has a slight learning curve
Pricing
You can choose from two pricing tiers.
The Essential version costs $25 per user/per month

Its Enterprise version is entirely customizable. Therefore, you need to contact its sales team to find out the price it would have for your business
Best Fit For
Due to the high price of this service, it is best for large businesses that can afford to spend that amount of money and could take advantage of its advanced features.
7. Guru
This company wiki allows your team members to have complete access to all the information they need to properly execute their jobs and share all the relevant information for achieving the company's goals.
Features
It has great categorization tools

You can manage your content anywhere you want

It can host discussions and forums for your team members to participate in

The collaboration tools are pretty advanced
Pros
It has a free trial

The content is properly organized into cards

You can create tags on the documents
Cons
Its search bar isn't correctly optimized

You may find bugs when exporting and importing data
Pricing
Guru features a free version, but if this isn't enough for you, you can also choose from three price tiers.
The Starter package for $5

Its Builder package for $10

The Expert package for $20 
Best Fit For
GetGuru is great for businesses that need to improve their internal processes and become much more efficient to stop wasting time throughout their working sessions.
Bottom Line
All of these platforms are great alternatives for Usewhale.
However, our favorite is always going to be Klutch because of its simplicity, affordability, and user-friendliness, which is why we encourage you to check it out for yourself here.