Finding the right knowledge base management platform may be essential to running a business in the current landscape. Onebar.io is one of the best options on the market today, so why do people need to look for alternatives?
Simply put, although Onebar.io offers great features that can help virtually any business optimize its internal and external interactions, it may be too expensive for small ones. 
That brings up another question, though. What should businesses look for in a knowledge base management tool?
The main difference between a knowledge management tool and a project management tool is that the latter only provides internal interaction. They are perfect for teams to communicate with each other. 
On the other hand, a knowledge management tool allows users to collect customer data on top of the internal communication it provides.
Here are five alternatives to Onebar.io that could serve as great knowledge management tools. In most cases, these options won't be as expensive as Onebar. 
Klutch is one of those alternatives that has a lot to unpack. That can overwhelm many people, preventing them from taking full advantage of the tool. The good part is that from the get-go, it provides potential users with a list of areas the knowledge base can help with.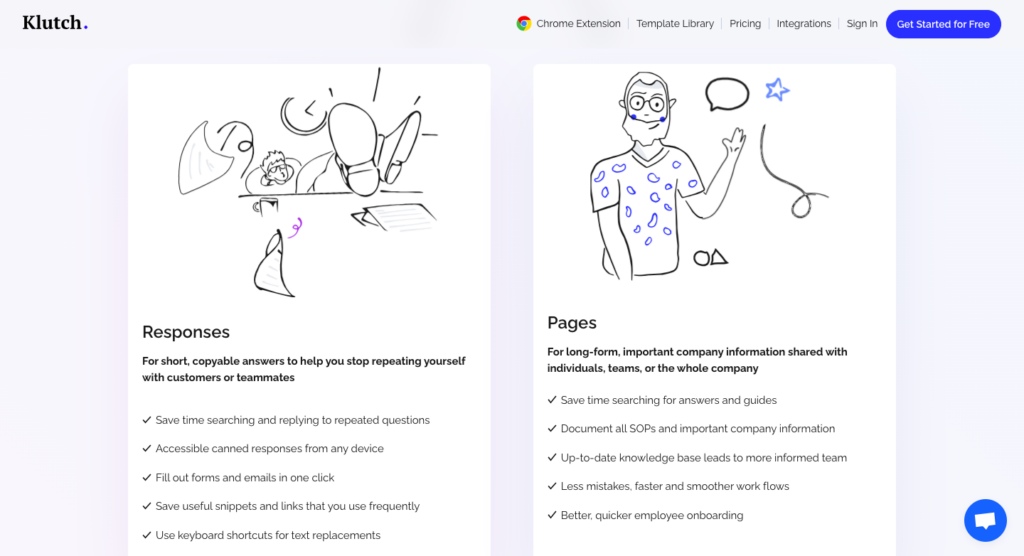 Potential users can look through the different areas they might be interested in. The web page allows them to explore the knowledge base's individual tools for each one. Once they've decided they want to use Klutch, they'll better understand how to set up the software according to their needs. 
Another element that makes Klutch a great alternative is its price. The software costs 4 or 5 dollars a month per user. It's true that the price can add up for larger companies. However, Onebar has plans to go for about 400 dollars a month. To pay that much for Klutch, a firm must have at least 100 employees within the system. 
Does this mean that Klutch is a better alternative for smaller companies? It will be less expensive, but with the number of tools the platform offers including its keyboard shortcuts, there's bound to be something for companies of all sizes across different industries. Users get access to all these tools for just the 5 dollar monthly fee.  
2. Document 360
This is one of the knowledge base platforms currently investing more money on ads. The name of the software makes it clear what this tool specializes in. 
Document 360 can be one of the best software solutions for remote teams that need to work on written documents. What makes this tool better than just using a free Google Doc file? It also has features to create Q&A sections for websites based on information provided by customers or users. 
That's one of the most sought-after features when it comes to knowledge management platforms.
Regarding pricing, it's hard to place Document 360 in a particular range. Users have to contact the company and request a quote. They'll get a unique price based on their needs. That makes Document 360 an interesting option for companies looking for solutions tailored to their specific demands.
Document 360 is not the only tool that may excel at what a good knowledge base should have. However, it leaves other elements out of the equation. In this situation, Document 360 just doesn't seem to provide too many solutions to deal with external data, particularly from customers.       
3. Manage Engine Service Desk
Manage Engine is another option that promotes its article-writing capabilities and Q&A builders as one of its main assets. 
It's actually a bit of a shame that this platform essentially over-advertises these tools because it has other features that are much more appealing, particularly because they can help companies in various industries.      
Manage Engine has a project management section that can help track the internal workflow. That's something that all of these tools should feature. What a company probably wants is to make its chosen knowledge management platform the only tool that employees would need to learn how to use. 
It wouldn't make too much sense to pay for this type of software and then use Slack to communicate unless there's a feature like the one that Onebar.io offers. 
This software can connect to Slack. That helps migrate the data that the company may already have stored elsewhere. 
Regardless, the asset management option and the incident management tab can help keep track of everything happening within the company. These tools can also ensure that the IT department updates everyone about what's happening in real-time. There's even a campus management tool to monitor an actual office space.
4. Slab
Slab has rapidly become one of the more popular knowledge management platforms on the market. The key to its success may be rooted in the platform's integration capabilities. It can be directly integrated with Asana, Google Drive, and other popular tools that many companies already use. 
Interestingly, team members can work on different types of documents within the Slab interface. This feature can make collaboration smoother, and editing any type of design within a document is as easy as dragging and dropping some images. The platform takes care of the formatting.
What many people like about Slab is what others hold against the platform. While integrating different apps under one roof can be useful, some companies prefer not to keep track of external apps. Having all of the tasks completed within the same CMS platform may be more appealing to some. 
Another element that makes Slab a hit-or-miss option is the sense that it works great internally, but the features to track client data may be lacking. Overall, it's a solid option that's gaining ground in the corporate world.    
5. Froged 
Including Froged on the list speaks to a big issue within the knowledge management tool market to a certain degree. The problem with many of these options is that they may do something really well but are lacking in a specific department. Slab and Froged are perfect examples of this. 
Unlike Slab, Frogged excels in providing tools to track customer behavior. In fact, the platform's biggest selling point is the ability to look at multiple customer analytics within one interface. That's great, but it seems more like an external tool that would need to be used alongside Slab or another option that provides better solutions to work internally. 
Software solutions such as Klutch or even Onebar.io do a better job of providing a one-stop-shop platform. They are places where tracking customer data and creating Q&A documents is much easier. 
Some people could argue that the ability to create a Q&A section isn't a major advantage, but it's something. 
In any case, Froged is still a very solid option for people who are trying to track customer data. It features different ways to create graphs and other visual aids to read the data that's being collected in a simpler fashion. 
Conclusion
Onebar.io is still one of the best knowledge based management platforms available. Its price, though, leads many businesses to look for other alternatives. Klutch is arguably the platform that resembles Onebar the most out of all the options listed above. 
The big advantage that Klutch provides in the pricing department is that companies can essentially pay for it as the operation grows. There's no need to put down over 400 dollars a month for a tool that some people don't get the most out of.  
Getting "the most" out of these platforms is every company's dream, but forcing employees to use certain features is not the best idea. Perhaps the best way to approach using one of these tools would be to find what really works for a particular project and focus on that. Then, companies could start evaluating if some of the other features can help along the way.