Whether all your team members commute to work every day or they work from home in different locations and time zones, efficiency, productivity, and workflow cannot be compromised. 
However, with remote workers, these important business parameters can be difficult to maintain. When you face such problems with your team, Microsoft Loop can provide you with the ideal solution by creating a single location where everyone has access to all the resources and collaborative tools.
In this article, you will learn more about Microsoft Loop and seven great alternatives that are worth considering. 
What Is Microsoft Loop?
Microsoft Loop can best be described as a collaborative tool that is used by teams to collaborate, share, and store tasks, files, and other important information on one easy-to-access platform.
This versatile tool has many important functions that can help your team, such as:
Internal knowledge base

– Providing access to private, confidential, or otherwise important organizational information.
Content

– See what content other team members are working on.
Collaboration

– Lend each other a hand on difficult tasks if needed.
File-sharing

– Share important files that may help other team members complete their tasks.
Workspace

– Create a central location for discussions and work-related activities.
Microsoft Loop is one of the leading knowledge management software solutions in this particular niche. Since it has so many functions, this platform does not have a direct alternative. The best you can find are various alternatives to particular functions, for example, productivity and workflow.
When it comes to productivity, there are seven great Microsoft Loop alternatives that you can consider. Each has its unique features that you need to consider before deciding whether it will be a good fit for your organization.
7 Microsoft Loop Alternatives for Better Productivity
The software market is full of many potential alternatives to Microsoft Loop, but not all of them can deliver the necessary results. However, the following seven alternatives are worthy considerations:
A. Klutch
Klutch is one of the most popular, affordable, and user-friendly productivity-enhancing tools and knowledge management software you will ever come across. It is designed to improve the productivity of any organization by providing a central internal knowledge base easily accessed by all team members.
It also offers canned responses and keyboard shortcuts as part of its unique features so you can spend less time writing within the team.
Using Klutch allows you to achieve your company goals much quicker because it enhances teamwork and collaboration. Each team member will know the exact place to store and access the information they need at any time.
When you integrate Klutch into your workplace, you also get a wide range of specialized features that help you run your company more efficiently. All these features are packaged in an easy-to-use interface that is beautifully designed and highly efficient.
How It Compares to Microsoft Loop
Klutch is a relatively new player in the game when it comes to improving productivity and workflow using internal knowledge base systems. However, it is one of the best alternatives to Microsoft Loop because it compares very well when it comes to storage and knowledge base.
B. Lucidchart
If you are looking for knowledge management software that makes it easier for different users to collaborate on drawing, sharing, and revising diagrams and charts, look no further than Lucidchart. It is regularly promoted as a Visio alternative, but Lucidchart is also comparable to Microsoft Loop in many aspects.
Productivity and workflow are greatly enhanced by managing all documents, charts, and diagrams in one location as a team. You can easily work on hundreds of documents at a time, making it much easier for your team to meet its deadlines. If one member is lagging, colleagues can pitch in very quickly and get the project done.
How It Compares to Microsoft Loop
Lucidchart is more focused on the drawing and chart designing aspect of the business than anything else. This is a key area where it differs from Microsoft Loop, which has a more comprehensive approach to improving productivity.
However, if you are an engineer or someone who relies heavily on creating professional diagrams, your team could benefit a lot from Lucidchart as an alternative to Microsoft Loop.
C. Pneumatic Workflow 
As the name suggests, Pneumatic Workflow is a knowledge management software that focuses on designing efficient workflow systems to enhance productivity. Using easy-to-manage templates, you can define the workflows that define your business organization and identify key areas that need to be worked on to improve productivity. 
This internal knowledge base helps you shape how best to do work by eliminating repetitive jobs and turning them into workflows instead. When you can look at the bigger picture in the form of a workflow, you will find that bringing structure to your business becomes much easier.
How It Compares to Microsoft Loop
While it may not have the wide range of features that Microsoft Loop has, when used correctly, Pneumatic Workflow is a very capable internal knowledge base platform that will bring tangible results to your organization in terms of workflow optimization.
D. Trello
If you think that poor team management, collaboration, and tracking of projects are the areas that may be letting your organization down, Trello may be the ideal solution to your needs. 
This simple yet highly efficient list-making platform is trusted by millions of users to bring order to their workflow and improve productivity. It is supported by web, desktop, and mobile platforms, which means that your team members can access it from wherever they are and collaborate seamlessly on any project. 
How It Compares to Microsoft Loop
Microsoft Loop is sometimes guilty of trying to do too many things all at once, which means some of its features may not be as good as they should be. However, Trello does the opposite. By focusing on its Kanban-style list-making attributes, it can deliver a simple yet effective way to improve productivity in any organization.
E. Asana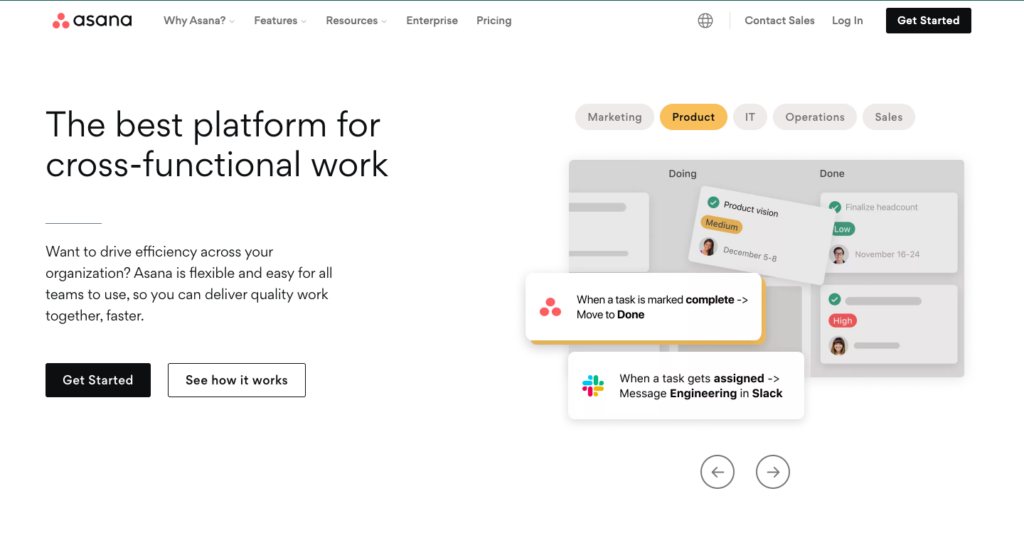 When using Asana, all your team members can track and organize their work easily from anywhere around the world. This software allows you to distribute tasks to your team and create user stories all at once. 
By bringing everyone together, Asana helps you keep even the most remote workers in the loop. Therefore, any project you work on as a team will be handled most efficiently and productively as possible. 
How It Compares to Microsoft Loop
Just like Microsoft Loop, when it comes to helping you improve the workflow and productivity of your organization, Asana does what it promises. However, Asana is the better option for smaller organizations that do not want to overcomplicate things with lots of documents and files.
F. Quip
Quip is one of the best platforms for real-time collaboration. It easily syncs all your documents, messages, and spreadsheets to one central location where accessing them is much easier. Its pricing plans start from $10 per user for individuals and $25 for enterprises.
When used by sales teams, Quip can easily transform your sales in a short time and boost productivity by allowing teams to comment, revise, and discuss any deals that may need to be pushed through.
How It Compares to Microsoft Loop
Microsoft Loop does not favor any particular industry but is rather marketed as a tool for any organization looking to improve its workflow and productivity. Quip, on the other hand, seems to be geared a lot more towards sales teams.
G. Jira
Jira is one of the top productivity tools for streamlining tasks and boosting workflow efficiency. It makes use of agile software management tactics to improve collaboration among team members. 
Its various products and services are designed for application in a wide range of industries, such as IT, Ops teams, business, and software development. When you want help releasing good quality software using the latest in workflow management and productivity tools, Jira is the one you turn to.
How It Compares to Microsoft Loop
Compared to Microsoft Loop, Jira does not offer as many features. It is mostly centered on Kanban, Scrum, and Sprint boards, making it very popular in the software development industry.
Conclusion
Finding the right software to help drive productivity is essential. While Microsoft Loop is a very efficient workflow management software, other alternatives are worth considering. 
Depending on your particular industry, Klutch and the other workflow systems mentioned here can provide a more direct approach to helping you meet your workflow and productivity goals.