Teamwork is essential for the success of any business. With technology innovation, several tools were developed to enhance team productivity. One of these tools is Tettra, a knowledge management system that improves team performance. 
Meanwhile, there are also many Tettra Alternatives you can use to drive team productivity. Let us learn more about them below. 
Klutch is one of the most user-friendly and affordable Tettra alternatives that help businesses grow with efficient knowledge management. Klutch helps teams, companies, salespersons, and agencies to manage their company knowledge and documents in one online database. This knowledge management software paves the way for the information-sharing culture to flourish within the company.
Klutch knowledge base for sales teams enables salespersons to navigate through one single platform and search for the needed information in just a few clicks. You don't have to go through a pile of papers to get the answer you need. With Klutch, you can address client concerns, gett employee records, and acquire essential company files faster.

Klutch is a perfect option for beginners and startups because you can create your own knowledge base without the need for coding experience. Simply use ready-made templates to create pages and responses according to your requirements.
Here are some of the major things you can do on Klutch:
Klutch Responses
Create, edit, and manage canned responses. Adding them to your Klutch knowledge base will help your employees get full access to communication statements and customer service responses for better engagement and assistance.
Klutch Pages
With Klutch, you can create, edit, and publish long-form pages that contain even the most confidential company information that is meant to be shared across departments. Klutch also has a collection of ready-made templates to keep you from doing everything from scratch.
Pros
Keep your team on the same page with real-time collaborations
Choose dozens of ready-made templates 
Easily share your information with teammates, clients, and employees
User-friendly interface
Cons
Klutch is pretty new so it has a lot of potential and improvements moving forward.
Pricing
Klutch is free to use. Its paid plans start at only $5 a month.  Sign up here!
Who is this best for?
Everyone can basically use the Klutch knowledge base, even for their day-to-day tasks. It's also best for sales teams, companies, agencies, and project managers to effectively manage information meant to be shared and collaborated. It's also perfect for startups since it's totally free and easy to use.
2. Confluence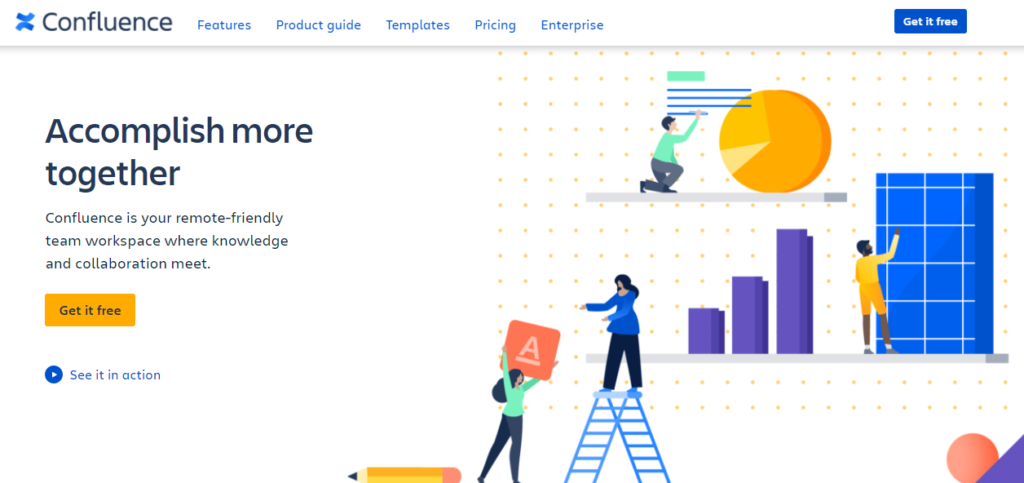 Confluence is a knowledge management software that helps a team on sharing knowledge and collaborate effectively. It is equipped with innovative features that can meet your business needs. It features an accelerated feedback loop that has files attached and inline comments on the pages. 
The tool also comes with ready-made solutions with templates for your daily documentation. Confluence allows you to make project plans, meeting notes, and product requirements. 
Pros
Page and file versioning
It comes with a rich text editor with drag and drop, rich content embedding, keyboard shortcuts, and Microsoft Office integration
Collaborate anywhere since you can sync it with your Android or iOS device 
Offers 24/7 customer support 
Enhance employee engagement 
Cons
Pricing 
The pricing of Confluence begins at $5.00 monthly. It also comes with a free trial. 
Who is this best for? 
Confluence is perfect for companies of different types and sizes. It is for those who look for space to build team culture and engage with team members in a more authentic manner. It can be an essential tool for companies with high-stakes projects. 
3. Bloomfire
Bloomfire is another great alternative to Tettra. This knowledge engagement platform enables your team to find information quicker.
It also comes with awesome features to improve team performance. It offers seamless integrations with different applications like Salesforce, Google Chrome, Slack, and Zendesk.
With that, you can also improve your customer service. This platform offers customer support through email, tickets, phone, and training. 
Pros
Multimedia content sharing 
AI-powered search for easy and fast searching of information
Great engagement and publishing features
Easy content management 
Built-in advanced analytics for powerful insights to optimize content 
Cons
One complaint about Bloomfire is that it is hard to use
The poor customer onboarding experience 
It doesn't have a free trial 
Pricing 
The pricing plans for Bloomfire include Basic for $899 monthly, Growth for $1,149 monthly, and Enterprise, which is by quote. Unfortunately, they don't have a free trial. 
Who is this best for? 
The collaborative tool is best for any department, team, organization, or company that wants to share knowledge collaboratively and easily. 
4. Slab
Slab is a good tool to increase the productivity of business teams. It features quick search, a creative editor, and lots of integrations, including G Suite, GitHub, and Slack.
Slab is perfect for remote work. If you want a powerful process automation system, this tool can be for you. It has a clean, organized, and clean interface.
You can easily share individual pages with the public. With its innovative features, collaboration on your team will be enhanced, which can grow your business. 
Pros
Knowledge management
Offers real-time editing and excellent content management
It offers collaboration tools to manage your document effectively 
Good for remote work with meeting management, collaboration, and managing tasks 
Cons
Some find its pricing plans a little bit costly 
Pricing 
The pricing for Slab begins at $6.67 monthly. Good thing, they also provide a free trial. You can choose from their pricing plans which include Startup for $6.67 monthly, Business for about $12.50 monthly, and Enterprise based on quotes. 
Who is this best for? 
The Slab is ideal for competitive businesses. It can be the best option for technical teams. The software is also beneficial for businesses that have a limited budget.  
5. TypeDesk
TypeDesk is a software you can use to improve customer service on your platforms. It allows better team collaboration to make your business more profitable.
It is also loaded with functional features to accommodate your organization's needs. It features analytics, automatic language detection and allows you to replace tags.
You can also share canned responses to your team for measuring performance.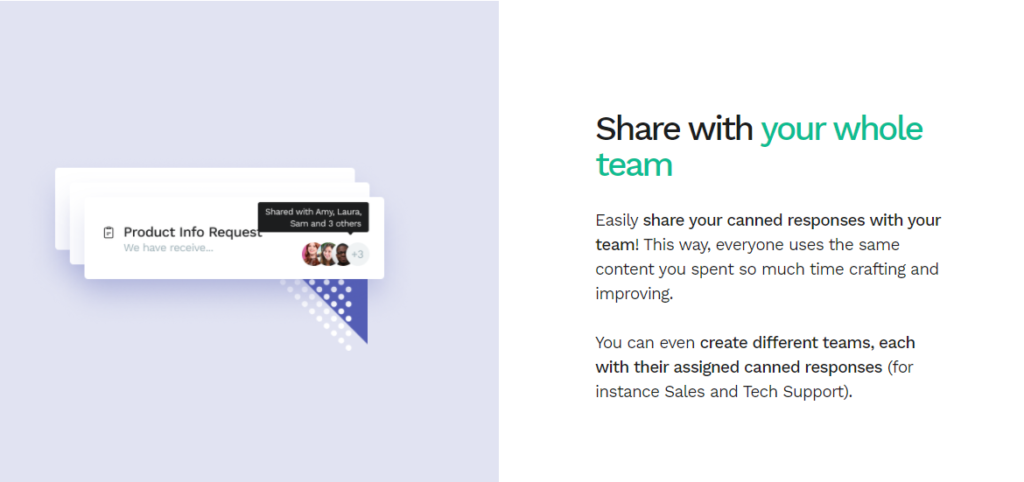 Pros
It offers multi-language customer support 
Great collaboration and macros (templated responses)
Saves time while enhancing productivity in your organization
Cons
One drawback of TypeDesk is that you need to re-login every time on boot-up
Pricing 
Typedesk offers a free trial. They have pricing plans you can choose from:
Solo for about $3.99 monthly
Teams for $14.99 monthly
Enterprise for about $24.99 monthly       
Who is this best for? 
The TypeDesk is best for small, medium as well as large companies. It is ideal for those who want to streamline their business contents like document layouts, email templates, and canned responses. 
6. Gitbook
Gitbook is a knowledge management software that increases team performance. It helps teams to publish, share and manage knowledge through a documentation platform for the organization. This tool comes with powerful features to improve your business operations. 
With this tool, you can organize your knowledge and allows your team to work in a central place. It is also essential in syncing your workflows with native integration.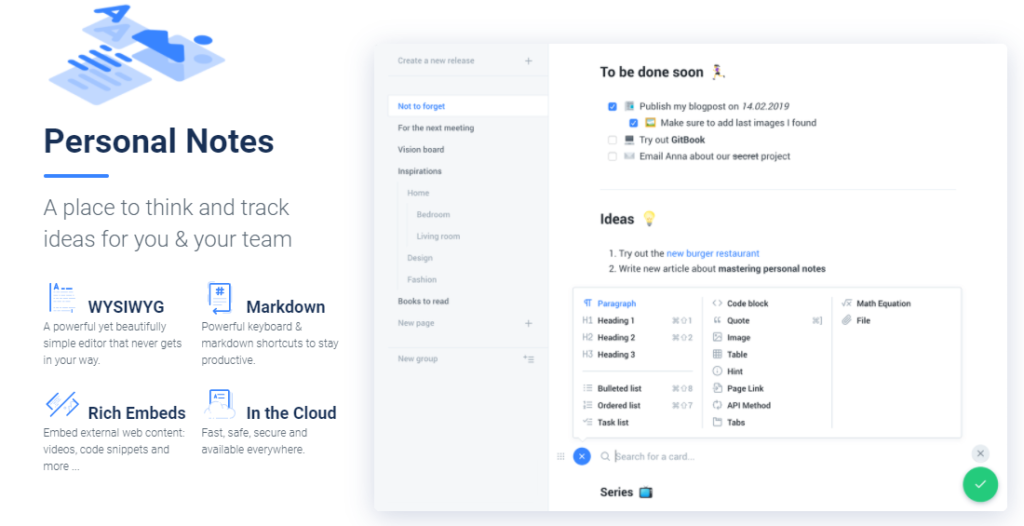 Pros
You can collaborate with your team and review drafts before publishing it
Offers living documentation with its WYSIWYG editor where you can have rich-text and rich-content. 
Offers free trial for 14 days 
Allows you to make and publish creative docs without code or design required
Excellent user experience and intuitive user interface 
Cons
Some complain the pricing plans are expensive 
Pricing 
Gitbook offers 14 days free trial. They also have pricing plans that you can choose from:
Team Plan for $40 monthly
Business Plan for $300 monthly
Enterprise Plan, which is based on quotes
Personal plan which is free
You can choose the best plan for your business needs. 
Who is this best for? 
Gitbook is ideal for open source projects, businesses of all sizes, students as well as non-profit organizations. It is best for small businesses who want to grow fast through effective team collaboration. 
7. Showpad Content
Showpad Content is another effective tool to make your team more productive. This platform helps to enhance sales and marketing strategies to grow your business faster.
The software provides fast adoption and deployment through a scalable and flexible platform. In case you have inquiries about using this tool, they have 24/7 customer support. With its features, you can make your business generate more sales and income. 
Showpad helps you to collaborate better with your team. It also provides great content delivery, presentation management, content management as well as training management.
It functions with different platforms, including iPhone, iPad, Windows tablets, desktop, and more. It also features advanced search, conversation intelligence, prospect engagement insights, in-context sales training, and more.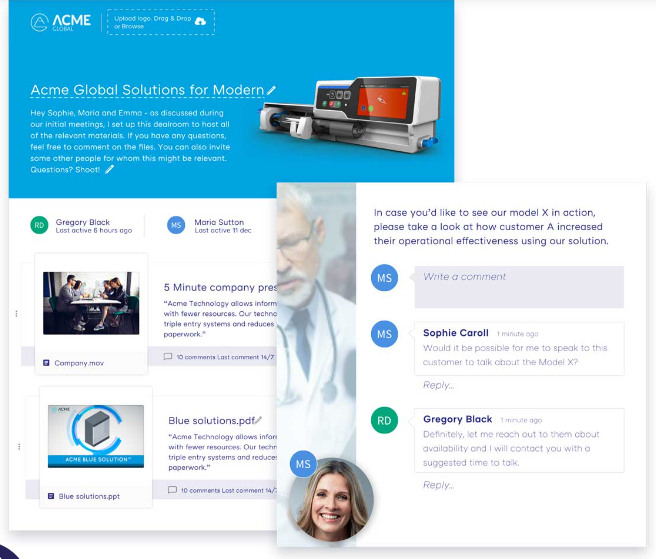 Pros
Allows you to manage and add content easily
Provides great account management and good customer support
It comes with an offline feature, a great tool to improve business sales 
User-friendly and lets you view analytics for management and sales team 
Cons
One drawback of Showpad Content is that it has limited design
It doesn't have a free trial 
Pricing 
The pricing for Showpad Content is available upon request. They have different plans, including Essential, Plus, and Ultimate. Unfortunately, they don't have a free trial. 
Who is this best for? 
Showpad Content is best for marketing and sales teams who want to provide maximum buyer experience. 
8. Kipwise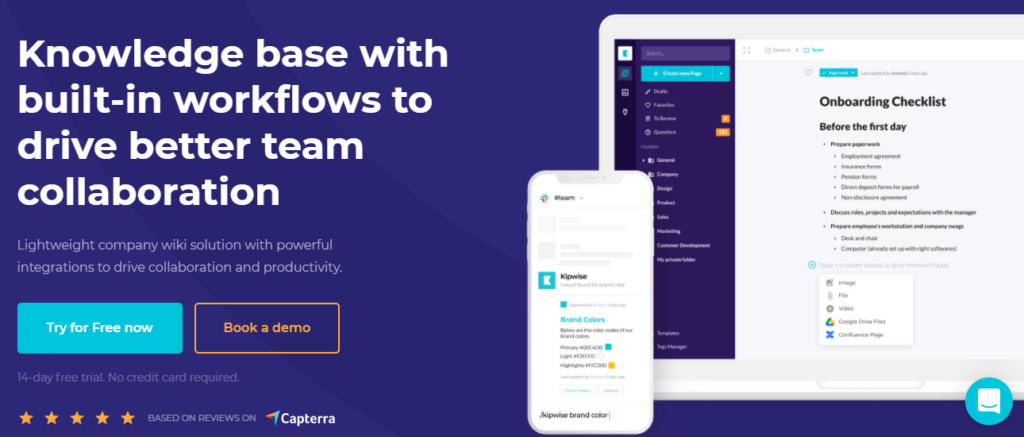 Kipwise is among the knowledge management tools you can use to enhance team effectiveness. It is packed with useful features that can improve your business operations. It can provide you with browser extensions, efficient Slack integration, and real-time collaborative editing. 
This tool also has integrations including Trello, Google Drive, Airtable, and more. It offers excellent team collaboration, content management, categorization/ cataloging, full-text search, and a self-service portal. 
Pros
Offers 24/7 customer support 
A powerful tool for collaboration and workflow management
Provides 14 days free trial 
Real-time collaboration with a web editor 
Self-service portal and knowledge base management 
Cons
Some complain that the pricing plans are a little bit expensive 
Pricing 
Kipwise offers 14 days free trial. They also have pricing plans you can select based on your needs. Their plans include Basic for $30 monthly, Professional for $50 monthly, as well as Enterprise, wherein the cost is available upon request. 
Who is this best for? 
Kipwise is perfect for companies and businesses that aim to improve the flow of their knowledge management. With this, they can perform their duties more effectively.
It is ideal for organizations who want to establish good teamwork for the success of their business. It can be the right tool if you want to grow your business fast. 
9. Trello
Trello is an efficient project management tool you can use to enhance team collaboration to keep more organized projects. It comes with functional features that will improve your business operations.
It has a Power-Ups function that can transform board into living applications through adding integrations and features. 
If you look for a flexible tool for collaboration management for workflows, this product is for you. It also features an intuitive interface making it easy to use. 
Pros
It offers tools for defining projects and requirements
It comes with a digital dashboard that allows you to prioritize, organize, and make actions
Free trial and online support
Features drag and drop, collaboration tools, and skills tracking 
Flexible and customizable apps 
Cons
It doesn't have reporting features 
Some find issues while organizing boards 
Pricing 
The pricing of Trello begins at $12.50 each month. Luckily, it also has a free version. Their pricing plans include Free Plan, Business Class Plan as well as Enterprise Plan. 
Who is this best for? 
Trello is perfect for teams of different sizes. It can help creators and organizations to make the best results of their projects. If you wish to build strong teamwork in your organization, using Trello is a good idea. 
10. Highspot
Highspot is a sales enablement software that can elevate your team's performance. It can increase customer conversations that promote strategic development.
It has a lot of awesome features that will help you achieve your business goals. The tool offers intelligent content management, contextual guidance, training, actionable analytics, and customer engagement.  
Highspot makes teams collaborate better. It can boost customer retention and satisfaction as well as business revenue. The platform also supports different languages. It comes with powerful and accurate analytics, real-time alerts, and activity tracking. 
Pros
Document storage and content optimization 
Customer engagement analysis and powerful machine learning
Customer tracking and engagement tools that enable teams to interact with their clients 
Offers good customer support 
Cons
It doesn't have a free trial
Pricing 
The Highspot doesn't have a free trial. They have a quote-based plan which is available upon request. 
Who is this best for? 
The Highspot is the best tool for small, medium, and large businesses. It can help small businesses with have a limited budget. If you want to increase your business sales in a fast and reliable way, this tool can be for you. 
11. GetGuru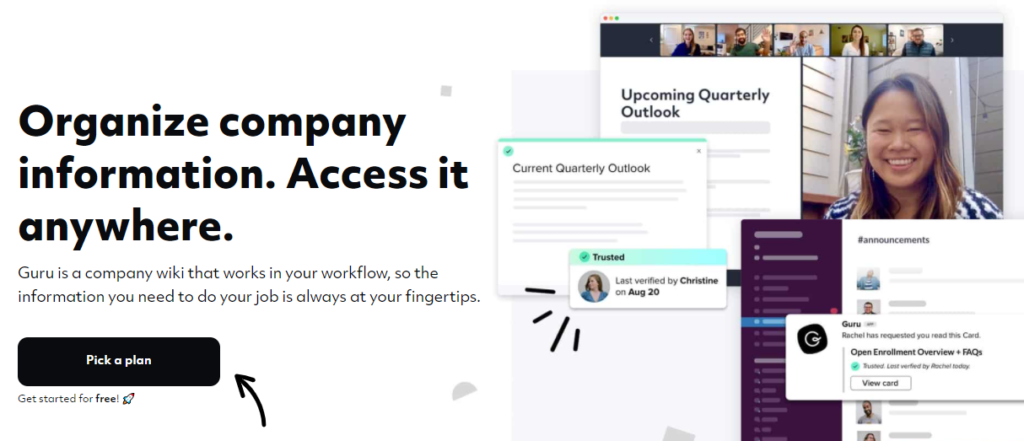 Another good alternative to Tettra is GetGuru. This knowledge management tool can empower your team to make the best of their performance. It comes with integrations like Slack, Google Chrome, and more.
With this software, you can easily democratize and document information. So, your team will be more focused and efficient. 
Pros
Features great collaboration, categorization/ cataloging, content management, and discussion boards
It has remote access, making it good for remote work 
Simple to use collaboration tool 
Self-service portal and discussion boards 
Presentation management, training management, and document management functions 
Cons
Some said that the pricing plans are costly 
Pricing 
The pricing for Guru begins at $7.00 monthly. There is also a free trial. 
Who is this best for? 
GetGuru is best for SaaS companies and other organizations that want to establish great team collaboration.   
Conclusion 
There we go, so that is the list of the 10 best alternatives to Tettra. You can choose from these online collaboration tools to enhance your team's productivity.
With that, you can achieve the goals and missions of your business or company. Are you ready to level up the teamwork in your organization? Do you want to accomplish more as a united team? What are you waiting for?
Choose the best knowledge management software for your business now!