If you are looking for a simple knowledge base and wiki application that enables teams to organize, create, collaborate, and share content easily and quickly in Slack, Papermind is that solution. Furthermore, Papermind is a native desktop app that complements existing app workflow through its intuitive system.
What's great about this extension is that it's easy to use and has a moderate learning curve, so anyone on your team can get up to speed quickly. You can drop links or documents to your G Suite content, share active projects, and much more.
Papermind makes it easy to store all your files and articles in one place by creating organized collections, which are visually delivered through tags. It is a valuable system for a company that owns an extensive knowledge base and is looking for an effective way to manage it. 
Papermind Alternatives
You may be thinking, why not stick with Papermind because it's so widespread? Even though Papermind offers a great way to manage teams or projects, it still fails to meet the requirements of small to medium-size enterprises.
While Papermind is an excellent add-on for Slack, it might not be your cup of tea. That is why this article was written to explore the alternatives to Papermind and highlight their features. You can decide what knowledge management system to incorporate with your company or team with this information.
Klutch is a knowledge base software that allows teams, salespersons, corporations, and agencies to cultivate an information-sharing culture. It offers more accessible communication between employees who need to stay updated with their company policies, guidelines, and even reports. You can add users and they can edit simultaneously in real-time.
Even better is that you don't need any coding experience or technical skills to operate Klutch. You can use customizable templates or create everything from scratch with so much ease.

Here are some of the major things you can do to document your team knowledge:
Klutch Responses
This response database would give you direct access to default communication statements for better customer engagement and assistance. Using Klutch to maintain such information helps you stop repeating yourself to customers and manually typing them from time to time.
Klutch Pages
With Klutch, you can create long-form pages that contain relevant and confidential company information that is meant to be shared across departments.
You can use Klutch for free. Sign up here!
2. Atlassian – Jira
Jira is an issue tracking software developed by Atlassian that allows agile project management and bug tracking. It is excellent at handling various business processes regarding planning, tracking, and releasing software. 
There are other unique workflows supported by Jira Software, including Kanban and Scrum, which are unique hybrid models. Jira lets its users map out projects and create a road map for teams to follow. 
The software also includes a drag and drop interface that allows employees to manage every project detail. Its system offers functionality to distribute tasks across the team, plan sprints, or create user stories or issues. 
Users can find thousands of business apps from monitoring, design tools, and productivity apps. What's excellent about Jira is that it's a mobile application available for iOS and Android that allows you to manage team progress on the go. 
Jira offers flexible pricing with free options for teams up to 10 users and $7 per month for 11 to 10,000 employees. A free trial is provided, making it fantastic to try before buying.
3. GetGuru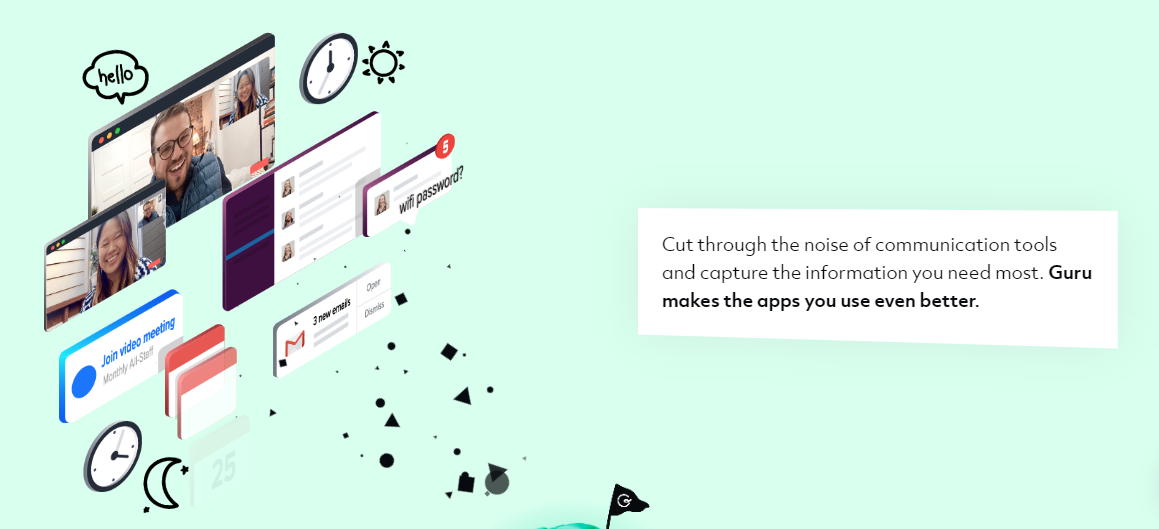 GetGuru knowledge management solutions amalgamate with your workflow, so all the required data is always just a click away. The software leverages AI and a robust list of integrations to deliver verified knowledge to your team through its intuitive tools.
It is easy to find any information you need because it uses cataloging and categorization to store essential knowledge-based information.
The content management system makes it easy to share, collaborate, or work on projects where ever in the world your team members reside. GetGuru allows your most talented employees to focus on what matters most instead of asking and searching for answers.
That can help boost office productivity and allow you to have all the information you require at your fingertips. GetGuru serves businesses where industry knowledge is evolving, such as direct to consumer, e-commerce, and education organizations. 
The cloud-based software starts from $5.00 per month and includes a free trial to test the service, which can come in handy if you are unsure if a knowledge-based can work for your company. Teams of one to 10 people are free, and then it's $5.00 per user when 11+ positions are required. 
There are builder's plans that, when billed annually, are $10 per user or $12 per month. Then finally, there is an expert package that costs $20 per month and includes a host of additional features and collaborative tools.
This is an excellent knowledge-based management software for giant corporations due to its intuitive interface and organizational system.
4. Tettra

In short, Tettra is a simplistic Wiki that was developed for your team to share and organize the knowledge required to get the work done. Tettra was built to be connected, innovative, and simple so that any team member can easily communicate on the platform.
There are multiple integrated tools that teams rely on every day, including Zapier, GitHub, G Suite, and more. Tettra offers its software at $0.00 per month for groups of up to five users, and more prominent companies pay $99 for 10 users with an additional $8 per member.
The application is intuitive, sleek in design, and the interface layout makes complete sense. It can be customized to suit your team's collaborative effort and adds to the aesthetic appeal. One of the best aspects of using Tettra is linking directly into Slack when sharing a document.
It allows you to build the company brain into a central location, whereas people relied on Google or other complex project management systems in the past.
However, it's good to note that this software is rather simplistic and lacks additional folder space, which can be a pain in the butt when working on a lengthy project. You could counter this by creating multiple folders for extended projects and numbering them so you can track progress.
Overall, it's still an okay-priced team management tool that comes in a free and paid version. You are going to love this software due to its ease of use and uncomplicated knowledge base interface.
5. Podio

Podio comes in four tiers: Premium, Plus, Basic and Free. The plans differ in various ways, including getting an interactive sales dashboard or restricting read-only access. 
You should contact Podio for custom enterprise-grade plan pricing if you own a large corporation. 
The free account allows you to invite five employees but does not provide user management tools. Each tier costs $9, $14, and $24 per team member per month.
This knowledge base management tool runs in any browser, plus there are apps for both Android and iPhones. That allows people to manage projects and knowledge base entries from wherever they are in the world. 
While there are some user-friendly features, it does lack the customizability of other Papermind alternatives. The pricing is reasonably high for the limited options, but it's still a brand trusted by many corporate companies.
6. Kipwise

This innovative knowledge management tool connects seamlessly with Google Drive, Slack, and more. It can help your team build up a knowledge base efficiently to be informed about their job.
Kipwise is known as one of the more seamless management tools on Slack because it includes handy slash commands, which allow you to search and create team knowledge. An intelligent slack bot can automate your workflow so that you don't need to spend hours figuring out how the application works. 
What's excellent about Klipwise is that you can connect it to your simple tools with its broad range of integrations. Programs such as Confluence, Chrome, and Google Drive seamlessly amalgamate so that you don't need to search in various places for information.
There are two packages that Klipwise provides, including a Basic and Professional option. These go for $2.25 and $4.25 respectively, and in our vote, it is well worth the money. 
Klipwise automates your workflow because a unique algorithm determines project relevancy. Any necessary knowledge is automatically saved to the knowledge base to access it no matter where you are based.
It's a great knowledge base tool for growing companies because of the flexible folder structure and intuitive integration platform. Although the table formatting could be improved, it's still a great application that does its job perfectly.
Why Should You Consider a Papermind Alternative?
Even though Papermind offers a free version, you can test out the services it provides with a free trial. After that, Papermind 10 is $19 monthly, which is a high price compared to industry standards.
If you are an organization of 100 users, Papermind charges $99 monthly for its services. Some of the software providers mentioned above offer up to 10,000 users for $100 per month. Pricing is where Papermind falls short hence people have sought out various alternatives for a knowledge base solution.
It may not be the best solution for enterprises as any number of users over 100 is billed $2 monthly, so imagine being billed $20,000 monthly for a 10,000-person enterprise. That would be excessive, and even though Papermind is intuitive, we don't think it warrants that sort of monthly costs, especially for large corporations.
Conclusion
Since the pandemic's beginning, the work from home culture has grown astronomically. More companies are looking to integrate into this new post-COVID-19 way of living and working. 
With user-friendly knowledge management like Klutch, you can find a way to manage your team and knowledge base.
Each knowledge base management solution offers unique interfaces and seamless integration for your convenience. It's time to take control of your company and drive your teams into the future with the information they need to get the job done correctly.