Running a company is not an easy job. You have to manage your teams and make sure each person meets their goals. Additionally, you should guarantee your business grows the way you want it to. On some occasions, you might need to use technology to help you achieve everything you want. 
To make things easier, you could use software to help you organize your information. Breaking out of silos is not easy, and you need technology to help you in the process, which is why P2 exists. It's a platform you can use to manage your teams in a shared workspace. 
Even so, there are different P2 alternatives, and you should evaluate all your options before deciding. Read on to know more.
Klutch is a knowledge base software that's perfect for companies in need of a simple yet efficient knowledge management platform. You can organize your company knowledge with so much ease, plus, you can add/edit details with your team members. In just one user-friendly platform, you get to keep safe your important files, relevant for onboarding, sales, customer support, and more.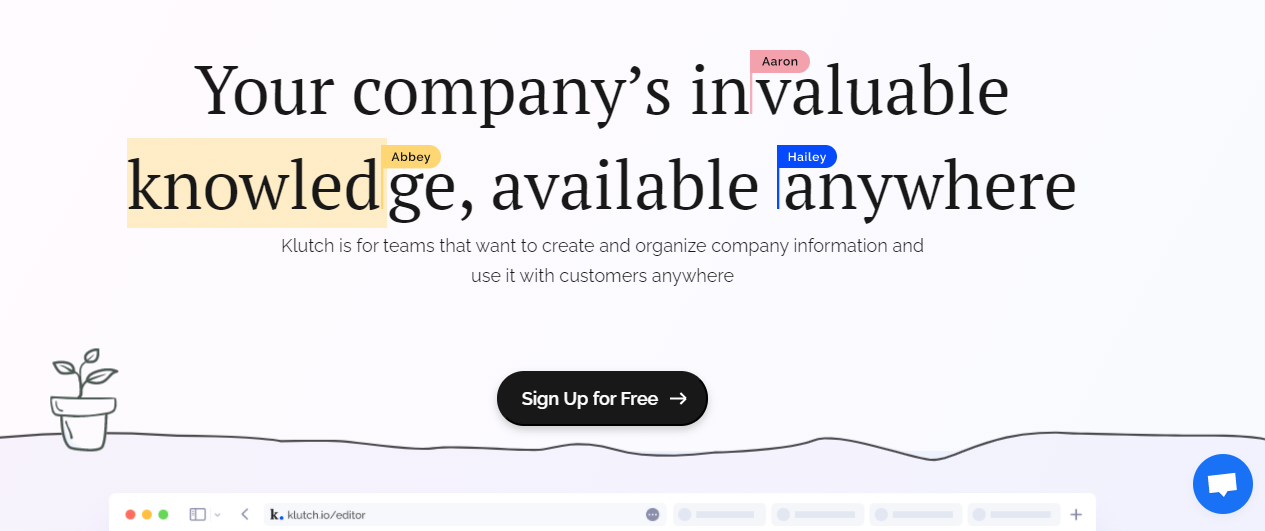 Here are some things you can do with Klutch:
Klutch Responses
Document canned responses and add default communication statements for easy assistance when responding to business partners and clients. This saves you from typing repetitive answers when trying to address concerns.
Klutch Pages
Create long-form pages to safely keep confidential information and relevant details about employees, brands, learning materials, contracts, and many others. This allows your team members to access knowledge whenever they need it.
Features
Real-time collaboration
Template library
Flexible permissions
Sensible organizations
Mobile-responsive
Remote access and support
Easy access to information: categories, tags, permissions, and more
Pros
Helps in onboarding employees
Provides ready-made templates
Drive productivity and teamwork
Interface to draft a large amount of canned responses
Affordable
Cons
It's still a new app, but it has all the relevant features to be successful in setting up your company knowledge base.
Pricing
You can use Klutch and get access to its powerful features, easy UI, and other tools starting at $4 a month. Check our pricing page for more information.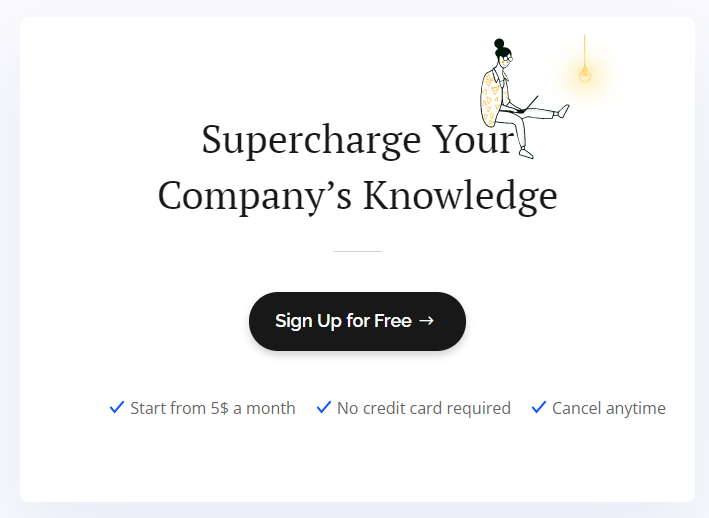 2. Tettra
If you're looking for online collaboration tools that are perfect for project management, Tettra might be a solid option, especially if you want something easy to set up. 
Tettra is a product of Wiki, and it works with teams using Slack. It helps you and your team organize all your knowledge and information. 
All growing teams can take advantage of Tettra's features, particularly Human Resources, Operations, Engineering, Support, and Success teams. Among all P2 alternatives, this program is particularly effective since it lets you enhance workflow efficiency. Here are some of its features: 
An editor that's easy to use 
Support for markdowns 
Slack integrations, including notifications and other similar features 
Linking with internal pages 
Automatized content page 
You can get Tettra's Growing plan by paying $50 per month, and the Scaling and Sustaining options are $150 and $300, respectively. However, you can try the program without paying for anything because it offers a free trial. Therefore, you could determine if it's convenient for you or not. 
When you use Tettra, you get reliable online collaboration tools many people love, especially when they work with small teams. It offers everything you might need to make sure you can effectively organize your information and knowledge. Nonetheless, it has some cons as well, so check out both its advantages and disadvantages: 
Pros 
It's extremely easy to use 
You can set it up in very little time because its settings are simple 
The free version offers several integration options as well 
If you pay, you get good extra features, such as API 
Cons 
Some people say Tettra is just too simple for them
3. Obie (now Lessonly)
Lessonly is known for being one of the best knowledge base software you can use to organize your work information. All you need to do is to rely on the program to connect all your documents in a single base, and it only takes a few seconds. 
In summer 2021, Lessonly acquired Obie and changed its name to Lessonly Knowledge, but it still offers incredible features to organize your knowledge base. It's a straightforward platform, and you can integrate it to Slack, and add it to any channel you have there. 
Formerly Obie, Lessonly Knowledge takes pride in being a very intuitive platform to build a base of knowledge. Therefore, you should never worry about not understanding how it works. It can be your best friend when you want to organize your team's information since it's specifically designed for companies of all sizes. Take a look at some of its main features: 
More than 16 knowledge integrations 
Options to capture a Frequently Asked Questions library 
Automatized issue solving 
Guaranteed privacy and security in everything you do 
Even though Obie has a different name now, it's still one of the best software you could use for your company, regardless of how many people you have in your team. At the same time, you can get it for $59 a month, and take advantage of the free trial to test all its features. However, it has some cons you should keep in mind: 
Pros 
It's very easy to use 
It's useful for small, medium, and large companies 
You can use it to share knowledge with your teams 
Cons 
It's still under development, which is why some people say it lacks some features 
The visual design is not as appealing as other programs' 
4. JetBrains
Finding P2 alternatives to make your teams thrive is not an easy task, especially if you want something that helps you with different processes. Some options might simply not offer everything you're looking for. However, JetBrains is particularly helpful in that regard since it includes six different software products. 
With JetBrains, you can get ReSharper, YouTrack, PyCharm, Intellij IDEA, RubyMine, and TeamCity. Each software can aid you in various processes, and they're all destined for businesses of different sizes. 
To find out which software you need, take a look at each of their features. They're all different, so you have to consider them separately before deciding. 
ReSharper 
It's ideal for productivity and coding 
You can use it to refactor, run tests, and more 
It's perfect to analyze, fix, and generate codes 
Its pricing starts at $19.90 per user, per month 
Made for medium and large businesses 
YouTrack 
Perfect for small, medium, or large businesses 
Pricing starts at $20 per month 
It's a project management solution 
You can use it to plan projects, integrate emails, track bugs, and more 
PyCharm 
It's a development tool platform 
Its pricing starts at $99 per license 
Cloud-based 
Ideal for businesses of all sizes 
Intellij IDEA 
It's a JAVA development platform 
Perfect for small to medium businesses 
You can use it for advanced refactoring, code analysis and completion, and more 
Pricing starts at $149 per year 
RubyMine 4-5 
Designed for medium and large businesses 
Prices start at $69 per license 
It's cloud-based 
Works as a development tool platform program 
TeamCity 
Integration software 
Ideal for medium and large businesses 
Prices start at $299 per license 
Incredibly useful and convenient 
JetBrains definitely has a number of options you can choose from. Regardless of the size of your business, you can probably find something that works for your knowledge base. Nonetheless, take a look at its pros and cons before choosing: 
Pros 
It has many different alternatives, and you can choose the one that fits your needs the best 
It helps you enhance your teams' productivity 
You can use it to automate common tasks 
With it, you can help your workers focus on the big picture while the program automates the simple to-do's  
Cons 
It can be costly compared to other options 
You get so many features; it might be difficult to get used to it 
5. Kipwise
You can easily build your company's base of knowledge with Kipwise. All you need to do is to start adding your information, and the program makes sure it's always up to date with your project management goals.  
Kipwise is a knowledge base software designed for Slack teams, especially if they want to enhance the management flow of their knowledge. Therefore, it might be the ideal alternative for you, particularly to quickly onboard new hires, reduce your team's repeated questions, and ensure everyone efficiently completes their tasks. Check out the software's features: 
It's a powerful Slack integration 
You can integrate it with Google Drive, Airtable, Trello, and more 
Includes a built-in process to review your content 
You get collaborative editing with real-time outcomes 
Ideal to categorize and organize information 
Using Kipwise is a great idea if you run a company of any size. It can be a start-up or an enterprise – it doesn't matter! Its integrations are useful regardless of how many people you're managing, and you can get it at $25.50 per month. Here are the program's pros and cons: 
Pros 
It's easy to use 
You can explore the software using Slack or the browser extension 
Collaborating is very easy since it lets people make group notes 
Fantastic customer support team 
Cons 
The dashboard is not customizable 
Some customers have said the formatting needs improvements 
Does not offer a free version 
6. Confluence
Many people say Confluence is the platform everyone has been waiting for. It offers unique online collaboration tools, and it's a fantastic option for project management, integration, and documentation.
Confluence is an open-source software you can use to set goals and objectives, track methods and strategies, and identify essential resources. Additionally, you can do all of that while the program is completely transparent, and shows you all the information you need.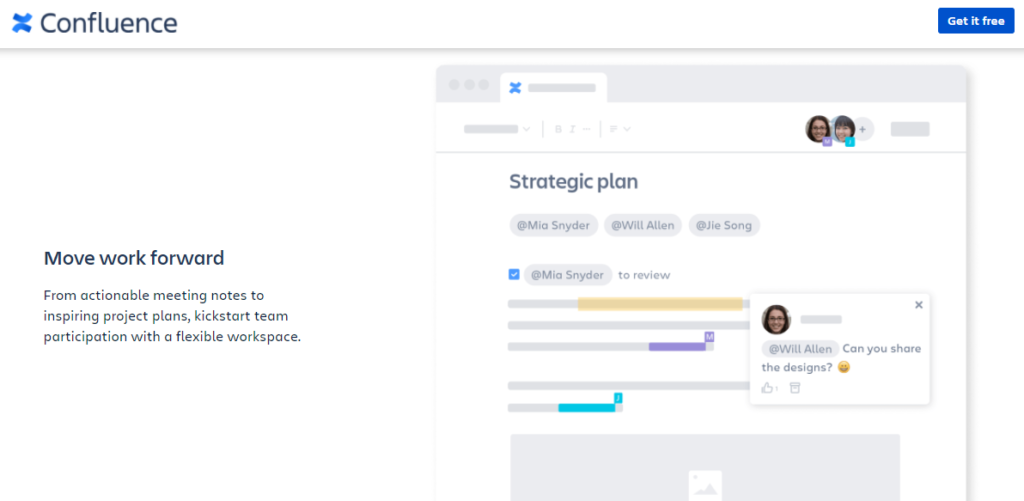 You can get Confluence for free if you're only using it for 10 people, but you could also pay for other plans. The Standard one is around $50 per month, and the premium is $100 monthly. If you want to pay for the Enterprise plan, you have to contact the Confluence staff. Take a look at the program's features: 
Documentation tools 
It's a collaborative platform for businesses of all sizes 
You can use it to create and organize pages and content 
Ideal if you want to make sure all your team can have access to the same information 
Even though Confluence offers wonderful advantages, it also has some cons you should evaluate before choosing it as your company's collaboration platform. Here are all pros and cons: 
Pros 
It's easy to use 
Creating and sharing documents is a very straightforward process 
It includes many different features 
Cons  
The full-text search has some issues 
The layout can be confusing 
Conclusion 
Now that you know about several P2 alternatives, compare all your options and choose the one that fits your company's needs!