Having a knowledge base is incredibly important for any business, especially technology-based companies. They need to have timely information and tutorials delivered to their users to ensure the best possible experience. 
Several platforms can help you create these knowledge bases. One of them is Docsie, which is highly popular but relatively expensive and may not meet all your expectations.
Therefore, in this article, we're going to go through several Docsie alternatives for your business' knowledge base.
What is Docsie?
Docsie is a web-based platform that allows you to centralize all the relevant data and information of your business so that your users can easily access it whenever they need it.
Moreover, it is effortless to install, as you don't need vast programming experience. All you have to do is embed a piece of JavaScript into your website for it to do its job.
It is a fantastic tool that helps you organize and execute significant changes to your website's content without hassle. Its rendering system allows you to easily display all the docs on your site.
Docsie Alternatives
Although Docsie is one of the most popular options for digital knowledge bases, it isn't the only one out there. There are several other great options you should consider before committing to one.
That's why we reviewed several knowledge base platforms and created the following list with the best five Docsie alternatives.
Klutch.app is one of our favorite platforms on this list. It is an excellent app for teams that want to make their processes faster by incorporating a knowledge base into their digital environment. This prevents them from having to repeat the same questions over and over when training new team members.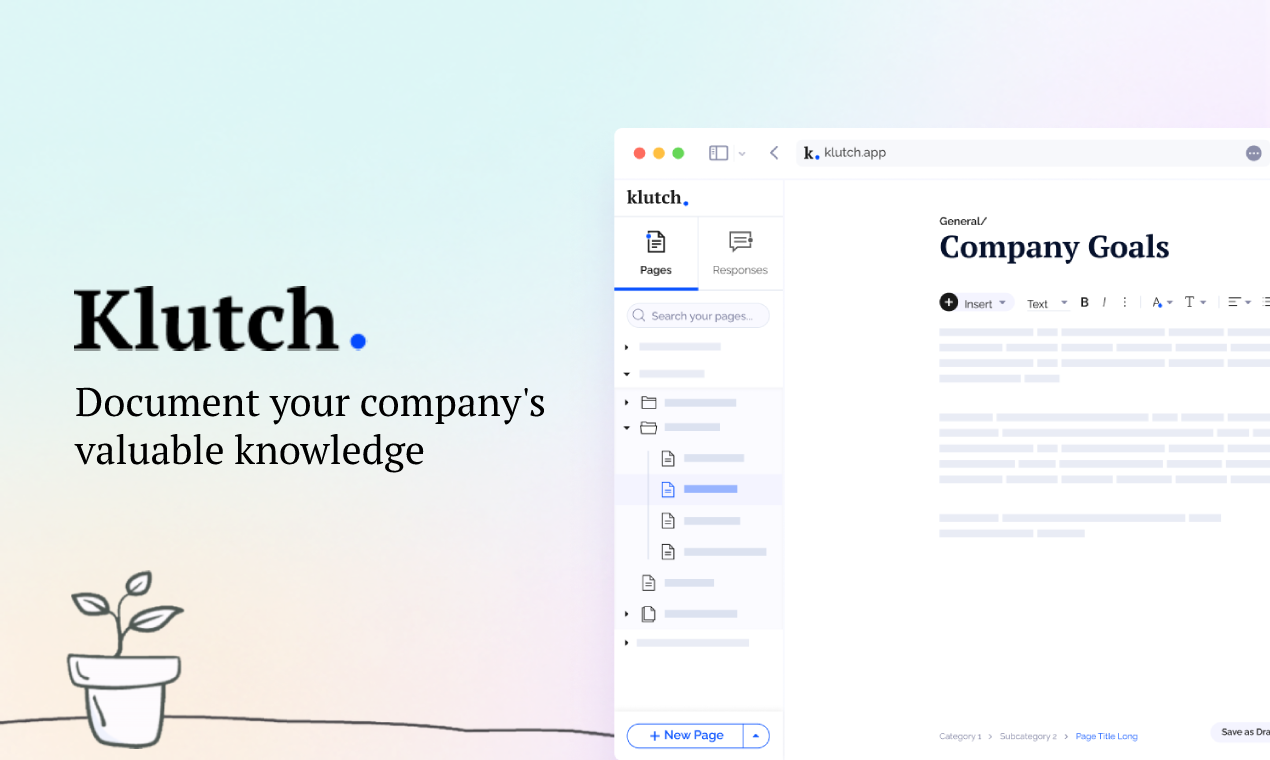 Moreover, it helps to keep all the information in one simple and accessible site that anyone can check out at any moment. This allows everyone to stay up-to-date with the company's standard operating procedures, which ultimately translates into fewer mistakes being made.
Features
Klutch.app has several exciting features that help you take your team to the next level. Some of them include collaborating with the rest of your team in real-time, which enhances the productivity of each task and allows you to reach your goals much faster than before.
You can also choose from a library filled with dozens of templates that allow you to skip the hassle of having to create your documents from scratch. Nonetheless, you can also create a new template for the rest of your team to follow.
It also allows you to choose who has access to each file, which eliminates the possibility of information falling into the wrong hands. In addition, you can customize each file to identify them much faster.
Pros
You can choose from several templates

It features a large number of canned responses

Users can sign-up and test it out for free

It is compatible with the Google Suite

You can use its handy shortcuts
Cons
It's a new software with a lot of room for improvement
Pricing
You can choose between Klutch's free version and its Pro version, which only costs $5 per month. Nonetheless, it can be even cheaper if you pay for it annually. 
Best Fit For
Any growing team that wants to upgrade its processes to make them much faster and straightforward should consider buying a subscription to Klutch, as it is sure to improve its efficiency and productivity.
2. Kipwise
Kipwise is a knowledge management software that allows teams to build their internal hub and integrate all of their apps to make their communication and processes much more efficient.
Features
Some of Kipwise's best features include its Slack and Google integration, built-in workflows that allow everyone to stay on the same page, and a visually appealing interface that helps you find the content you need much faster than usual.
Pros
It is a highly secure software

The customer support is pretty good

It is entirely customizable

The search bar is pretty useful

You can upload any archive
Cons
It doesn't feature a free version

You can't limit the access of collaborators to certain files

Some documents tend to get lost
Pricing
You can test it out for free for the first month, but you must pay $25,5 per month once it's over. 
Best Fit For
This is a fantastic app to integrate with Slack teams that want to improve their knowledge management processes and provide better results.
Outline
Outline is an intuitive knowledge base app that allows you to say goodbye to the awful mess of having hundreds of Google docs scattered around your team's Drive folders. It is meant to keep all your information safe and as accessible as possible.
Features
This app has several great features, such as more than 20 integrations, a structured and collaborative workflow for everyone in the team, several security and permission standards for collaborators, and a completely customizable interface.
Pros
It is easy to use

Teams can easily collaborate on it

It has an appealing interface

Several other apps are compatible with it

You can choose who gets access to each file
Cons
It is more suitable for documents instead of projects

Some customers have experienced bugs

It doesn't feature a free version
Pricing
This platform features three price tiers. Its starter plan costs $10 per month. On the other hand, its team plan costs $79 per month, and its business plan costs $199 per month.
Best Fit For
Outline is excellent for small and medium businesses, as well as big enterprises, which is why you can choose from three price tiers depending on your needs.
Friday.app
Friday.app is perfect for teams that want to improve their communication and make their daily work much more efficient. It allows you to eliminate chaos from the workspace by providing instant access to all documents and vital information.
Moreover, it allows you to track and report your team's data and achievements.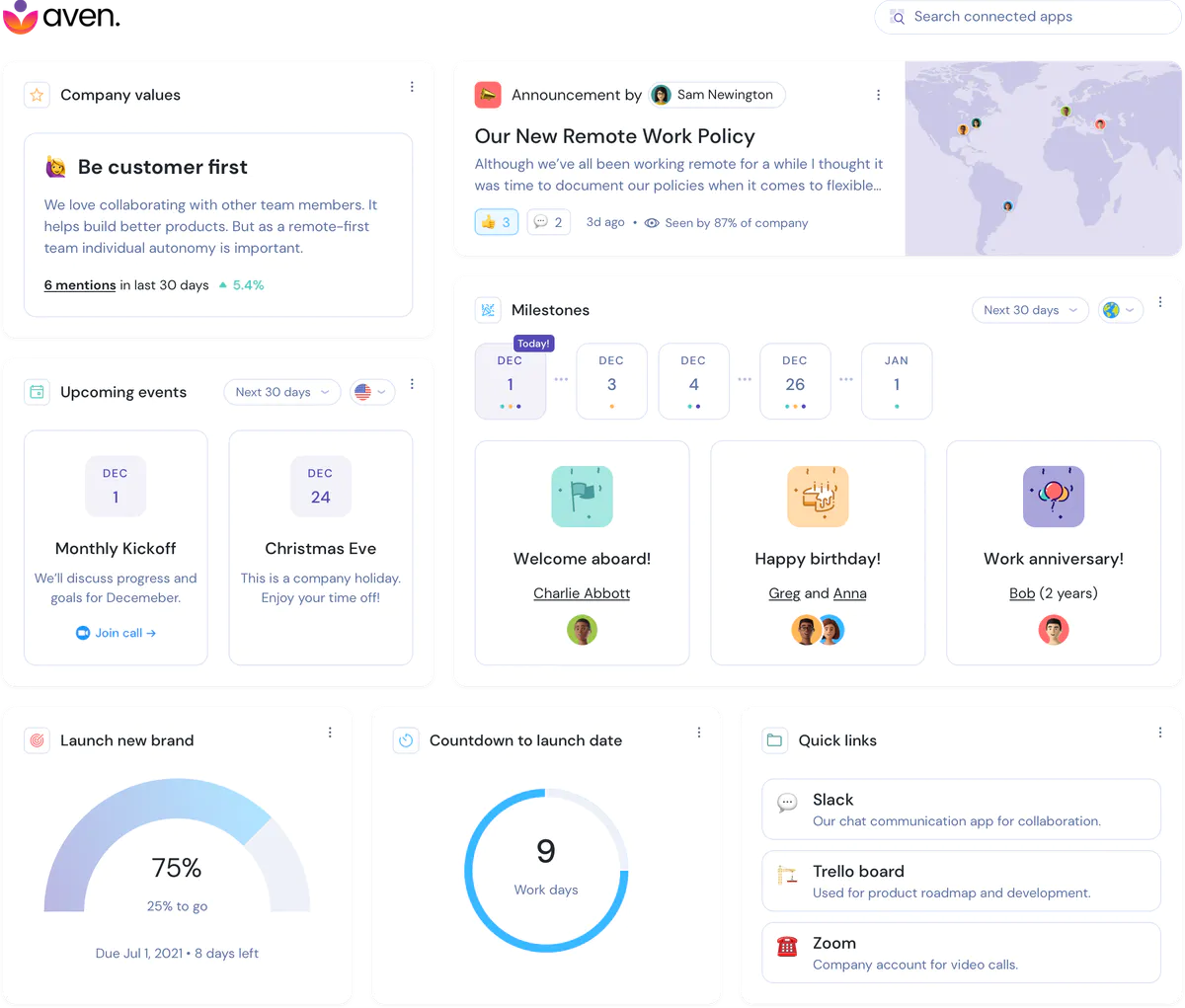 Features
This app has several great features that simplify your life, such as task and workflow management, project tracking, a handy chat for your team to communicate, several templates to choose from for your documents, and a great reporting tool with analytic features.
Pros
It has a free version

You can enjoy unlimited integrations

The reporting feature is great for understanding your team's development

It is suitable for all types of business

You can manage asynchronous teams with it
Cons
It has a slight learning curve

You can only add a limited number of teams

Its interface isn't very beginner-friendly
Pricing
Friday.app features three payment tiers. The first one is a free version that includes all the app's basic features. However, if you need more advanced features, you can get the Team plan for $5 per month or the Organization plan for $9 per month.
Best Fit For
This app is especially useful for distributed and online teams that need to stay connected and find a way to increase their productivity. Moreover, it is suitable for small and medium businesses, as well as big enterprises.
Usewhale
Usewhale is a knowledge-sharing tool that helps teams centralize their important data and procedures so that anyone who needs the information can easily access it. This is an excellent tool that prevents you from spending hours training new team members and answering the same questions all the time.
Features
We are huge fans of Usewhale's features, as they have helped thousands of teams upgrade their efficiency and productivity. These features include a wide range of integrations, a browser extension, complete customizability, excellent customer service, several training courses and tutorials, as well as the ability to adapt to the needs of every business, no matter how big or small it is.
Pros
It has an excellent customer service team with a fast response time

You can customize its entire interface

It allows teams to merge all of their current digital environments

You can automate certain repetitive processes

The chrome extension allows team members to use the platform at all times
Cons
Documenting all processes may take some time

Many users have had some trouble getting used to the platform

Its knowledge-testing features aren't too effective
Pricing
You can use Usewhale's free version or free trial, but if you need more advanced features, you can start with its Starter package, which costs $1 per day. However, keep in mind that it is going to cost you around $30 or $31 per month.
Moreover, you can also buy its Growth version, which costs $12 per month, or its Scale version, which is specifically designed for your business, which is why it has a customized price.
Best Fit For
Usewhale is great for all types of businesses, no matter how big or small. Moreover, it is also highly popular among non-profit organizations.
Bottom Line
All of these platforms are an excellent option for your business' knowledge base.
However, we highly recommend you check out Klutch.app and learn about everything it can do for you and your business.
Klutch is our favorite knowledge base platform, and it is sure to help your team become much more successful.