Friday is a popular productivity tool for simplifying work and communication among team members. Regardless of the application's popularity, several other alternatives offer more, if not the same, benefits.
These tools help you manage communication and tasks within your company. They provide a central point where all project data can be stored and accessed later.
This article will explore some of the best Friday alternatives. It will also look at the features of these tools that make them excellent for increasing productivity in your organization.
Top Alternative Tools for Friday
It is frustrating to change screens, jumping from one application to another just to access emails, texts, and other resources relevant to a project. The constant back-and-forth affects focus and delays processes.
Klutch helps you prevent all this by giving you a central point to plan, schedule, communicate, and archive interactions. The application is excellent for teams that want to collaborate better and organize company data.
It has the best user interaction regardless of your expertise in project management. If you want to streamline your team and control processes better from a single place, Klutch.app is your solution. You can also use it to document knowledge from your company.
Unlike Friday, Klutch enables you to integrate with many other platforms so that information is directly stored. You don't have to transfer the data from an application such as Gmail just because a customer messaged the company and you want to save it. 
Here is a list of essential features of the application:
Key Features
You can keep and manage all your company data in one database. Team members can get access to this data whenever they need it.

With Klutch, you don't have to reply to every message if they follow the same format. The app allows you to save a response that you can copy and use for customer inquiry messages and many others.

Canned responses can easily be copied from the chrome extension for the application.

The application integrates with Gmail to enable you to handle emails without leaving the platform.

You can set different permissions for team members. Not all pages will be available to all employees, hence the need for such a feature.

Employees can be grouped according to departments or projects. You can then keep track of the team's activity and progress.

There are several pages and message response templates that you can customize. You don't have to reinvent the wheel.

The real-time collaboration feature allows you to host meetings for team members on the platform when needed.

You can send direct or team-wide messages using the comments feature on the application.

Klutch provides version control for documents on the app. It is possible to revert to a former version of a file.

The application can integrate with Slack too.
Pricing
There are two membership plans for Klutch.
The free plan gives your company access to all features, two gigabytes of storage, and the ability to add unlimited members.

When you pay $4 a month, you can use unlimited items on the app, get up to 100 GB of storage, premium support, and the ability to share stuff externally.
2. Guru
Guru helps you to access the knowledge of your company interactions on different platforms from one point. This enables you to focus on organizing the communication data and team members.
Features
Capture and store information and messages about your company in one place.

The application has a high-level editor to import and format information instead of starting from scratch.

Transform company data into valuable knowledge for the company.

It has a powerful browser extension to help you access company data easily.
Pricing
Guru has three pricing plans:
The Starter plan is free and allows companies to have up to three users on the platform. To add more than this number, you have to pay $5 for each person you include after the allowed three. This plan enables you to use the browser extension, Slack, and Microsoft Teams apps and verification.

Using the Builder plan requires you to pay $10 monthly for each user. This is for fast-growing organizations.

The Expert plan is for proactive companies that want to provide suggestions as customer support. You pay $20 a month for each user.
3. Tettra
You can think of Tettra as a company wiki that enables managers to control and share information about the organization. It is an excellent tool for growing teams that need better ways of managing personnel and data. Most reviewers consider it the best knowledge-base software.
Features 
You can categorize information on the application to help you locate items.

Tettra also allows you to carry out a Full-Text Search to find relevant data about the company.

It has online collaboration tools to help team members interact seamlessly from remote locations.

Create a base of knowledge for your company.
Pricing
Small teams that are starting can use the application without paying anything.

Growing organizations are required to pay $8.33 per month for each user.

The enterprise plan follows a custom pricing model.
4. Outline
Outline helps you to manage your team's knowledge base. You can use it for Remote work or managing Support and Sales.
Features
Document search and loading are rapid.

It categorizes your documentation in a file structure for easy navigation.

You can set permissions for the knowledge according to teams.

The application integrates with 20+ tools to ensure your workflow is not interrupted.

Outline supports about 13 different languages.

You can customize the domain you use on the platform to manage your knowledge base.
Pricing
There are two main categories for managing Outline. 
You can host your company data in the cloud through Outline. This method is secure and frequently updated. The pricing for this depends on the number of people in your company. It costs $10 a month for a company with less than 10 team members. Companies that are between 11 and 100 in number pay $79 a month. The final plan costs $249 monthly for members between 101 and 200 in number.

The self-management option allows you to host Outline with your resources. There is a free Community edition and the Enterprise plan that requires you to pay $4 a month for every user in your company.
This application helps you to store and manage data from your company.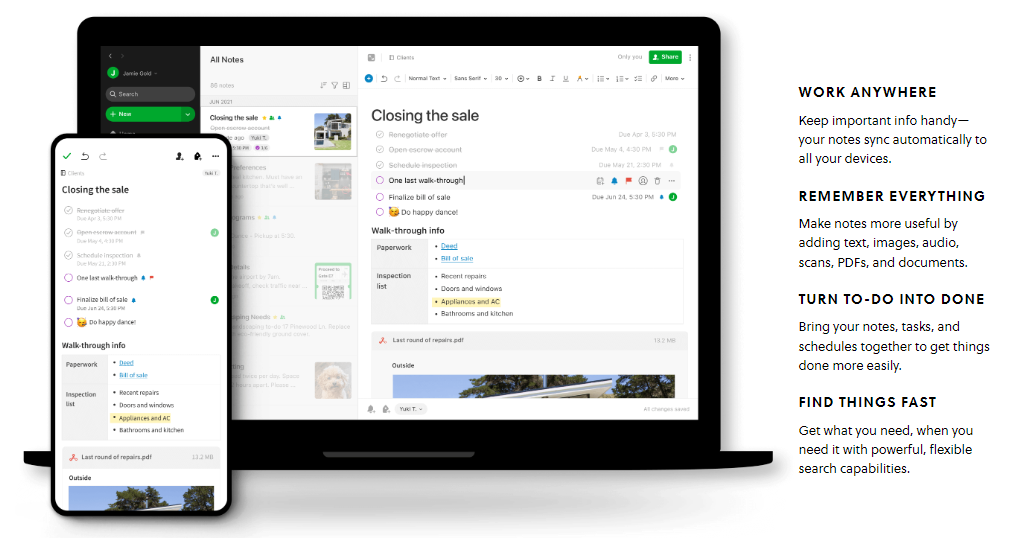 Features
Evernote allows you to store and search handwritten documents.

You can scan and store documents on the platform.

There are templates for different pages and message responses on the application.

The application can integrate with other productivity tools to bring all information into a centralized location.
Pricing
The free option allows you to use most of the features with limitations.

The personal plan costs $7.99 a month.

You can use the Professional version by paying $9.99 a month.

Evernote has an option for teams that you can use to share knowledge and improve collaboration among team members. It costs $14.99 per month for each user.
6. Kipwise
Kipwise enables you to integrate with several tools that enhance your work efficiency. You can use it to create a knowledge base team from various interactions among employees and with customers.
Features 
It integrates with many other applications such as Slack, Google Drive, etc.

You can designate content reviewers to ensure that the documented data has no errors.

Kipwise automatically builds your knowledge base from communication between team members.

The application has a bot that automates flow among team members. This bot helps members discover the best answers to their questions. It searches your knowledge base according to what you ask so that you don't have to stop working and do it yourself.
Pricing
You pay for every plan on Kipwise.
It costs $4.25 a month per user for the Professional plan.

Using the Premium plan costs $7.65 a month per user.

The price for the Enterprise plan depends on your customization options. You will have to contact the company for information.
7. Onebar
This application allows you to create a knowledge base for your company from your Slack conversations. You can organize and retrieve this later when seeking information on decisions taken on a project.
Features 
Central storage for all internal knowledge of your team.

Easy integration with Slack.

The chrome extension allows you to collect data from any application you use for your knowledge base.

The platform allows you to share knowledge from your company with the world. You do this with the parameters you specify.
Pricing
The Indie plan is a great way to explore the features with limitations. This is free for users.

You pay $200 a month for the Startup plan. This is trusted for small and medium-sized companies.

Use the Growth plan to experience the application's full potential. It costs $400 a month.

There is an Enterprise plan that comes with custom options. Call Kipwise to find out the price for this version.
What to Look for in Productivity Tools
Productivity tools organize interactions from different channels in central storage. If the one you use is not simple, then there is no point in opting for it. 
Research has shown that about 69% of workers waste almost an hour daily moving between different applications. A tool that provides the functions from the other apps at one point will increase productivity.
Collaboration is necessary for remote work teams. The location of employees should not be an excuse for poor communication. Having a tool that promotes asynchronous communication and collaboration improves work efficiency.
Conclusion
You can do your research to discover several other Friday alternatives apart from the ones explored in this article. It all comes down to what fits your specifications if you're looking for a free, user-friendly knowledge base for your team, head on to Klutch! Try it now for free.