You've decided you want to become a project manager, but how do you go about doing this?
Many people consider this an extremely rewarding career as you have the opportunity to impact the core fundamentals that a company implements. 
What is a Project Manager?
Any person responsible for managing a task, from the initial concept to the final delivery, is a project manager (PM).
You don't just need the title 'Project Manager' to be considered one – if you monitor, coordinate, and deliver on tasks, you're a PM.
How Do You Become a Project Manager?
Fortunately, there isn't only one clear way to become a PM. You have two options: you can go the 'traditional' route or the slightly more non-conventional way. 
The traditional route involves going to college and getting a degree or qualification.
Alternatively, the non-conventional way consists of building up your experience and knowledge base by working on various projects and building your name without a certification. 
What degree do project managers need?
Believe it or not, being a PM is much more than a qualification or degree.
Therefore, it's not necessary to get a degree; however, there are numerous certifications you can take if you would like to. 
How do you become a project manager without any experience?
While you don't need a degree to become a PM, you certainly need experience. In fact, if you don't have a degree, the only way you can become a PM is by climbing up the ladder in terms of hands-on experience. 
Don't panic – you've probably been developing this experience and skillset without realizing it.
Therefore, if you haven't already, it's time to start getting project management experience. Numerous project management tools are available to help you gain the necessary experience. 
Now that that's out of the way, let's get into the specific details.
What project management certifications can you get?
Don't just go ahead and study for any project management certification.
Some firms refuse to accept them, and online certificates can be meaningless.
You should study for a certification relevant to the projects you work on or the sector you operate in.
PRINCE2 Certification
PRINCE2 is a project management methodology. It was created by the UK government; thus, if you plan to work in the United Kingdom, you should consider taking this course.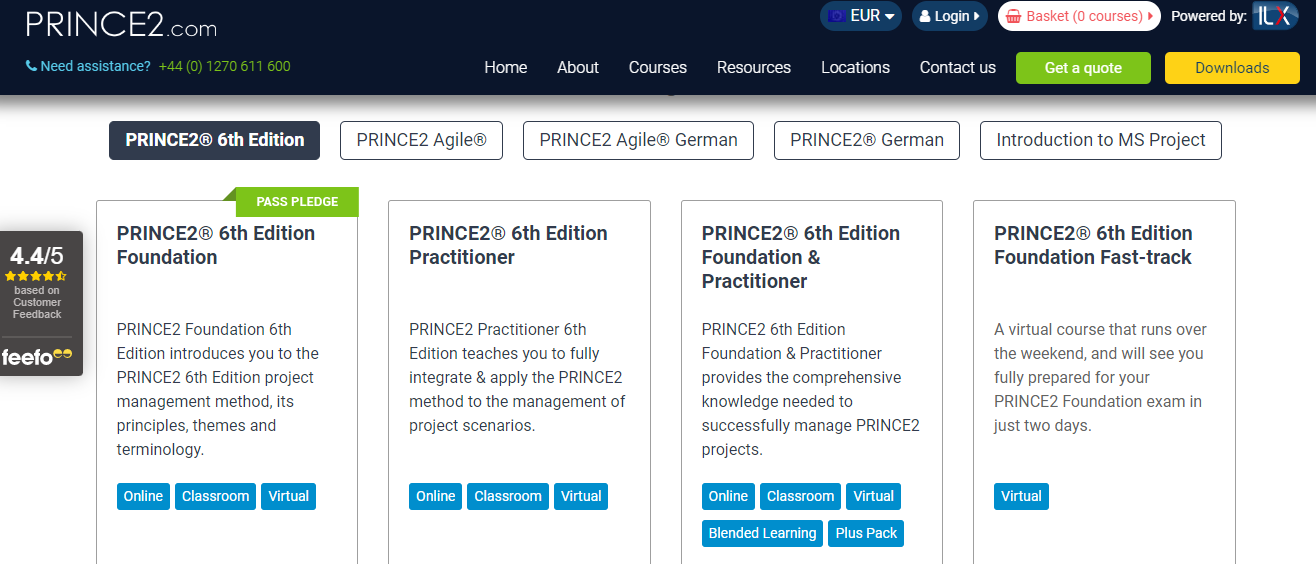 There are two main learning routes available for this certification: 
PRINCE2 Foundation:

This first level can assist you in confirming your comprehension of the strategy. Furthermore, the exam has no prerequisites; nevertheless, you should have previous project management experience. This credential does not enable you to be a PM; however, it does allow you to work in a management team that employs PRINCE2.

PRINCE2 Practitioner:

This level checks whether the candidate can apply PRINCE2 in real-world scenarios or not. It is probably the most important one to get if you want to work with PRINCE2 in the future. The qualification allows you to operate as a PM who can apply PRINCE2 principles.
PMP Certification
Project Management Institute offers the PMP certification. It is probably one of the most popular credentials for project management. It forms the essential project management standards.
Additionally, the PMBOK Guide and Standards touch on the most important characteristics and guidelines for a PM.
Additionally, this guide is the primary study resource; however, you're permitted to use any other PMP® exam-related publications.

This is not an exam that everyone can take. It includes 200 multiple-choice questions and requires three years of prior experience (or five if you don't have a four-year qualification in project management), 35 hours of formal education in project management, and a minimum of 4,500 hours of experience (or 7,500 if you don't have a four-year degree).
If you're looking for a comprehensive course, the PMP® certification provides universally accepted standards that will help you achieve project success. Since project management criteria are constantly evolving, this accreditation will expire after three years.
Scrum Certification
Scrum is an Agile framework that is frequently used in software development and product management. Moreover, Scrum.org provides assignments that will help you verify your understanding in terms of Scrum.

The following assessments are available to you:
Professional Scrum Product Owner

Scaled Professional Scrum

Professional Scrum Developer

Professional Scrum with Kanban

Professional Agile Leadership

Professional Scrum Master
If you don't want a qualification and want to put your Scrum skills to the test, there are a number of open assignments available.
Project Manager Titles and How You Can Get Them
Did you know there are various levels of project manager roles?
Different titles come with different expectations and responsibilities.
Let's look at the most common PM titles:
A PM is a position in the corporate hierarchy that is normally at the mid-level. In a small company, a PM may not have any other project management colleagues. You might report to a senior PM or director of program management, supervise the work of a project scheduler or project coordinator, or do both at larger firms.
Assistant Project Manager:

 
An assistant project manager frequently reports to the PM directly.
A major project's PM collaborates with an assistant project manager and delegates tasks to them. Because they perform many of the same tasks as the PM, an assistant project manager has a varied skill set.
This also makes a position as an assistant manager an ideal midpoint for someone aspiring to higher project management jobs – it allows them to practice their abilities and learn from the PM's guidance.
This is an advanced management role.
Employees with experience as a previous PM often fulfill this role.
Getting a promotion to senior PM may entail taking on supervisory responsibility for other project managers in the organization in addition to a raise and a new title.
This is a junior PM who works directly under the direction of a project manager. They frequently specialize in the financial components of a project and keep track of both the project's funds and any expenditures.
A project coordinator generates graphs, budget spreadsheets, and reports for the PM.
When a project's budget needs to be adjusted or unexpected spending necessitates a change in budget allocation, the project coordinator might do a budget analysis and present options to the PM to choose from.
Director of Program Management:

 
This is often the highest-ranking employee in the project management team. The director of program management is in charge of the firm's big-picture planning, which includes all of the company's initiatives. Project managers frequently report directly to the director, who ensures that all projects are completed on time and promotes project contact when necessary.
A formal title change is not usually associated with the lowest level of project management.
When breaking down a workforce into smaller groups, an employer may designate one member as the team leader. This gives the team structure and gives one member of staff final decision-making authority in the event of conflicts. 
Being a team leader still comes with more power and accountability for the group's final product.
Being a team leader is a great approach to improving your résumé in preparation for a potential promotion to PM. Working as a team leader gives you the opportunity to hone the abilities you'll need if you're recruited or promoted to a project management position.
A project scheduler is another specialist junior project management position that works under the PM and is responsible for keeping a project's schedule on track. The project scheduler guarantees that members complete the project on time by establishing intermediate schedules and goal dates for project components. 
They may meet with team leaders to discuss their scheduling needs and expectations in order to build schedules that are aspirational and realistic.
The project scheduler may use scheduling software to distribute resources to employees so that everyone is aware of their deadlines.
Can Knowledge Managers be Project Managers?
Yes. Knowledge management and project management are complementary techniques that can enhance organizational performance when used together. You must first demonstrate the benefits of knowledge management approaches before incorporating them into the project management process.
However, it's crucial to understand that a knowledge manager is not a project manager. Rather, a knowledge manager can become a project manager – so then, what is a knowledge manager? 
Knowledge managers are responsible for ensuring that team members have access to and use the necessary information to deliver the highest quality of work. They develop the structures and processes through which knowledge is shared and recorded.  
Conclusion
The ability to keep moving as a project manager makes you stand out. There is no single notion that will turn you into a world-renowned project manager, even with the best project management tools.
You have a strong chance of becoming a leader in your company and the project management industry if you are continually learning, sharing, and communicating.
Do not limit yourself – there are numerous knowledge base apps that can help you reach your goal of being a standout project manager.